Proof that regardless of your personal style or how dressed up you need to be, a leather jacket and boots are an effortless way to look great.
Thanks to Thursday Boot Co. for believing in Primer's mission of classic, enduring style and partnering with us on this post!
---
Three weeks ago I heated up some cider, put on Goodfellas, and polished all of my boots. Ok, actually I put on Moana because my daughters were in the room, but still, it was the perfect way to ease into fall. The leaves are changing, the air is crisp, and the sweaters have come out. It's my favorite time of year because I enjoy cool weather, but also because from a sartorial standpoint, it's pretty easy to look handsome in the fall. I grow my hair a little longer, let some stubble show, break out the dark denim, and of course, the leather jacket and boots take the stage.
Like the pea coat in winter or the linen button-up in summer, the leather-jacket-and-boots combination has always been quintessential autumn, and what works to your advantage is that this iconic look is straightforward and simple but entirely flexible based on your personal aesthetic. Whether you're rugged, refined, or somewhere in between (or maybe you're not even sure yet), you can make this look work for you.
Of course part of the problem with the leather look is that most of us don't have an extra fifteen-hundred bucks to drop on a jacket and a decent pair of boots, but this is why we love Thursday Boot Company. Thursday set out eight years ago with the humble goal of making high-quality men's boots through ethical means (meaning they actually pay their craftsman a fair wage), and delivering these boots to customers at a fair price. Today they sell men's and women's boots, sneakers, casual shoes, and yes, leather jackets.
After Hours
The first combination features Thursday's Racer Jacket in taupe suede with the Duke boot in dark olive suede. Because fall lends itself to texture and Earth hues, suede is our secret weapon. This look is perfect for keeping a refined aesthetic for those social functions after work, a date out on the town, or a small-venue concert.
The racer jacket is crafted from lambskin, and since suede doesn't really crease, it will simply get softer the more you wear it. It's also lined with polyester, which will wick away any moisture and help the jacket keep its shape over time. Honestly though, the best part of this jacket is the taupe color: It's a splendid neutral palette to match any outfit you throw together and will complement any skin tone.
The Duke is easily the first and last suede boot you'll ever have to buy. The suede comes weather resistant, so a downpour isn't going to send them to the trash heap; the lining is glove leather (which means they're super soft on the inside and will custom form to the shape of your foot; and perhaps most importantly, the boots are constructed with a Goodyear welt. A Goodyear welt means the boots are resoleable by your local cobbler (which limits leather consumption).
Rakishly Rugged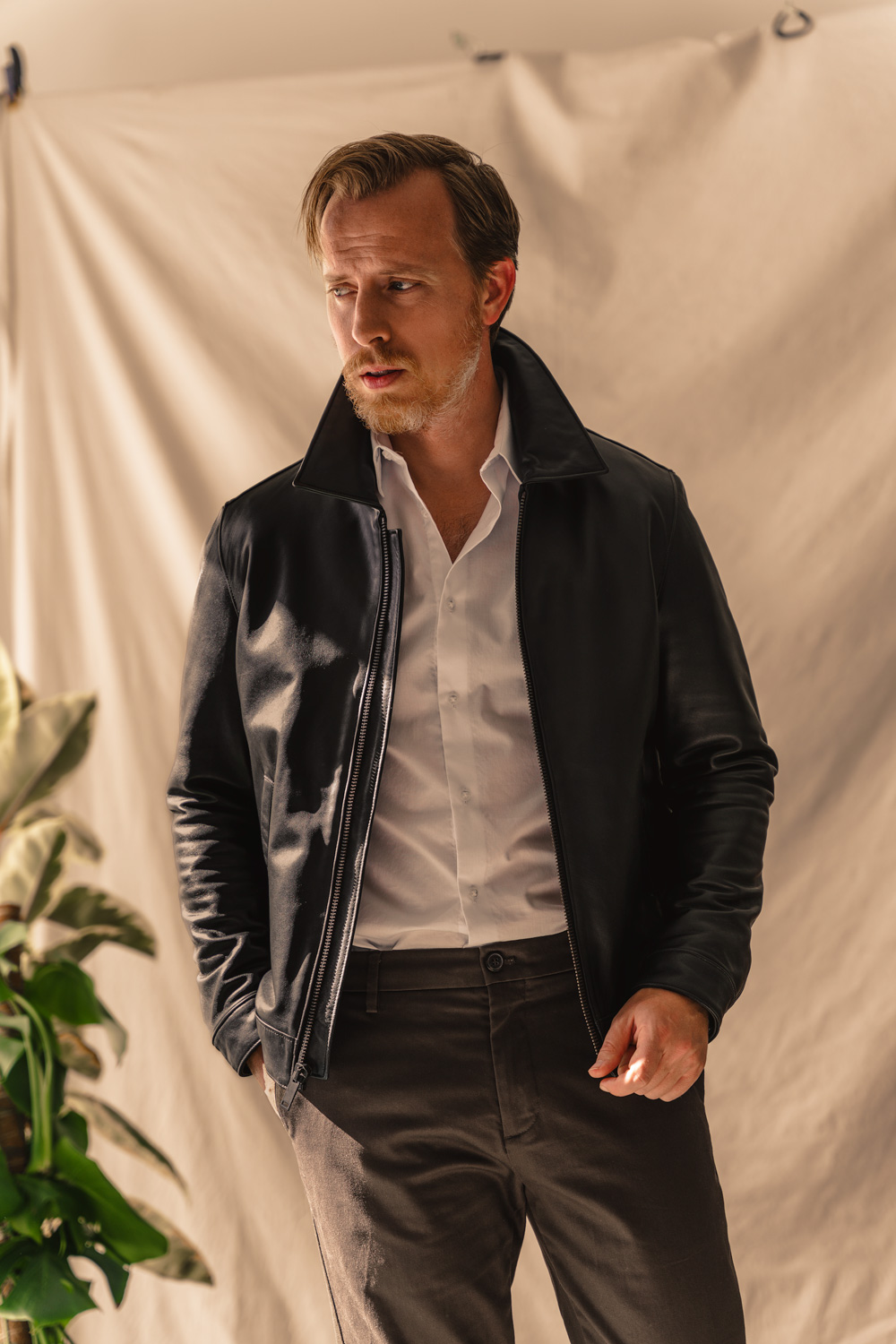 This pairing mates Thursday's Keanu jacket in classic black leather with the Legend boot in black matte. This look is a little more old-school, a little more brawny, a little more…James Dean?
While easily dressed up with the right pants and shirt combination, this look lends itself to a more casual aesthetic and feel: Weekend errands, a night at the cocktail bar, or taking your ride for a spin around the block.
The Keanu is crafted from full-grain leather (as opposed to top grain, which is highly corrected), and features a hand-stitched collar and snap cuffs. Whether you're rockin' jeans (especially black jeans) or chinos, the black leather will look at home, and the black boots will anchor the whole outfit.
The Legend boot lives up to its name because of its construction from Thursday's exclusive Rugged & Resilient leather. This leather's proprietary pre-treatment and rugged sole allow it to stand up to hard use, gaining more character with each scuff and continuing to last, and the glove-leather lining keeps them comfortable underfoot.
Buy them now; give them to your kid later. The versatile matte black finish means you don't have to worry about getting out your polishing kit.
Few of us have more than a grand to drop on two wardrobe items, and going cheaper on leather goods typically means sacrificing quality. Thursday is disrupting the leather industry by offering well-made leather jackets for $349, and that's not the sale price. Show me another retailer offering a full grain leather jacket of this craftsmanship at this price, and I'll show you cut corners. At $199 the boots (Thursday's bread and butter) are no different. Goodyear welt construction, water-resistant leathers, and ethical manufacturing practices make these fall staples an easy decision.