Film inspired looks you can actually wear.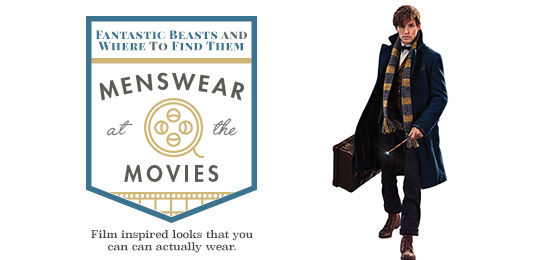 I imagine that designing the costume for Fantastic Beasts' Newt Scamander presented a fun bit of a challenge to costume designer Colleen Atwood. Not only are you doing a period piece, you also have to design a costume that would A) not look out of place on a wizard and B) not look out of place on someone on the streets of 1920s New York City. So it needs to be odd but not too odd. On top of all that, it needs to stand out as being a bit off-kilter from the rest of the New York wizard community, because Newt is kind of a weirdo that prefers the company of magical beasts to other wizards. On top of all that, this is a big-budget blockbuster starring an Oscar-winning actor that models on the side so it needs to look good, too. I gotta say, I think she pulled it off pretty well.
The thing that stands out the most about Newt is his emerald blue topcoat paired with a camel waistcoat. This combination of colors is quite a bit different from the earth tones and blacks that are mostly worn by other wizards and non-wizards alike. Don't get me wrong, in the 1920s there were pretty flamboyant fashion trends in menswear. Just look at some of Nucky Thompson's outfits in Boardwalk Empire for evidence of that. But in the world of Fantastic Beasts, Newt stands out a bit. His waistcoat is not part of his suit and his coat is the only item of clothing in the whole film that is that particular shade of blue.
This costume is the most custom of custom-made and I didn't think I would have anything in my own closet that I could use to get the feel of Newt's coat. I almost gave up on this look until I remembered that buried somewhere in there, I had a pair of Dockers Alpha Chinos in a shade of blue that is very close to Newt's coat. So, that would give us the color pop needed. Pair that with a camel sweater (I'm not much of a waistcoat guy) and you've got a nice color combination.
Click on each item for more info:
My favorite touch for Newt is something that I think says a lot about the character—he is still wearing his WWI-era trench boots. Like most Englishmen of his era, Newt was a participant in the First World War (he mentions working with dragons on the Eastern Front), and the horrors he witnessed there may account for his fondness for the company of beasts rather than other people. The fact that he still wears his boots rather than switching to proper shoes dresses down the outfit even more and makes Newt even more artfully disheveled and out of place in the 1920s.
In the modern age of sneakers and athleisure, a person in a pair of trench boots looks far more put together than they would have in the 1920s. A pair of Goodyear welt trench-style boots are a fantastic addition to any guy's wardrobe and they are definitely on my own list of things to buy. For now, I went with a pair of Steve Madden captoe boots that can approximate the look.
A vintage watch is a good way to add a classic touch to any outfit. While wristwatches were not as common in the 1920s as they were post-WWII, a lot of guys that came home from the Great War continued to wear watches after wearing them as part of the standardized gear in the trenches. The Bulova I went with here is from the 1950s rather than the 1920s, but it still gives the desired throwback effect.
I'm not much of a bowtie guy myself, but I do like that Newt's choice of tie is a bit off even for his day. For a similar effect in 2017, you can go with a knit tie. The texture allows it to call attention to itself without being over-the-top. Add some polka dots on there and I think you have something that would be worthy of one of J.K. Rowling's wizards.
Pair all that with a wand (just kidding), and you can look a bit like a wizard without having to throw on robes and a pointed hat.
Share this post, it really helps!
Come back tomorrow for our next in our Menswear the Movies weeklong series. And be sure to check out our take on Daniel Craig's Scotland outfit from Skyfall!