Loved by famous guys for years, and coveted by me from a distance for just as long, I finally purchased it. But now that the novelty has faded, was it worth it?
I purchased this jacket at Todd Snyder in Los Angeles.
When the happy hour liquid joy of a margarita seeps into your veins, and the world fades into a cheerful, sepia-toned evening, you never know what might ensue. That's how it began for me, one Friday a couple months ago, when tequila-led courage pushed me into making a purchase decision that my sober-self had been stressing back and forth on for eons: Buying the Todd Snyder Dylan Suede Trucker Jacket.
Let's take a step back. Todd Snyder has always been a grail brand for me, and likely for your too if you loved the J.Crew aesthetic of the first part of the 2000s. Todd Snyder's stint as J.Crew's Senior Vice President of Menswear from 2001 to 2008 is legendary. He is credited with introducing formal wear into J.Crew's collections and fostering collaborations with esteemed heritage brands such as Timex, Red Wing, Thomas Mason, and Alden. When he launched his eponymous brand in 2011, he built upon his experience gained from working there, and Gap and Ralph Lauren before that, creating a brand that's often found its way into my style inspiration.
The Dylan jacket, a core staple in Todd Snyder's lineup for years, is one such item. Stars like Tom Holland, Matt Bomer, Ben Simmons, Gerard Butler, Bobby Cannavale, and many more have donned this specific jacket. It is available in a palette of colors, from navy to light tan, and several different leathers, including the plush suede that had caught my eye.
I've always been a big fan of trucker jackets – they're the perfect smart casual layer that you can keep on when you get to where you're going, unlike, say, a bulky top coat or some heavy jacket. Plus, they're cropped at the waist, so they feel more like a styled layer that's a part of your outfit than something longer like a Barbour jacket.
And olive? I love it. Doesn't matter if it's my olive bomber jacket or olive chinos, I tend to pick it a lot because it goes well with the blues, neutrals, browns, whites, and blacks that I wear most days.
Ryan Reynolds, whose cool smart casual style I've always admired, has become iconic due to his penchant for olive green suede trucker jackets. These jackets have been a recurring feature in his style over the past 8 to 10 years.
Suede trucker jackets are not super common in terms of having a lot of options to choose from. And I also believe that if you can't buy a nice leather jacket then you should buy a nice jacket that is made of something else that's cheaper. That's because cheap leather jackets usually look and wear cheaper than their higher priced counterparts. But also they don't age the same way. While a nice jacket may be more expensive, if it's a jacket you love and love to wear, the cost per wear plummets dramatically.
Traditionally, I've swayed towards denim trucker jackets. But my collection boasts a brushed fleece trucker jacket from Buck Mason that I wear a lot as well as my waxed canvas trucker jackets.
However, thanks to Reynolds (whose most commonly worn version is a discontinued jacket from brand Officine Générale) and my o-love for olive it was a green suede trucker jacket that had been my holy grail for quite a while.
I came across the Todd Snyder Dylan jacket and took to it right away. It's a muted olive, which is clearly green in person, but also easily plays as a medium brown in most cases, as you can see in the light variation across my photos. We even mentioned it in a style finds piece a couple of years ago. Its biggest downfall, of course, being that you can't wear it with other olive things like my olive chinos. But having a wardrobe that is truly universal is pretty challenging.
Two Reasons I Finally Bought the Dylan Jacket
I tried it on – then I looked at the price tag. I had to gulp as I read it out loud, "$998." Definitely not your regular Primer-budget purchase. I put it back on the rack for another day.
However, over the past five to ten years, I've been striving to adopt an "if you wear it, then upgrade it" perspective. As a guy who loves a great deal, I had found myself in the trap of feeling like I couldn't buy something if I hadn't found it on steep discount. That led me to pining over some things I connected with but could never buy because they don't go on sale. This new approach reminds me that I shouldn't hesitate to invest a little more in a nicer version of something I wear all the time. As I said, I wear denim truckers frequently and also wore my old olive bomber from Zara into a pill-y mess.
Second is my related philosophy: "If it's not perfect, it's not good enough." This shows up for me both in fitting rooms and online order try-ons. When I see something in store that I like, or if it's been shipped to my home and I have to contend with the disappointment of doing a return, I hem and haw trying to convince myself that it's good enough. Often, even after choosing to keep it, that uncertainty about an item lingers and I end up not wearing it as much as I would have if it was the perfect version.
But there are a few items I have that are perfect and when I want to feel confident or look cool I always turn to them. I decided I wanted to work towards having a wardrobe that was only items like that.
Todd Snyder Dylan Jacket: Fit and Pros & Cons
Fast forward, slightly high on happy hour vibes, my girlfriend and our two friends decided to walk to Todd Snyder next store. Seeing the olive green Dylan jacket hanging there, I knew I had to try it on again. As soon as I slipped it on in front of the mirror, my friends couldn't stop marveling at how good it looked on me, how the fit was perfect, and how I should just buy it. Now, whether it was the margarita effect or the realization that it looked perfect and was something I knew I'd wear, I was finally sold.
The fit offers a satisfying balance between tailored and roomy. It fits true to size and I still had room to move and to have layers, but it draped in a way that was flattering and tailored. Its fit is consistent to my Levi's trucker jackets but isn't as stiff.
Thanks to the high quality Italian suede, it also has a beautiful texture. It almost has the effect of worn-in waxed canvas or a worn-in leather jacket because of the way the suede nap moves and reflects light but instead of feeling worn, it feels premium and luxurious.
The suede is buttery soft, surpassing the feel of other high ticket suede jackets I've encountered. It's reminiscent of the experience when you touch a smooth cowhide leather jacket from a premium brand like Schott, and then a cowhide leather jacket from a label such as Wilson Leather. There's a distinct disparity in the perceived quality, even if you aren't an expert on cowhide leather.
While I've come across some other suede jackets that are cheaper in a similar style, one thing I found they always get wrong is the stitching. For some reason, they always seem to do a contrast stitch for the pockets and the seams where the stitching color is noticeably lighter than the suede color. And that to me always looks very cheap. I cannot, for the life of me figure out why these companies do that.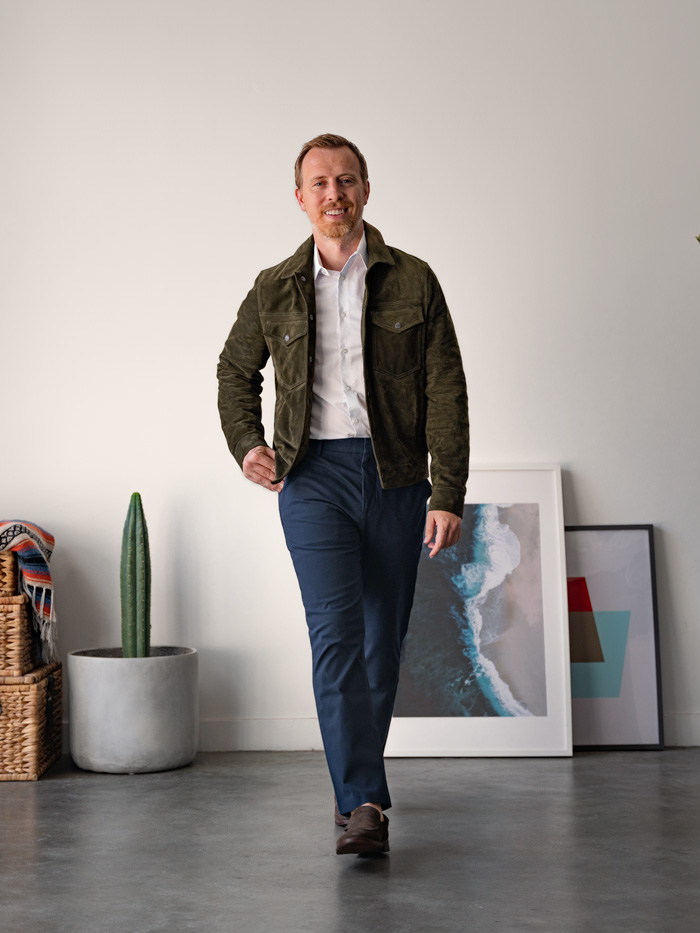 The jacket is a high ticket purchase, but it is in line with other high quality leather jackets from brands like Schott, but still half the price of high end brands like Himel Bros. or Ralph Lauren.
The jacket is noticeably premium just by looking at it, even next to other suede jackets, it stands out. In fact, during my last shopping trip, several people, including employees from Banana Republic and LA's Wittmore – a men's store known for its higher-priced, curated selection, expressed their curiosity about it.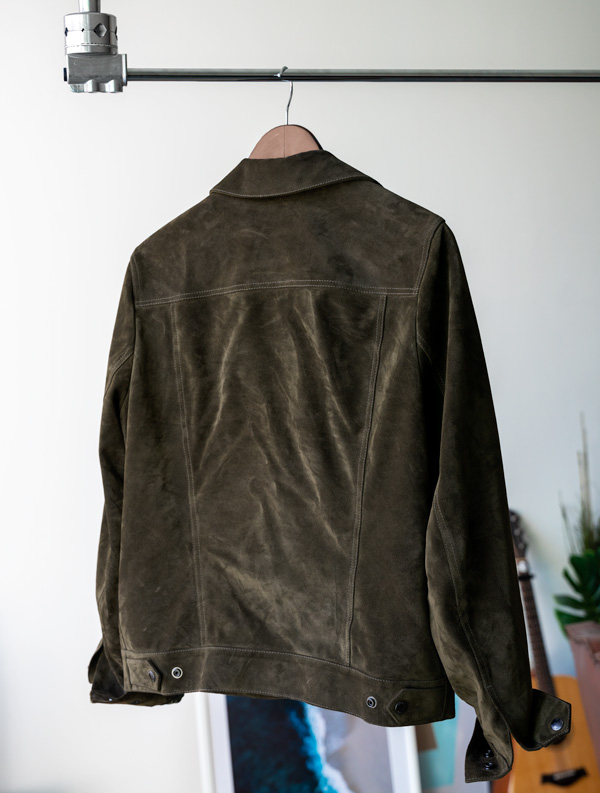 I did have some concerns as the margarita wore off, primarily being spending so much on a suede jacket and potentially ruining it. There are suede sprays, stay tuned on an article about that for further information. There are also specific tools for caring for suede should it get dirty, like suede erasures and suede cleaners.
But also in regards to wet weather, my research from people that should know, is that people baby suede far too much and that it is actually a very durable leather. And that tracks because they make nice outerwear with it. So obviously it must be a little more durable than the fear based approach we have for suede.
The only thing I really don't like about the jacket and it's kind of minor, is sometimes depending on the shirt I'm wearing, I can feel one of the tags on my neck, but that hasn't kept me from wearing it or feeling disappointed in my purchase. And in an absolute worst case scenario, I could have a tailor remove it, even though I don't feel like I should have to do that for a jacket that is as much as it is.
The jacket's versatility and durability were added benefits. It could be paired with almost anything in my wardrobe – from jeans and chinos to dress shirts and knitted sweaters.
In retrospect, my journey to the perfect green suede trucker jacket was more than just a shopping endeavor. It was a journey of self-discovery and embracing personal style. It was about learning to invest in pieces that genuinely bring joy and express personal style.
The Todd Snyder Dylan jacket has now become a quintessential part of my wardrobe. It has become my go-to for a night out, a casual coffee run, or a dinner date. Despite its luxury tag, it feels approachable and everyday, rather than something reserved for 'special occasions'. It makes me feel polished and put-together without coming off as too pretentious.
But beyond its visual appeal and functionality, the jacket stands as a testament to my style evolution and the confidence I've built over the years. It's a constant reminder that investing in quality, and more importantly, in pieces that truly resonate with my aesthetic, is not indulgence but rather a celebration of personal expression.
Alternatives to the Todd Snyder Dylan Jacket
Like I said, olive suede trucker jackets are nearly impossible to find. I've had my eye on them for a couple of years and occasionally one pops up for awhile but then goes out of stock. Here are a few other options in different colors.
Banana Republic Suede Trucker Jacket
I've looked at this jacket in person a number of times and liked it. It is heavier than the Todd Snyder jacket and is fully lined, making it bit of a cooler season piece. The suede is nice but the Todd Snyder is noticeably finer.
Abercrombie & Fitch Suede Jacket
I haven't seen this jacket in person but I have been keeping tabs on it, currently on sale. Reviewers complain it has an unmarked relaxed fit, which is consistent with where the brand has been going generally. This may be a pro or con depending on your fit preferences.
Quince Suede Jacket
They used to offer an olive, but alas, they don't sell it anymore. I almost pulled the trigger on it when it was available. I can assume you get what you pay for.
Golden Bear Suede Trucker Jacket
Golden Bear is a long-running American-made brand. I'm not crazy about the two colors that are available but I'm sure they're excellent jackets.
Schott Cowhide Leather Trucker Jacket
Schott is a company that's been making made-in-the-USA leather jackets for over 100 years. Unfortunately they don't offer a suede trucker jacket, but they offer a smooth cowhide leather version. If I ever stumbled upon a beat up used one of these for sale in my size, I'd probably scoop it up.