Suits
Categories: Spend
Bold patterns and color palettes can look great, but never underestimate the power of being understated.
Buying a suit isn't just deciding on a color. Learn the different options you'll be faced with and which to choose.
Categories: Spend
As a man moves up in the world and evolves his personal style, he climbs the ladder from suits that are off the rack to made-to-measure to bespoke. Grant gives us the step up on the differences.
Even an expensive suit will look terrible if it doesn't fit correctly. We break down the details of fit in our visual guide to suits.
Categories: Spend
This week Grant tackles your questions dealing with what to wear with lightweight blazers, bringing your shoes and outfit together, and finding clothes that fit at places like J.Crew for bigger guys.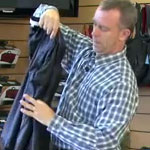 $25 to check your suit bag? No, thanks. We've got an old school folding method that will save you wrinkles and cash.
Categories: Learn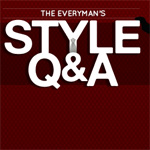 Grant tackles your questions regarding looking professional in desert climates, buying suits for guys with big frames, and looking like you've learned something on graduation day.
The best Black Friday sale you're going to find today doesn't require you to put pants on. If you've considered checking out Indochino, it doesn't get much better than $75 off any suit or piece of outerwear.
Categories: Spend
Break away from the everyday and pair your slick gray suit (you took our advice, didn't you?) with a classic pair of brown shoes for a traditional look that stands out in today's black shoe kind of world.
Categories: Spend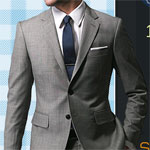 If you've been on the fence about picking up a great new suit, the time is now. We've convinced Indochino to give you a great deal on a new suit – complete with 10% off, a free dress shirt and free shipping.
Categories: Spend
Don Draper may not be the best of gentlemen, but he certainly has great style. With Mad Men Season 4 starting tomorrow, we decided to take a look at getting the look — on the cheap.
Categories: Learn
You're finally at a place in life where you need to wear a suit somewhere other than a relative's wedding, so wear it right and avoid these six fashion faux pas that turn you from stylish to childish.
Categories: Spend
Until you graduated college, there wasn't much need for a week's worth of suits, dress shirts, and ties. Pulling together a professional wardrobe when you're offered a job doesn't need to be expensive or difficult. We'll show you how.
What do you get when you combine the product enthusiasm and customer loyalty of Apple, Google's compulsive drive towards improvement and the slick, urbane look of GQ? As over 7,000 (mostly repeat) customers can attest – the best bespoke quality suit you've ever worn for less than $500. This is the story of Indochino.