Budgeting
You may not be in a place to put away a ton of money, but it's never too early to start thinking about where you'll start.
Six ways to have more money without earning more money.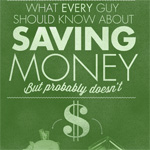 We've heard all our lives that we need to save. But what does that actually mean, and what if the cash flow is limited?
Just because you won a $50 million jackpot doesn't mean you're set for life, as proven by these 6 big spenders.
We all dream of being a billionaire so we can do what we want and buy what we want but these five guys prove rich people get rich by not blowing all their hard-earned cash.
So, you're out of college now but you still have no idea how to make your dreams come true. You have student loans farther than you can see, your car is about to die and that smell coming from the neighbor's apartment isn't getting any better. What is a man to do? Here are eight things to remember as you're starting to grow your wealth.
Categories: Earn
Wait, wait, wait — you're telling me you only earn money while you're AT work?
If you haven't been using the internet to enhance your finances, then you're about as up to date as Friendster. We may not make you the next social media mogul, but these hacks will start making you, or saving you, money instantly.
Being in a relationship may enrich your life, but it's definitely doing no favors for your wallet. Find out where you're spending the most money on your girl and plug those holes ASAP.
Categories: Learn
Rushing into a meal or stumbling through the supermarket is an easy way to mess up your diet or waste time and money. Plan ahead, follow these tips, and be amazed at the easy, delicious meals you can create with no extra effort.
If cleanliness is next to godliness, then being organized is definitely Zeus levels of powerful. Keeping your finances in order will not only make your life easier, you might just unearth some extra spending cash.