Travel
A checklist for the in's and out's of traveling for work.
Staying with friends or your new girlfriend's parents? As the saying goes, actions speak louder than words. Let them know you appreciate their hospitality.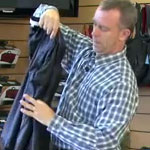 $25 to check your suit bag? No, thanks. We've got an old school folding method that will save you wrinkles and cash.
Categories: Train
How long does it take to change your life? Follow author Robert Fure as he begins a 100 day trek to a fitter, healthier life by following this simple program. Today, we talk about training while traveling on the 100 Days of Fitness program.
Categories: Learn
In the world of travel a man needs to know how to carry himself and his stuff. From the cab to the terminal there are rules for a man to follow to make sure he departs and arrives like a gentleman, not like checked baggage. Follow these tips and you'll do well on your next trip whether for business or pleasure.
Categories: Learn
If the Great American Beer Festival in Denver, Colorado just whet your whistle rather than quenched your thirst for the brewed beverage, perhaps its time to take a road trip – errr, flight – to the mecca of beer: Belgium. Try some true holy water, brewed by the Belgium monks themselves.
Think you know beer? Well if you've never heard of the Great American Beer Festival, think again. If you have heard of it, but haven't made the trip to beer mecca yet, well then shame on you. Use this teaser to get psyched and plan your September bro brouhaha. Or should we say – brew-haha? No, we shouldn't.
Categories: Live
Now that you've dumped some excess baggage it's time to pack up your suitcase and explore the world like only a free man can.
Want to travel but fear your bank account can't handle it? Fret no more with these cost saving travel secrets sure to give your vacation a run for its money.
Categories: Learn
It's easy to watch a vacation slip from "fun" to "frustrating" in a mere matter of seconds. If you find your travels teetering on the edge of disaster, or you're ready to plan ahead to avoid one, follow these tips to make your vacation as relaxing and fun as it should be.
Categories: Learn
In the midst of the busiest travel season of the year, you'd hate to find yourself bounced out of your room or wandering adrift through a strange and unfamiliar city. Follow these tips from the man in the know and you'll have a holly jolly Holiday vacation.
Categories: Live
Gonna ditch town with the guys to unwind before the summer is over? Awesome. Make sure you're properly prepared with these 10 essentials for your last minute weekend getaway.