Resumes
Categories: Earn
Because stressing about the formatting shouldn't be delaying your job search. Instead get a jumpstart with these 12 free resume templates.
Categories: Earn
Like it or not, more and more companies are taking a look at our social media presences when considering job applicants. Give 'em something they can't refuse.
Categories: Learn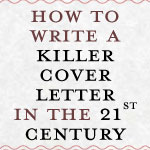 Attach as a separate document or include it in an e-mail? What file type? Does anyone actually read it? The customs of cover letters have changed since you learned the basics in 9th grade. Learn what to say and how to format your cover letters in the internet age.
Because you shouldn't be wasting your time formatting that shit.
Categories: Earn
Think your résumé, cover letter, and interview technique are perfect, but still can't land that perfect job? You're doing something wrong…