Waxed cotton canvas creates a water-resistant and lightweight layer with a history dating back to the 1500s. Today, waxed jackets add a functional and rugged style to your wardrobe.
Modern winter wear is full of warm and element-fighting tech we can barely wrap our brains around. But there's one time-tested stand-by that's been to subzero and soaked hell and back since what seems like the dawn of time… waxed cotton. Its origins stem from the sailing industry but not on clothing, at least not at first.
Sailors and fishermen used fish oils to penetrate sailcloth, rendering it more effective in dry weather while remaining lighter when sailing in wet weather. Extraneous sailcloth that had been oil-treated were used as capes. Later, linseed oil was applied to outerwear, and while it was effective for water and wind repellency, it tended to be inflexible in cold weather and yellowed, contributing to the famed coloring of fishermen's garb back then.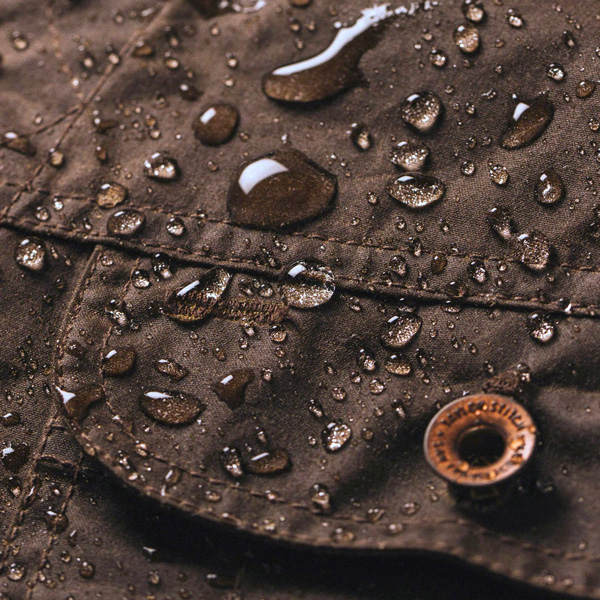 The transition was made to using paraffin-infused Egyptian cotton because it overcame the weaknesses of linseed oil and sailcloth. Waxed cotton eventually made its way to military clothing, as well as hunting and motorcycling where standard-setting British companies like Barbour and Belstaff established their roots.
Barbour is a British brand that's become synonymous with waxed cotton jackets, and they're very much a premium lifestyle brand whose reputation precedes itself thanks to a strong tradition of waxed cotton clothing. Barbour was established back in 1894, and they've outfitted British Royalty and style icons like Steve McQueen, the king of cool, himself.
From quilted field jackets to moto-style versions, Barbour's waxed cotton outerwear successfully crossed the ocean to our shores. Barbour has only one equal in the waxed outerwear market, and that's the younger, edgier Belstaff.
Less town and country than Barbour, the British Belstaff company began in 1924 making motorcycle helmets and then transitioned to a focus on bringing waxed cotton to the world of motorcycling. The company has changed hands from the Brits to the Italians in 2004, to the Germans in 2011, and then back to the UK in 2017, but the brand still delivers some of the most iconic waxed cotton motorcycle jackets and boasts David Beckham as one of its spokesmodels. Their style is more diversified now and includes knitwear, hats, boots, and leather jackets, but they will always be known for their motoring waxwear.
In most modern waxed cotton applications, thick cotton fabric is used as the base and gets treated with weather-proof wax (typically a combination of paraffin wax or beeswax and oils), and it not only makes the fabric fall and winter-ready, the combination far outlasts more modern materials because it makes the cotton fabric more resilient, and it can be repeatedly re-waxed.
As long as the fabric is well cared for and retreated when needed, the jackets can last decades. Plus, it can take heavy precipitation and still look great. The downside is the lack of breathability, so it's not typically used for any type of cold weather activewear like ski jackets.
Rewaxing Waxed Cotton
Re-waxing is a key part of exploiting the fabric's capabilities, as well as providing longevity. Under normal use, waxed cotton should be re-waxed about every couple of years. If you don't wear it often, it can be re-waxed less frequently. If your coat shows light spots, it's probably time to at least spot treat wax, if not re-wax the entire coat. But redoing all of it doesn't take that long and is definitely worth your while.
All that's required is the wax, plastic or rubber gloves, no-lint paper towels, a firm plastic bristled brush, and a hair dryer. Instead of just any wax, endeavor to use the same type of wax the manufacturer treated your coat with so the blending is right, and the protection and appearance remains even. If you're unsure of the type, contact the manufacturer directly, and they should be able to provide you with the information, if not the actual wax (Filson provides a tin of their wax with each garment and sells extras for $10 each).
Remove any dirt and debris with the brush first, ensuring nothing will get imbedded in the wax.
Using gloves, apply the wax evenly on the fabric by applying small dots of wax and expanding them in a circular motion until an area is covered.
Do not apply more wax on top of the first application. Take care to apply it evenly so the appearance is uniform across the garment.
Using the hair dryer several inches away from the fabric, heat the wax until it partially liquefies so the fabric can absorb it.
Wipe up any excess wax that's not absorbed.
Voila! You're done for at least another couple of years, and your coat will get fresh protection and a refreshed look. Here's a video that shows the process:
Some waxes for cotton jackets to consider:
Modern waxed cotton outerwear is no longer relegated to workwear or vintage-style motorcycle garb, and since waxed cotton fabric has a penchant for toughness, water-repellency, and warmth, it's now used in everyday cold-weather outerwear.
Here are some of the best-waxed cotton jackets that will up your style quotient and your ability to weather the elements.

Peregrine Bexley Jacket
The Bexley has British waxed cotton tradition woven right into it since it uses 8-ounce Millerain waxed fabric, the first name in British waxed cotton. Inspired by military jackets, the Bexley also provides the same look as the much pricier Belstaff Fieldmaster.
The fabric is waterproof and rugged, and the corduroy collar treats your neck well with its soft lining and strap closure. Two large hip flap pockets and a single snap closure chest pocket ensure easy small item and document storage.
Since it's unlined, the Bexley is best worn with an insulating layer during the colder months.
Upcountry Waxed Jacket
Bean's does down with a sophisticated look and a rugged waxed fabric. The box-stitched Upcountry gets a healthy dose of DownTek 650 that also repels moisture, so the jacket does double duty to keep the elements at bay.
It's also a hip-length cut for more coverage. Two patch pockets and two slash pockets mean quick and easy gear access, while the corduroy collar lends a refined touch. This one will look perfect with trim jeans and well-kept pair of these.
Flint & Tinder Wool Lined Waxed Trucker Jacket
Whoever said trucker jackets can't be worn past fall? This USA-made waxed cotton version says otherwise thanks to its tough exterior and wool-lined interior. Thick 8.25-ounce wax-infused sail cloth not only looks vintage, it will wear even more handsomely with age. The body lining uses soft recycled Japanese blanket wool, and arms get quilted polyester. The cut also happens to be roomy without making you look like a barrel-chested Paul Bunyan, so you can layer when things get really bad. One of our best field jacket picks.

Fjällräven Raven Padded Jacket
The Swedish outdoor clothing company knows a thing or two about getting their customers through some bitter cold and wet months, making the Fjällräven Raven Padded Jacket M just about perfect for snow and sleet.
Its no-nonsense look with four large snap closure flap pockets works with both jeans and slacks, and the Supreme Microloft insulation is light and warm. Wax up the G-1000 exterior fabric with their Greenland Wax, and you have yourself a trim but longer coat that helps you survive old man winter. It even has a hood that rolls into the collar for even more protection.
Goodthreads Moto Jacket
Our budget Amazon pick might not benefit from waxed cotton, but it's worth mentioning based on both price and style points alone. Emulating the likes of Belstaff, this moto jacket has the right silhouette, coloring, features and hardware to make it a sophisticated steal. The thick 100% cotton gets coated for weather-resistance and even has a fancy blackwatch plaid flannel lining for warmth. Add in a neck strap, six exterior pockets, brass hardware, a heavy-duty zipper and snap placket to keep out the elements, and you have yourself a recipe for warmth, style, and impressing for way, way less. Read our full review.

Tin Cloth Jacket
Filson's American-made Tin Cloth Jacket is a beast that's just as capable for a rough-weather day in the city as it is taking on wood-chopping and bushcraft duties. As thick and rugged as the day is long, the 15-ounce cotton oil finished fabric is like armor against brush, thorns, and other unpredictable nasties, while the 100% virgin wool collar takes care of your tender neck that's chill-susceptible.
Big pockets on the front and a roomy cut means there's ample room for one of their zip-in wool liners and for big arcs of movement like reaching for that whiskey after a cold day in the field. Their own Filson paraffin-based wax can be reapplied every year or as needed for renewed protection.
Tom Beckbe Tensaw Jacket
This one's the flagship in the group and worth every penny. The Tensaw has it all including a waxed cotton shell, a contrasting Alabama red clay-hued twill lining, refined Bedford corduroy-lined collar, and gusseted underarms for movement.
The Tenshaw also sports two large snap closure bellows pockets at the hip, two welt handwarmer pockets, and a single hidden internal pocket for valuables. The big brass zipper also gets companion brass snaps in the full-length storm flap that laughs at the rain. Oh, and this one's proudly made right here in America.

Lined Long Haul Jacket
This field coat has all the makings of outerwear that brilliant bridges the gap between chilly fall and mild winter with its 9oz organic cotton beeswaxed canvas fabric, wool-nylon lining, and a corduroy collar.
Tow chest pockets and hand warmer pockets are at the ready, and the simple cut means it's ready for town or country. Throw it on over one of these, and you'll be warm, stylish, and ready for work or recreational beer tasting.
Orvis Field Coat
Orvis is known for their hunting and field clothing, having been around since 1856 out of Vermont. This waxed cotton field coat is the modern interpretation of their venerable stand-by, and it's just as good for urban jaunts as it is for the rigors of the outdoors. It's a more ruggedized version of the trusty field jacket with the addition of wax. The iconic shoulder shooting patches and elbow patches are reinforced for long life, and the collar and cuffs are lined with soft corduroy for your more delicate side. Big pockets for gear and cold hands, and a contrasting red lining ensure warmth, and there's even a rear-entry waterproof game bag in case you really do use this in the field.