Sunglasses
Find the right frames for your face.
Categories: Spend
How one pair of sunglasses matches any mood (and getup).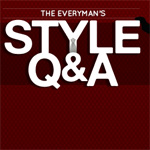 Our man Grant answers your style conundrums on doing v-necks right, finding a fresco suit, hemming jeans instead of cuffing, and sunglasses that aren't Wayfarers or aviators.
Categories: Spend
We may not all be movie stars, but that doesn't mean we can't dress like we are. Look your best while protecting your eyes with our round up of 10 great looking pairs of sunglasses featured by Hollywood.
Wayfarers are the new aviators. There I said it. The new standard. The blue dress shirt of men's shades. The summer sunglasses every guy should have. Check out our pick: Anon's Kennedy.
Categories: Spend
Mad Men's Don Draper may not be an all-around upstanding guy, but he certainly has style.

If it's good enough for the Apollo 11 astronauts, it's good enough for us.