Gift ideas
Save money, make a great impression with this easy, personalized gift.
Categories: Spend
It's getting down to crunch time for those holiday wish lists. If you find yourself unsure of what to give or get this year, here are five digital age solutions to finding unique style upgrades for the millennial man.
Use this guide as inspiration to find something she wants, no matter who she is in your life.
Categories: Spend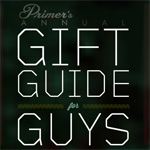 Great ideas for your Secret Santa, family, significant other, and friends.
Because it's too late for free shipping, and the mall is a madhouse.
Categories: Spend
Every year our families, significant others, and co-workers ask for a list of things we'd like for Christmas, and every year it's a struggle. Fret not, fellow gentlemen, Primer's got our annual list of things we'd love to have, but would never buy for ourselves — all reasonably priced and easily attainable.
Coming up with gift ideas for a girlfriend or wife can be surprisingly difficult, and the usual gift guides that list overpriced jewelry or $300 cookware aren't much help. That's why we asked a few girls what their favorite gifts they've received from guys are. These don't require a huge credit limit and you'll definitely find something she'll love.
Categories: Spend
You want to give gifts that are more personal than a gift card; we don't blame you. A new crop of websites allow you to create custom gifts for everyone on your list, and since it's all online it's faster and easier than waiting in the check out line.
Christmas is coming, the goose is getting fat, and you're still struggling to find a gift for your girlfriend. Pick one (or more, if you've been naughty) of these gifts and finish your Christmas shopping early-ish.

If you're having a hard time narrowing down the gift idea lists, make it easy by crossing off these five common presents that may be good in spirit but are ultimately lousy gifts.
Categories: Spend
As we get older it becomes harder and harder to give people gift suggestions for what we want for Christmas. Not only because no one is going to buy us a Playstation anymore, but because if it's relatively inexpensive and we want it, we would probably just buy it ourselves. From your girlfriend to your parents to Secret Santa at work, we've got 60 gift ideas for guys that are things we want, but would never buy on our own.
Trust us, he doesn't have a tie like this. Pick up one of these from Miss Feeney's Finery and give him a tie with some class.
Categories: Spend
Making Christmas lists seems to get harder every year you get older, and taking your girlfriend's budget into consideration doesn't make it any easier. Luckily for you procrastinators, we've taken all the hard work out of it and picked 10 great gifts you'll be happy to receive.
Despite being simple creatures, men are notoriously hard to buy appropriate gifts for. Take a look at these five ideas that are cool, without being too, you know, emotional about it.