Watches
Categories: Spend
Old, classic watches aren't just for rich guys.
Categories: Spend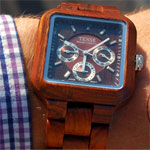 Take your timepiece back to nature with a beautifully crafted wooden watch.
Categories: Spend
If you've browsed by the watch case in the last year or two you've no doubt witnessed the popularity of watches with a black face and black strap grow to an unlimited number of choices. Here are a few of our affordable favorites.
Categories: Spend
Breathe new life into an old watch with these super-cheap Timex watch straps.
Categories: Spend
You don't have to drop a health insurance payment to get a cool, minimalist watch. We love the simple white face and black leather strap of this affordable Timex. (Oh, and we've got one to giveaway too.)
Categories: Spend
We love the camper style watch that's been popular for awhile now but we were looking for something a little more…badass-ey. That's when we found the Survival Straps paracord watch strap.
Categories: Spend
Surprisingly, digital watches haven't changed a whole lot since they were invented — until now. We review the latest incarnation of the digital watch that uses the same E Ink technology as the Amazon Kindle. It's updated, it's cool looking…would you wear it?
Categories: Spend
These days, the majority of watch faces are silver or some crazy color. No matter what you heard, black is always the new black, so keep it classy and add a black faced watch to your collection.
Categories: Learn
We'd love to get to know you a little better. So much so we're giving away a 20th Anniversary Limited Edition Skagen watch. Come say hi and enter to win.
Categories: Spend
Every man needs an eye catching watch – it's the perfect accessory – but many guys think well-designed watches have to cost hundreds of dollars if not more. Enter these watches from Skagen with high end looks and wallet friendly pricing.
Categories: Spend
A man's watch has long been a symbol of his character. If you're thinking about investing in a timepiece that will last the rest of your life, or if your current watch features Velcro, a calculator, or cartoon characters, look no further than these 5 classics.