Jeans
Categories: Spend
"Affordable" used loosely – none of it's cheap.
Your new favorite jeans cost less than $50 and will fit you perfectly.
Categories: Learn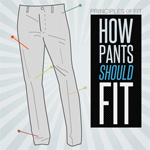 Pants act as an anchor for your style, swapping one pair for another can completely change the image you convey. Make sure they fit their best.
Categories: Spend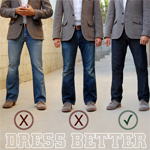 Ditch the wide legs and bleached whiskers. Wearing dark jeans in a straight leg fit will make you look more polished, whether you're having a beer with your pals, or talking raises with your boss.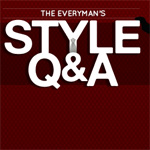 Our man Grant answers your style conundrums on doing v-necks right, finding a fresco suit, hemming jeans instead of cuffing, and sunglasses that aren't Wayfarers or aviators.
Categories: Learn
There's nothing more masculine in a man's closet than his jeans. Tried and true, denim has been a staple to a hard working man's attire for over 150 years. Like a suit, there are rules to be followed to look your absolute best. Do you know them?
Categories: Learn
Do you know which cut of jeans looks best on your body type? Are you sure? Think a nice shirt is all that comprises a good outfit? Look up your shape in part 1 of The Denim Dictionary and be the best dressed man in the room.