Fall Style
Categories: Spend
Whether you're Christmas shopping, going to work on the weekend, or strolling across the quad for class, stay warm without looking like you're going snowboarding.
Categories: Spend
The holidays are among us, but it hasn't deterred our work ethic.
Categories: Spend
The most masculine shirt is also the most versatile.
Categories: Spend
Whether you're in grad school, or just looking for a smart, but definitely casual style, this Getup will take you anywhere you want to go.
Categories: Spend
Be the best dressed man in the bar without overdoing it.
Categories: Spend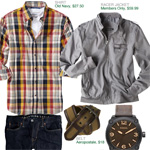 Balance a bold pattern with grays and other earth tones.
Categories: Spend
Just because the summer is over doesn't mean you can't relax at the beach. Enjoy the cooler sands and get away for the weekend. You've earned it.
Categories: Spend
You don't have to wear a tie to feel like a man. Check out these frugal alternatives for a similar style.
Categories: Spend
As temperatures cool off include layers with lighter fabrics.
Categories: Spend
New styles may start expensive, but we've found frugal alternatives.
It's time to wrap up your ankles, insulate your toes and waterproof your heels. Whether your uniform is a gray flannel suit or denim overalls, your boots should be made of the best materials available while standing up to the elements in style.
Categories: Spend
Once only a staple of Mr. Rogers and our grandfathers, the cardigan has returned in recent years to a seasonal staple for guys of all ages. If you don't have one yet, let us push you in the right direction.
Categories: Spend
This season there are 3 key pieces that every guy should have in his wardrobe. Worn as an ensemble, you can easily transition your look to suit the weather outside.