Great work style when your local culture KNOWS heat.
I need to mow the lawn. I don't mind doing it, and I enjoy the sunshine, but when it's 93 degrees outside like it is today, it's tough to find the motivation. To be fair, I can throw on a pair of gym shorts, a baseball hat, and no shirt to beat the heat.
The problem is most of us spend our days at work, not at home, and workplaces frown upon a baseball hat and no shirt. It's not a look that screams professionalism. And if you're a guy who lives in the South or the Southwest where it's just hot all the damn time (and don't forget the humidity, too), then a long-sleeved dress shirt and a pair of chinos can leave you damp in every crevice by about 10 AM.
If you always scoff when one of our spring or summer Getups has a light jacket in it – we've built this hot weather work outfit capsule for you. For the guy who lives in perpetual heat and oppressive humidity – Georgia, South Carolina, Texas, and many more – we're aiming to take some of the headache out of dressing for work when it's hot.
How to Dress Up Shorts
The silver bullet: Shorts. While shorts don't scream professionalism either, the local culture for many of the most hot and humid of places allow it when done in a more "dressed up" way.
Like most of dressing well, intentionality shows up in the details. The shorts included here feature things like textured materials, cuffed hems, and extended fly tabs, which give visual cues to dress pants, rather than baggy chino shorts that are on the other end of the spectrum.
For those who work in more traditional environments, have bosses who hate you, or just don't wear shorts – ever, there are a few pant alternatives included.
Let's go.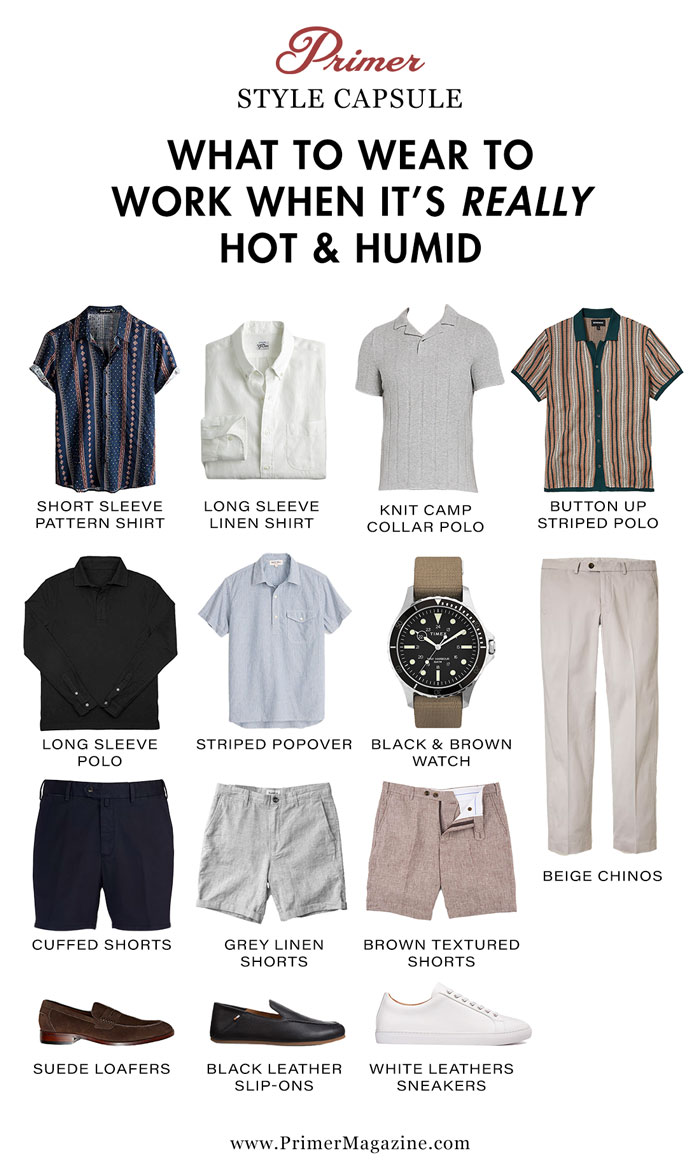 Summer Work Outfit Capsule Items
Short sleeve pattern shirt
In the name of subtlety we're going to keep the shorts simple; this means that patterns will be up top. No one should go to work in the Hawaiian shirt that your dad wore to work on Fridays in 1993, complete with large, white lilies, and a cut loose enough to accommodate a refrigerator box.
The great thing about this shirt from Amazon (along with the price) is how understated the pattern is. From afar it simply looks like a mildly colorful shirt. Onlookers will need to get close to see the fine flower pattern. The lightweight cotton blend will keep you cool and offers a flattering summer drape. Because the base color is a deep navy, it will match almost anything you own for work or casual wear.
Long sleeve linen shirt
There's a handful of ways to rock a white linen shirt, and for that reason, it's a summer staple. Linen is light, it breathes, and it may be the only fabric that wrinkles in a way that's flattering. Because linen takes on natural creases throughout the day as you move, it will look as though the shirt was tailor-made to fit. This one from J.Crew is sourced from Ireland, and don't be surprised if the slim cut is still a little bit roomy. Linen shirts should fit slightly relaxed so as to allow for air flow, keeping you cool on the hottest days.
Ribbed camp collar polo
You probably think a polo shirt is only fit for a casual day, but the specific design elements of said polo can make all the difference. This polo from express has vertical ribs, which are not only slimming, they add a certain air of formality as well. Perfect for the office or lunch with the boss. To keep you cool and comfortable, the fabric has a bit of stretch (so it'll move with you), and the collar is a camp collar. Not sure which collar type you prefer? Check out our guide to shirt collar types.
Button up striped polo
Full disclosure: I have a thing for Bonobos. They take classic and retro, add a touch of modernity, and voila: style. This button up polo has the soft hand of a knit with the breathability of a shirt you'd wear poolside. The pattern is old-school wide herringbone with earthy colors that keep it subtle and office safe.
Long sleeve polo
If you work in an overly air-conditioned office (you know, it's 100 degrees outside and 65 degrees at your desk), then a long-sleeved polo is a nice piece to have in the summer arsenal. When you picture a long-sleeved polo, you probably think of a loose-fitting rugby shirt with bright colors, a contrast collar, and some British symbol on the chest. The work-ready long-sleeved polo is this one from Kent Wang. Pique cotton, a double-layered collar, and mother-of-pearl buttons at the cuffs (yes, like a dress shirt), elevate this polo.
Striped popover shirt
For a total change of pace, try the popover shirt. A cross between a polo and a dress shirt, the popover shirt is made for summer. It also provides more variation between just a polo and button up shirt that we get around using layers during other seasons. This one from Alex Mill is made from a cotton, linen blend, meaning it'll breathe well without wrinkling too much.
Watch that can transpose black and brown outfits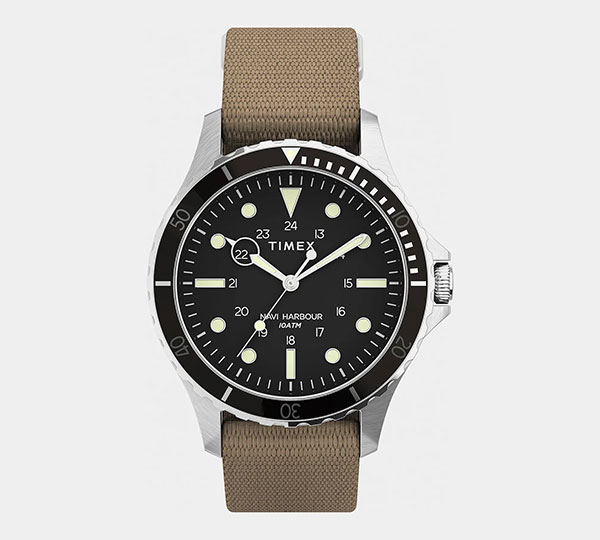 When it comes to a wear-it-with-anything watch that respects the budget, it's hard to beat Timex. This dive-inspired timepiece has a stainless case, with a black face and a tan strap – Translation: This watch will complement any color scheme you put together.
→ Watch: How to mix black with brown on Instagram Reels
Navy cuffed dress shorts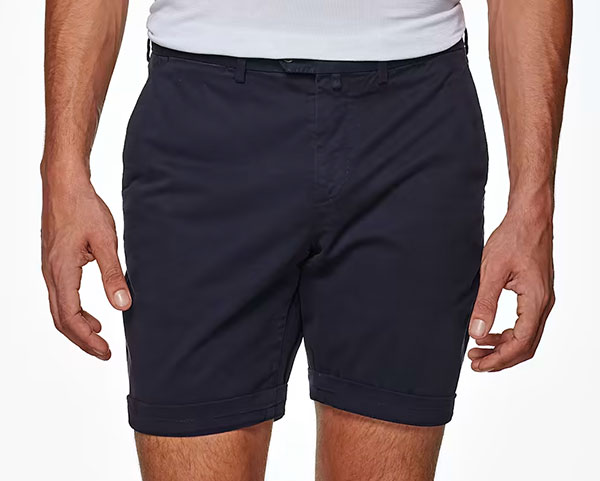 The key to wearing shorts to work is keeping the colors muted and the cut svelte. The last thing you want is to stroll into the boardroom, looking like a skater from 1998. These Navy Porto Shorts from SuitSupply are the epitome of shorts that work for work (get it?). Made from premium Spanish cotton, these shorts have a small cuff (like a pair of dress pants) and a pull-over tab at the button, which makes them a skosh dressier than your average shorts.
→ Also available as pants
Grey linen shorts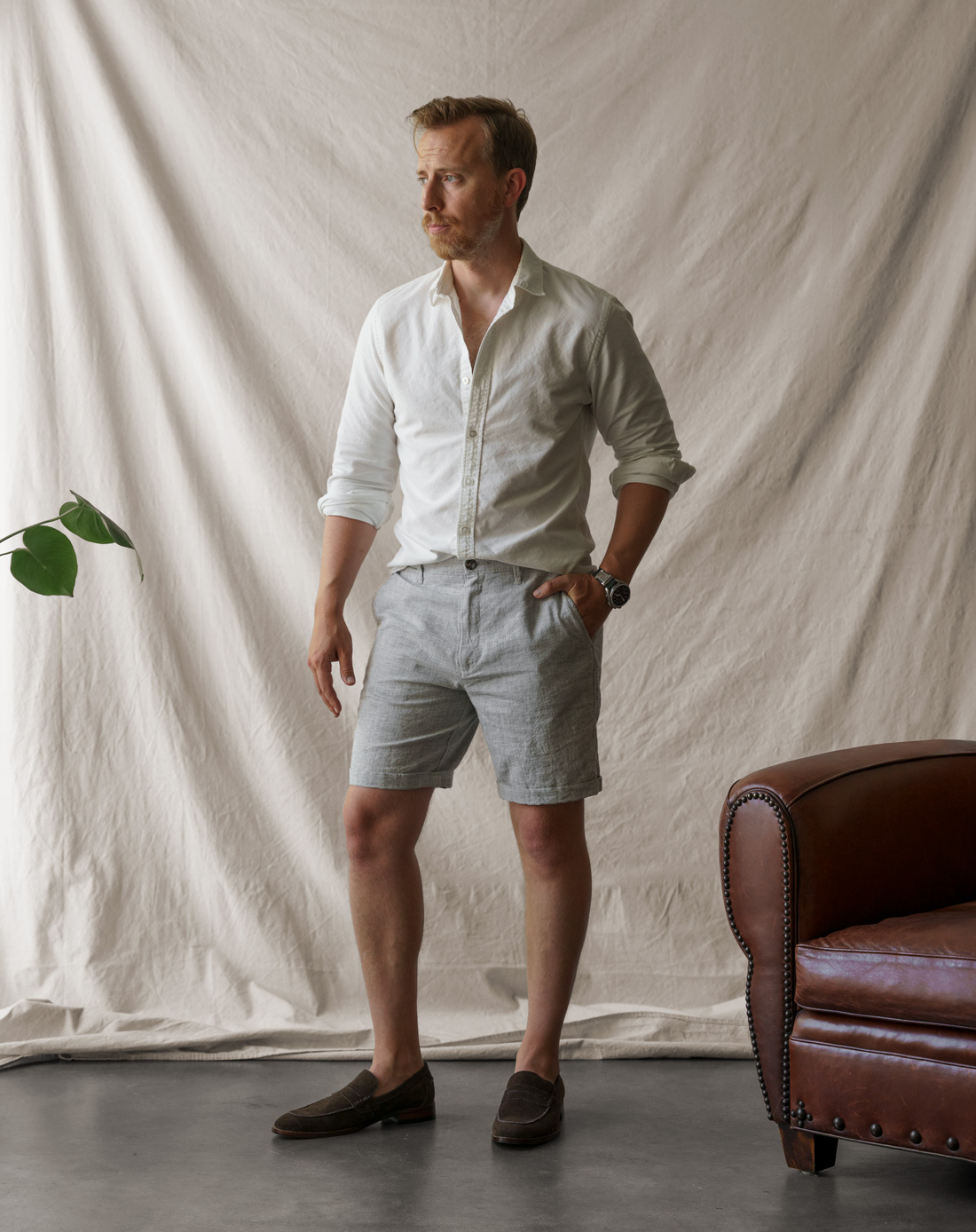 My tailor always said a man only needs two suits: Navy and gray. The same goes for shorts. These light gray shorts from Target are subtle enough to pass in the office, and they have a texture that will complement any shirt you're wearing. The cotten, linen blend will keep you cool, and the 7-inch length keeps them from appearing overly casual. For an extra touch, you can flip up the bottom to create a cuff like Andrew has done.
→ Pants alternatives: Macy's / Brooks Brothers
Brown textured linen shorts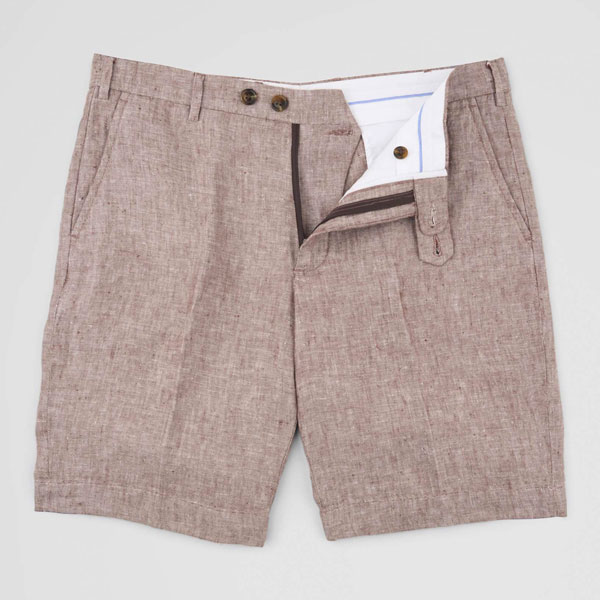 We love Spier and Mackay for their quality-to-price ratio. The attention to detail is outstanding, the fabric is exceptional, and the prices are fair. To round out the collection, this pair of brown oxford linen shorts bring an earth tone with a British charm. The button tab closure combined with the slight crease down the front make these well suited for the workplace.
Light beige stretch chinos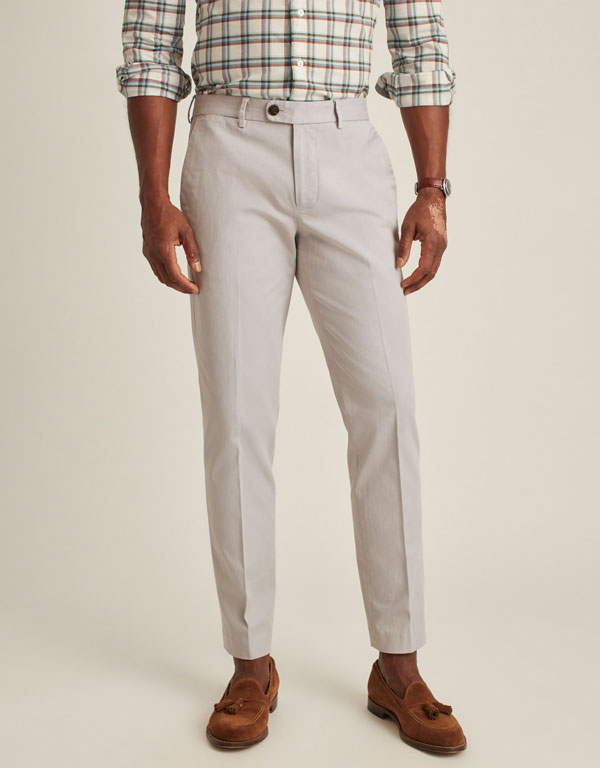 These Italian Stretch Chinos from Bonobos come in over a dozen colors, have a button tab closure (to add a bit of formality to those short sleeves you're wearing), and they're cut in an athletic fit for a bit of extra room in the thighs and the butt. No, you don't want your chinos to be too slim in summertime. Can you say swampass?
Brown suede loafers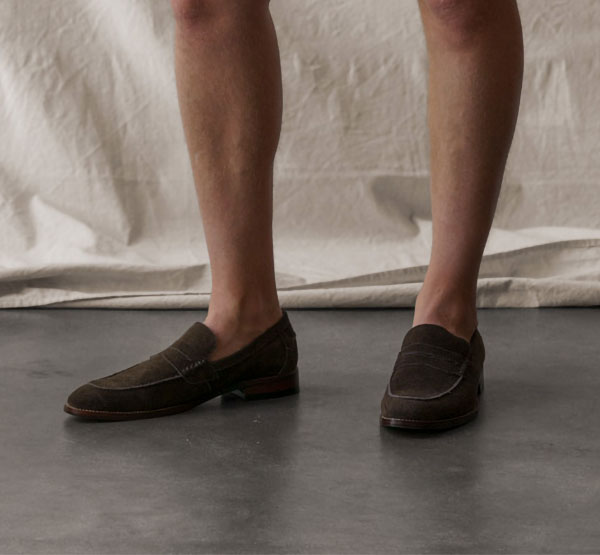 (Amazon provided this at our request.)
I've said it before: I'm a sucker for a good pair of penny loafers. While originally designed solely for casual wear (literally for loafing around), loafers have become the Swiss Army knife of shoes. Wear them with a suit; wear them with chinos, and yes, wear them with shorts. This chocolate suede pair from Winthrop have a small beefroll, a rounded toe, and a leather sole – they're as American prep as they come.
Black leather slip ons
You can't wear your black cap-toes with shorts because…well…you just can't. Instead, reach for a pair of black slip-on loafers (also called Venetians). This pair from Allen Edmonds combines the elegance of black leather with minimal stitching (for a sleeker silhouette) and a flexible rubber sole for maximum comfort. Oh, and they're on sale.
White leather sneakers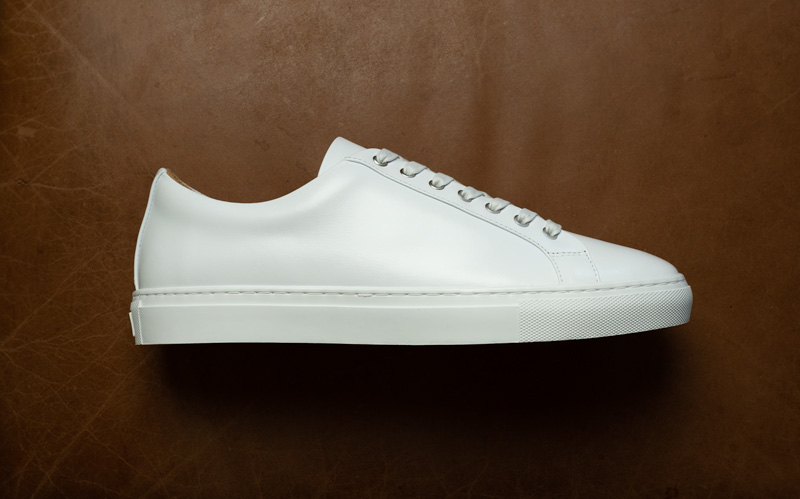 (Provided)
For summer Fridays (or for any day if you have a cool boss) you need a pair of plain white sneakers. The anchor to any outfit (Seriously, you can wear them with jeans or a suit), white sneakers are the cleanest casual footwear you can have. This pair from Thursday Boot Co. are fully leather lined and don't insist on having a name brand plastered on the side or the heel. Chic and streamlined, these are a must have.
Other options:
Hot Weather Outfits to Wear to Work
15 outfits made from the style capsule: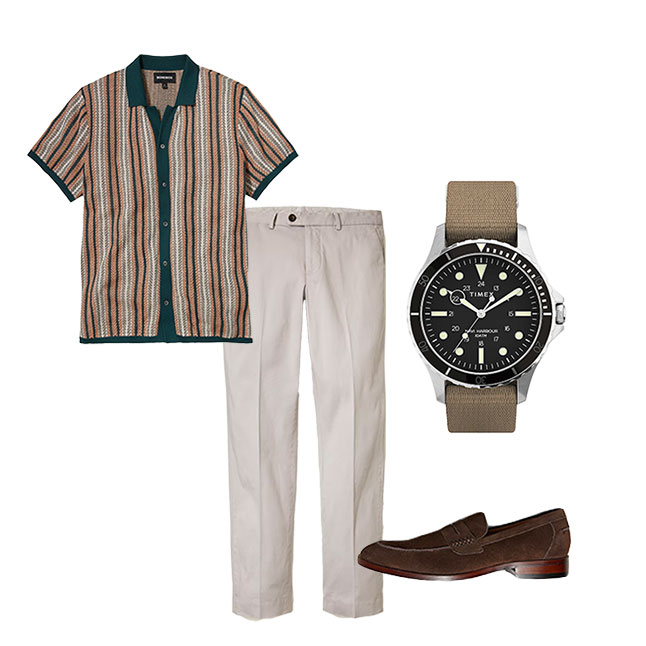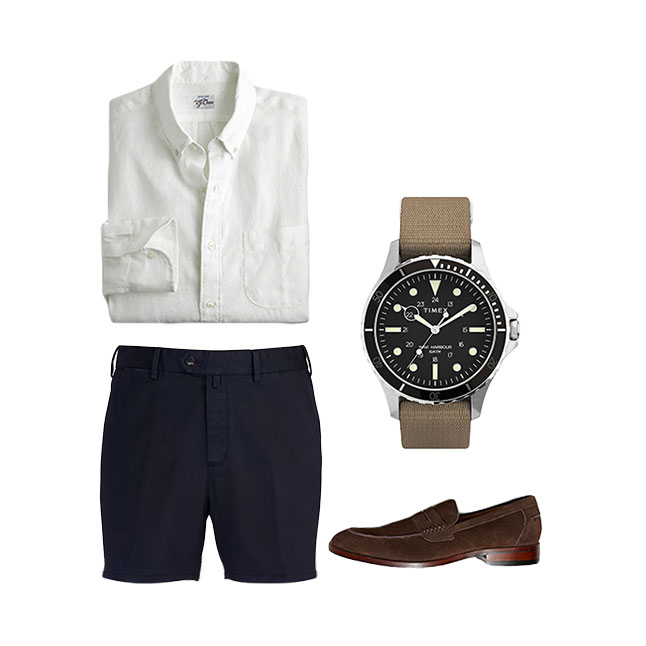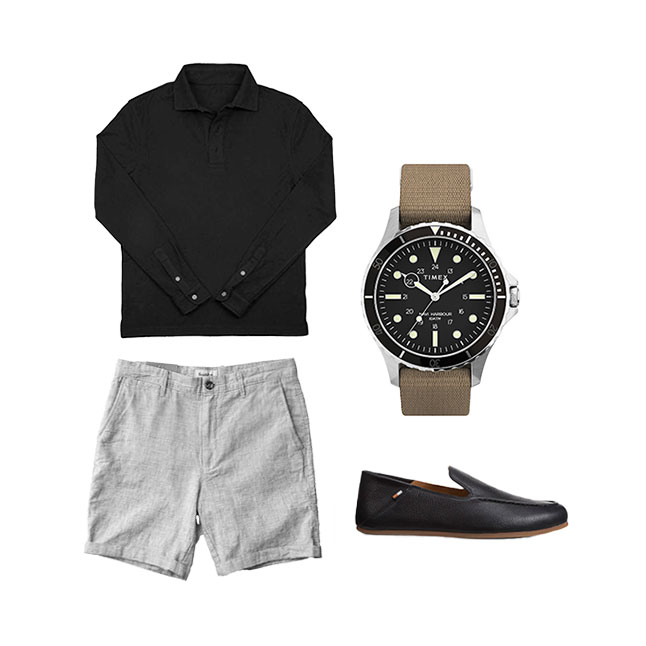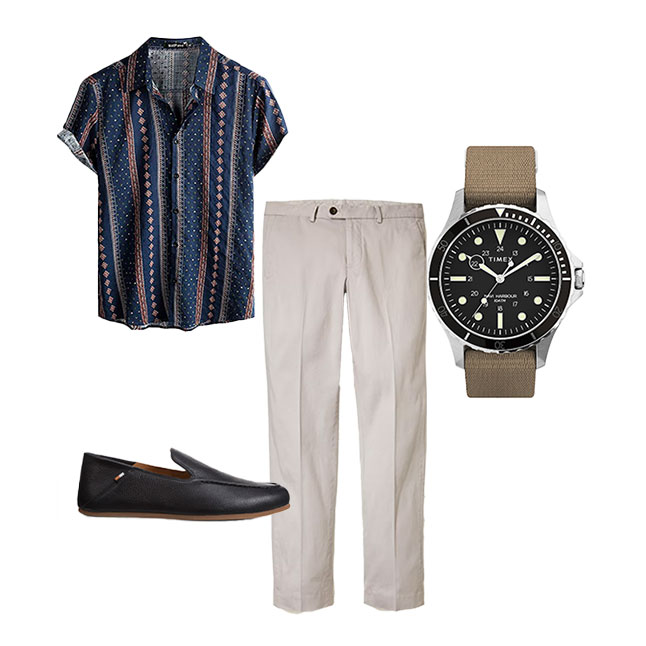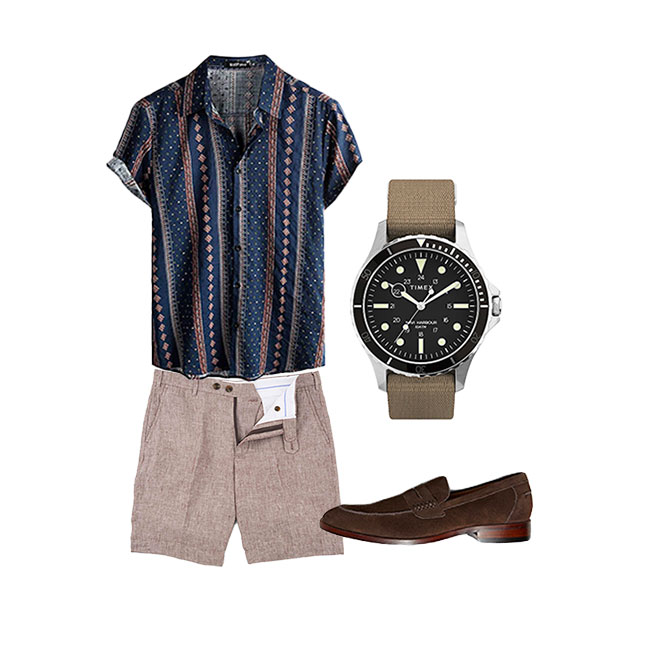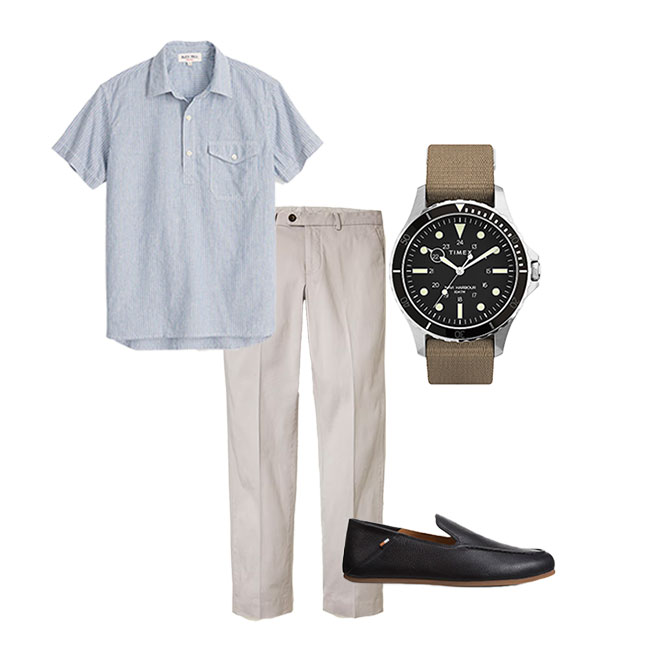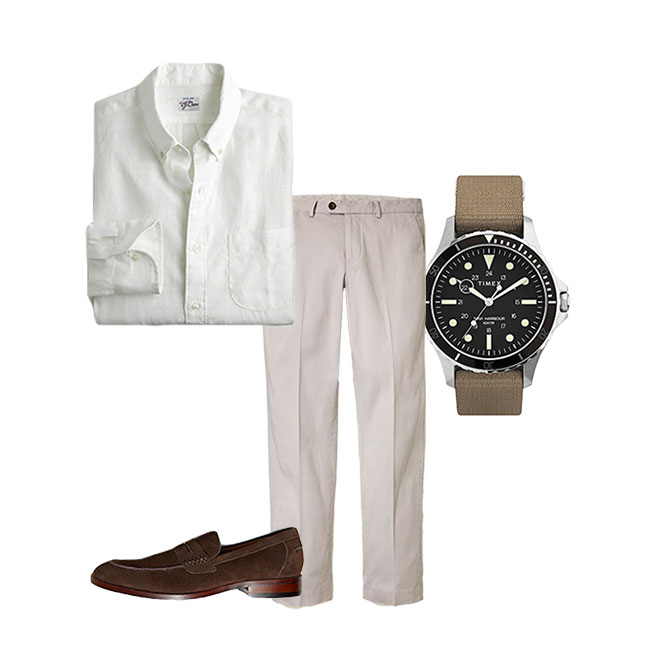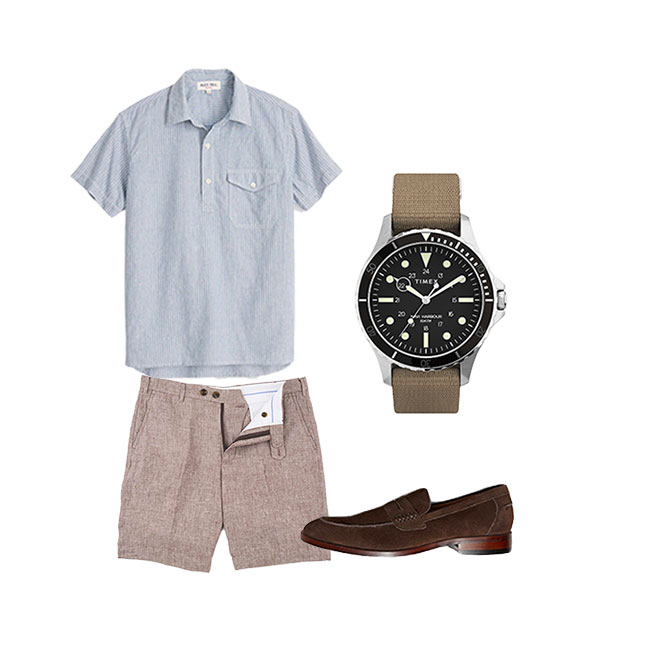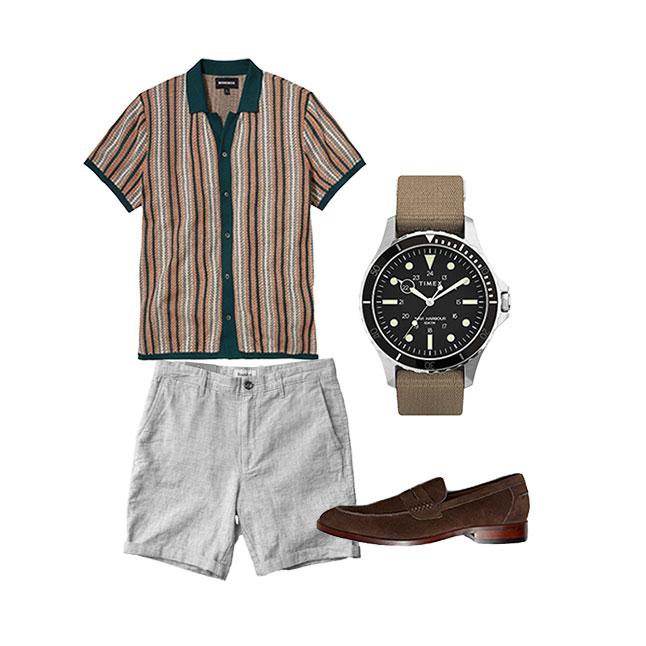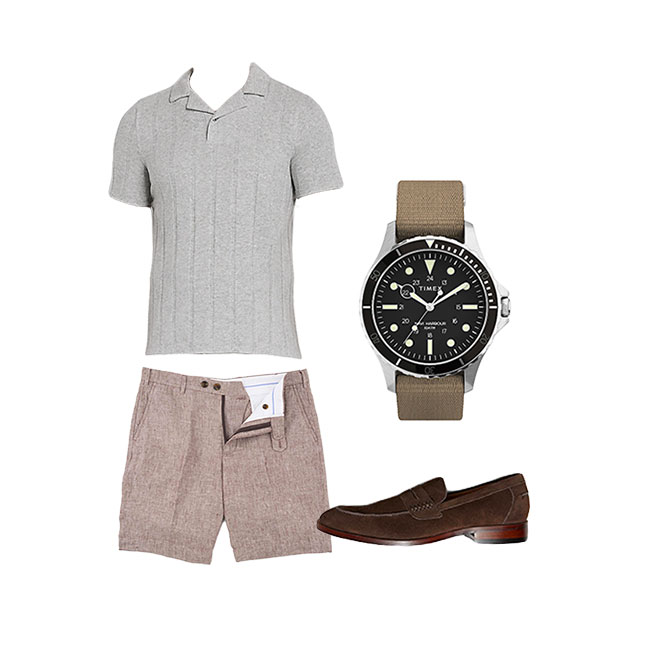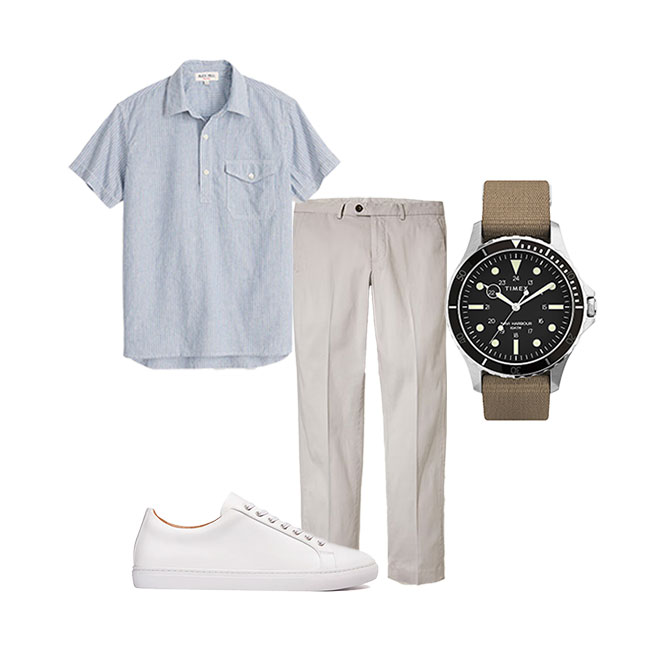 Found this useful? Click here to see all of Primer's Capsule Wardrobes