A new Getup every day this week!
While I'm always up for an adventure, I feel most comfortable when I know roughly what's expected of me. For most guys, the same goes for style – you probably know where you are with black tie, business, and casual, but it's the gray areas like "black tie optional" and "smart casual" where you start to question your outfit choices.
Being overdressed at work feels especially awkward, like I might be sneaking out for a job interview somewhere else. Although it's preferable to looking sloppy and not put together (it's always better to be too dressed up vs. not enough).
That's why I pulled together this Getup – it exemplifies office-appropriate smart casual. It's polished without being stuffy or overly formal, and can easily take you from the office to going out with friends or on a date without seeming like you came straight from work. And that's the key to smart casual – attire that's appropriate for almost any situation.
If you'd like a few more examples of outfits that will help you look and feel well-dressed, not dressy, we're about to launch a guide to all things "smart casual." Stay tuned.
Before we do a break-down of each item, let's look at the outfit as a whole. The blazer and pants are slim-fitting, creating a silhouette that's more relaxed than a suit but still sharper than jeans and a hoodie.
The color palette is office-friendly, and also a nod to the season. Neutral and a bit muted, but not monochromatic. While it makes sense to wear pastel hues and lightweight materials in spring and summer, cooler autumn temperatures call for slightly darker colors, neutrals, and earth tones.
The blazer commands a lot of attention here. It takes the outfit from business casual (khakis and a button up) to smart casual. It's polished without being too stuffy. Pictured is one from Target, which is available in some stores, but not online; the Casual Classic Blazer in Stretch from Gap is similar in cut and material. While navy is a classic blazer color, it really stands out against the gray checked shirt.
The medium-sized gray gingham check shirt ties in with the brown pants nicely. The larger size of the check gives the outfit a rugged anchor, as opposed to a more dressed up feel that a solid or tighter check might provide.
Flint and Tinder's 365 Pant in a slim cut pairs well with the blazer – a slim blazer and baggy pants wouldn't look pulled-together. These American-made pants are the perfect smart casual mashup. The look of chinos, the comfort of perfromance pants, and the style of your favorite jeans.
TheItalian-made, derby-style shoe rests on a crepe sole that's both comfortable and a little more casual than a traditional dress shoe. The shoes are made from a rugged brown suede that's a little dressed-down (compared to patent leather) and adds texture. Essentially these are desert boots cut into the shape of dress shoes and you'd be hard pressed to find a more comfortable, smart casual option without veering into sneaker territory.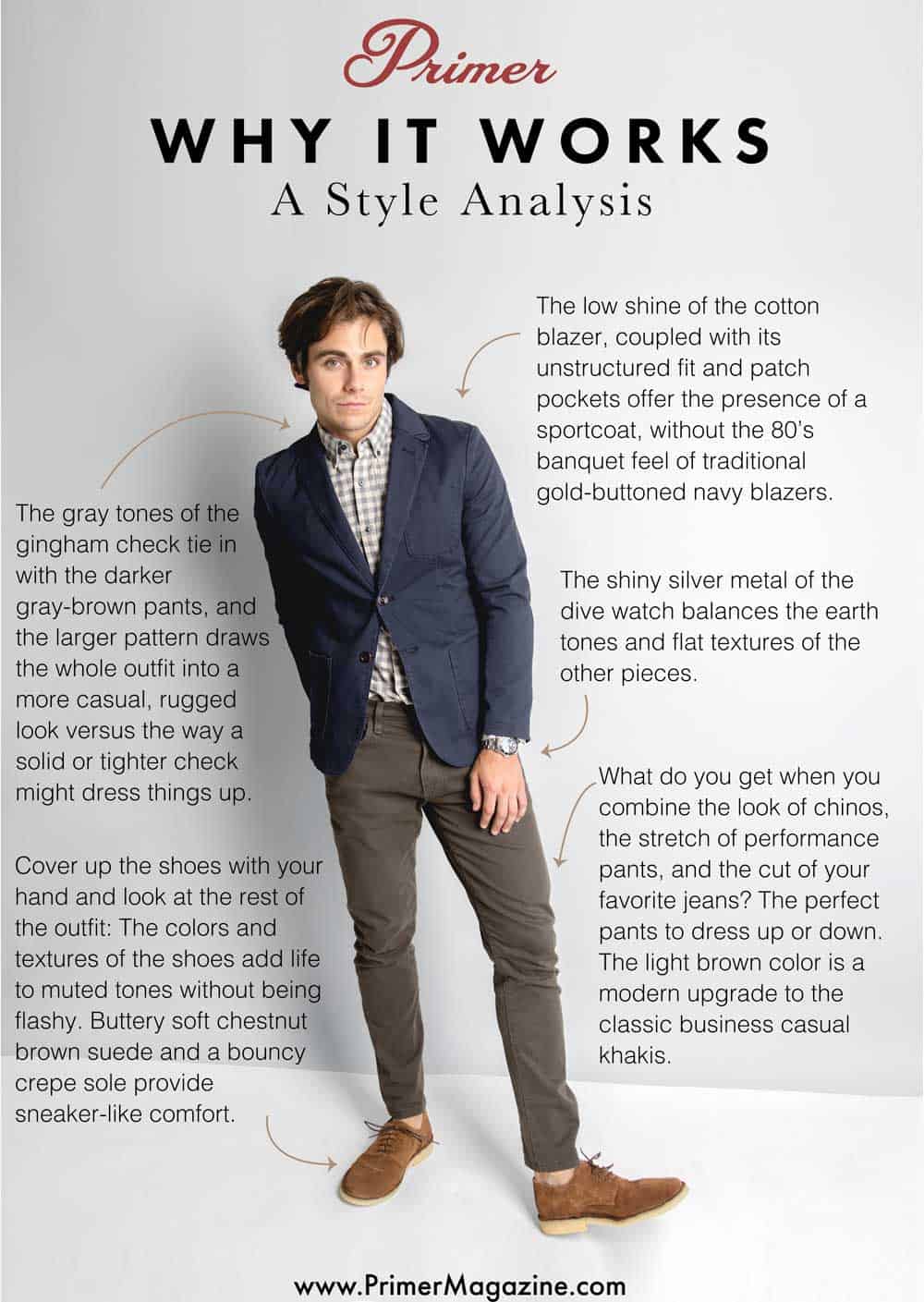 Tailoring
This classic blazer has the shape of a more dressed-up sportcoat; rendered in cotton, with a bit of stretch and an unstructured design, it's clearly more casual and day-to-day. You could wear it with a shirt and tie, or paired with jeans, designer sneakers, and one of your favorite t-shirts. (As a reminder, a blazer is not a suit jacket. The two are cut differently, from silhouette and structure to length, lining, and details like pocket and button styles.)
The 365 pant has a flattering, tapered silhouette that works equally well with button-down shirts, t-shirts, and sweaters. In general, when building your smart casual wardrobe, it's essential to invest in versatile items to depend on.
Accessorizing
I always think you can't go wrong with a diving watch. If it's good enough for James Bond, it's good enough for me. The Mako II's durable stainless steel case, easy to read dial, and retro-modern style reads as sleek and professional. Plus it's rated water-resistant to 200m, in case your latest sales report lands you in some deep water. (Check out our diving watch video and guide for even more of our favorite affordable styles).
Continuing the retro-meets-modern theme, these polarized MVMT Hyde sunglasses have a throwback style that feels fresh thanks to sleek frames and polarized lenses. Plus, they're flattering on most facial types, and can be dressed up with suits or down with t-shirts and jeans.
Dress socks can either be completely neutral or wild and wacky (some guys love a patterned sock) but I chose to go with no-show socks – here's a few brands we recommend – because it ups the casual feel a bit and keeps the focus on the other items in this Getup.
Whether you're about to get started in a new office or just trying to put your best foot forward in your current gig, I hope this Getup helps you feel comfortable, professional, and ready for whatever fall has in store.
Shop the Look:
Stretch Cotton Blazer (similar): Gap, $63
Slim Stretch 365 Pant: Flint & Tinder, $98
Flex Gingham Shirt: J.Crew Factory, $39.50
Italian-made Suede Derby: AstorFlex, $145
Polarized Sunglasses: MVMT, $90
What are some of your favorite tips for creating the perfect smart-casual outfit?