Finding great casual style in my favorite film.
It's amazing how many times you can see a movie and miss so much. I must have seen the original Ghostbusters legitimately at least a hundred times in my life. I even wrote the most extensive guide on making a DIY Ghostbusters uniform that has helped thousands of people fulfill their childhood fantasies, with unique details from my guide appearing in museum display recreations. Saying I'm familiar with the movie would be an understatement.
And yet I only recently started noticing all of the off-duty getups, the outfits the Ghostbusters wore when they weren't decked out in their signature tan jumpsuits and proton packs. These overlooked moments provide a unique window into the characters' personalities and the film's setting in 1980s New York City.
These outfits incorporate enduring elements that have stood the test of time, seamlessly transitioning from the 1980s to today's contemporary style. This is particularly evident in the recent shifts in design philosophy from brands like J.Crew, where there has been a noticeable return to styles and designs reminiscent of the 1980s.
While, ok fine, it is unlikely that J.Crew has been directly inspired by "Ghostbusters," the parallels between their current offerings and the film's costumes are uncanny.
This retro revival has brought with it a resurgence of classic cuts, pops of color, and an appreciation for mixing classically utilitarian clothing with refined accents—all elements that are present in the Ghostbusters' casual off-duty outfits. The result is that these looks are not only relevant again but are almost entirely re-creatable using modern pieces, and 80% of it from J.Crew.
"We can relax, I found the car." Ray's Workwear Outfit
Ray's attire in "Ghostbusters" strikes a perfect chord between utilitarian simplicity and a quiet nod to style—a visual cue to how he straddles his academic background with the out-in-the-field realities of his new business. The denim chore coat he dons is an option that means business, but its choice of fabric and detail adds a hint of sartorial savvy. Similarly his gray sweatshirt and dark gray jeans are subdued and functional but have details like the boxer's v on the collar and the raglan sleeves. He's ready for work, but he's not oblivious to the aesthetic details.
He wears the chore coat again with the white t-shirt and khakis during the Dana interview scene, to a similar effect:
It's the kind of outfit that doesn't date, the sort you could pull from a wardrobe thirty years on and still feel current in. It's a combo that works, whether your job is wrestling with supernatural entities or social media trolls.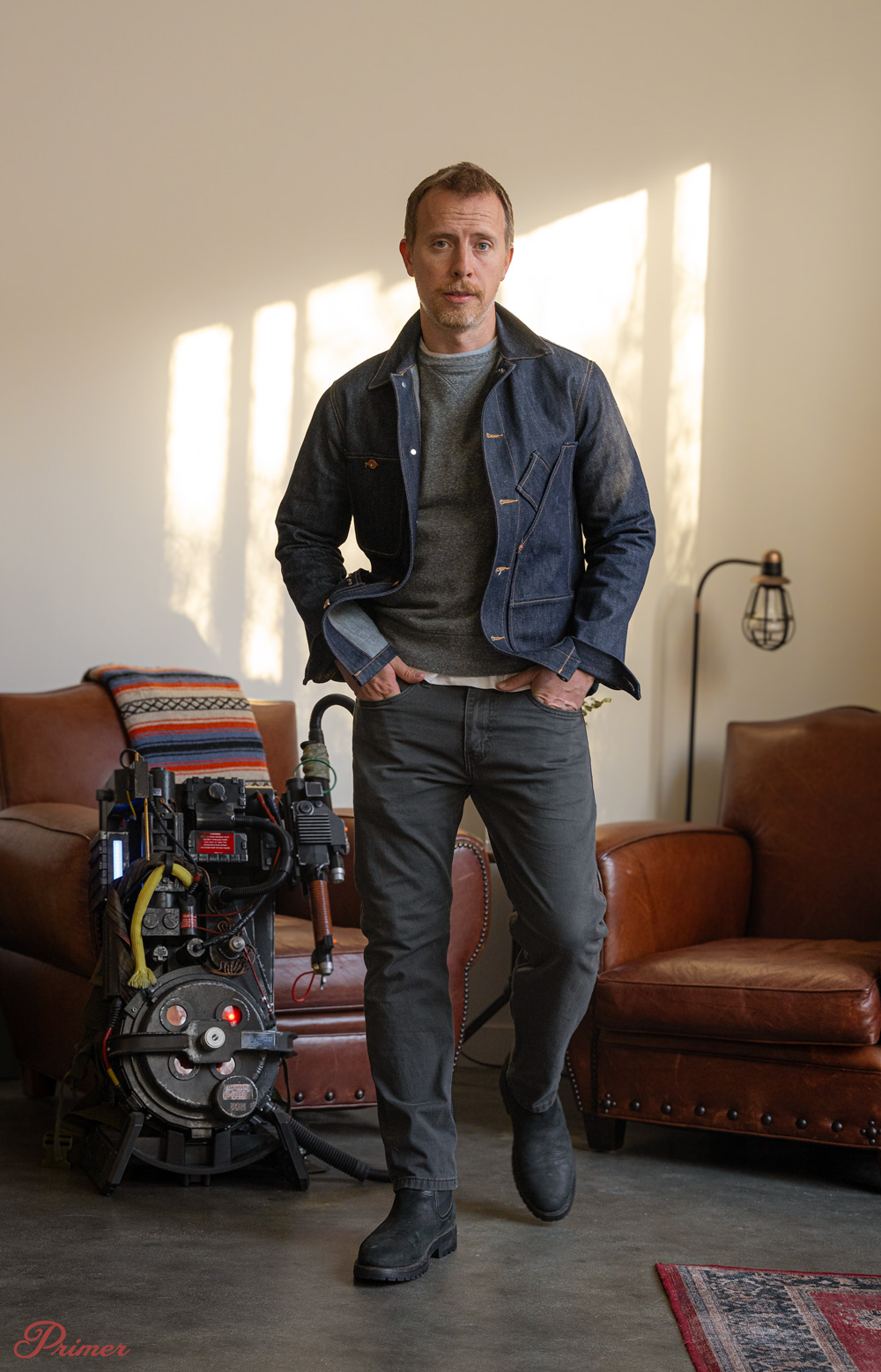 In a particularly memorable moment from the film—the "last of the petty cash" scene—Ray sheds the jacket, and we see the outfit in its most basic form. Even without the jacket, there's something undeniably put-together about the minimalism and honesty of the look.
What's crazy is that even though I've overlooked the casual outfits from the film, I already wear a lot of it. Just a few years ago I did an entire article on how to style the same gray sweatshirt and charcoal jeans 5 different ways.
It's practical, yes, but it's also got a sense of style—a blend that's enduring, just like the film itself.
"Do you know how much a patent clerk earns?" Ray's Green Toggle Duffel Coat
Ray's green toggle duffel coat stands out as another piece that combines function with classic menswear style. This type of coat has European roots, especially linked to British naval wear, designed with toggle fastenings for ease of use in cold conditions. Featuring a hood that separates it from dressier topcoats with notch lapels and often have a tartan lining, duffel coats remain a solid outerwear pick for the colder months.
Today, if you're leaning towards getting a similar look, there are two options worth considering. First, there's the Italian Wool Parka from Bonobos.
It takes cues from the classic duffel but opts for a more streamlined design, skipping the toggles and interior flannel. It's a modern, subtle take on the iconic coat. Alternatively, Montgomery offers a coat that closely mirrors the one from the film, with a design and wool blend that feels both nostalgic and timeless.
"Welcome aboard," Winston's Tweed & Flannel Interview Outfit
Winston effortlessly embodies a smart casual outfit for his interview that has stood the test of time in the decades since.
The light gray tweed sportcoat strikes a balance between sophistication and hardy practicality, paired with the white, pink, and blue plaid shirt creates a look that could seamlessly transition from a laid-back work setting to a relaxed evening outing.
Grounded by dark, well-fitting denim, solidifying a look that suggests readiness and professionalism, all while maintaining a sense of approachability – a smart move for showing up to an interview at a business that is equal parts quantum physics and pest control.
Fast forward to today, and this outfit's cultural relevance and stylistic prowess remain remarkably intact for a contemporary interview in a casual work setting. Brands like J.Crew have championed this aesthetic for decades, offering checkered shirts that blend vintage vibes with modern tailoring, and dark denim jeans that ensure professionalism.
"Does this pole still work?!" Ray's Firehouse Outfit
Ray's "firehouse" outfit is steeped in a rugged New England aesthetic, merging the practicality of utility wear with the understated sophistication often found in East Coast casual style. The dark blue plaid jacket hints at a preppy influence, while the utility pants reminiscent of the OG-107 fatigue pants ground the look in function. This blend creates a style that's both outdoorsy and classically refined, perfect for those seeking a balance between the two.
The standout piece? That dark blue plaid jacket. If the movie is any evidence, plaid was huge in 1984, and Ray's jacket throws in that touch of casual style over his simple blue work shirt. It's functional but with enough taste to make it more than just workwear.
Jump to 2023, and there's a clear echo of that mix of style and comfort. The Abercrombie workwear pant in the recreation nails Ray's look, and the Todd Snyder wool walking jacket updates the plaid pattern with a modern touch. If you're watching your budget, you can snag a similar style from Nordstrom Rack.
Unless you've got a heavy prep influence to your personal style, you may want to switch from a polo to a henley, like I have here.
"Who's the stiff?" Venkman's Orange-red Chamois Shirt
Venkman appears to be wearing a heavy flannel shirt jacket or chamois shirt in an orangish red tone with tan leather elbow patches. It was likely sold as a "hunting shirt," a poetic choice, considering the scene.
With its roots in catering to outdoor enthusiasts, the chamois shirt's design provided enduring quality, warmth, and a tactile feel of chamois leather. First labeled as the "Leatherette Shirt" due to its visual semblance to traditional buckskin garments, LLBean rebranded it in 1933 to be known as the "Chamois Shirt." For about thirty years, its classic tan shade was the signature color until the bold move in the 1960s to introduce "scarlet" – a hue believed to repel black flies.
Today, for those looking to recreate Venkman's look, the chamois shirt remains a modernly wearable choice. Whether paired with jeans for a relaxed weekend or layered under a jacket or vest for a more polished appearance, its legacy as a blend of practicality and style endures. LLBean, J.Crew, Ralph Lauren, and Filson still offer red-hued chamois shirts, though one with the leather patches is few and far between. If you really want an exact copy, you can order one from Magnoli Clothiers, a company that remakes famous film clothing.
"We'll eat and read." Peter's First Date Tweed
The outfit's pairing of browns with purple, blue, orange, and green hues represents an intriguing blend of earthy stability and regal elegance. Brown, with its grounded and reliable look, aligns with the depth and richness of purple, traditionally associated with luxury or creativity, and clearly separates the tweed from a vintage countryside style. This combination pushes traditional color boundaries, but maintains a refined harmony, something that aligns with a man more like a gameshow host than a scientist.
Moving to the broader fashion landscape, this fusion has found renewed relevance with J.Crew's '80s-inspired resurgence. The brand's bold, blocky color statements set against their signature classic menswear rugged aesthetic, resonates with this brown and purple dynamic. This pairing, once an outlier in the '90s and 2000s, now feels fashion-forward.
Nearly 40 years after its cinematic debut, the casual outfits from Ghostbusters have either endured or found new relevance with recent fashion trends. It's never been easier to find style inspiration from your favorite movie without looking like you're wearing a costume.
And if you're ready to get your on-duty Ghostbusters uniform put together too, dive in to my DIY guide.