The military pants of the late 50s have found a new life in the wardrobes of well-dressed men.
It can feel like trends, those ineffable sea-changes in fashion, govern all things in the world of clothing. Some trends are goofy enough to ignore outright and others prove more enduring and seep deeper into the collective consciousness.
If you pay attention to the world of vintage clothing, you may have found that even 60 and 70 year old pieces of clothing can be governed by these same fashion rules of physics. Last Fall it was the Carhartt double knee workpant that was trending, often paired with a chunky sneaker du jour, but this season it's something lighter, comfier, and altogether more legendary, the patch pocket fatigue pant.
The OG-107 Fatigue Pant
Just because something is trending, don't write it off entirely. Recently, Gen-Z, through mediums like Tiktok has begun to rediscover this tentpole of American army surplus. Dialed into an increasingly lucrative and fast-paced vintage market, they've also bypassed the many reproductions of this classic and instead tracked down the real thing.
In many ways, the fatigue pant is the platonic ideal of the military surplus pant. Made simply in order to be mass-produced, their streamlined aesthetic translates well to most wardrobes. Especially as fashion rejects the skinny fits of the 2010s, the high waist and wide leg of these pragmatic army pants strikes a chord. And like a good pair of jeans, the fabric in a fatigue pant gets better with age and wear. Easily identified by their olive drab color, large patch pockets in front, and buttoned flap pockets on the seat. Fatigue pants are easy to find, be they vintage, deadstock, or a modern reproduction.
The versions of the fatigue pant that are most ubiquitous are the military designated OG-107 and OG-507 and both are excellent choices. The 107 was first issued in 1952, in varying all-cotton manifestations, until it was overtaken in 1975 by the poly-blend 507.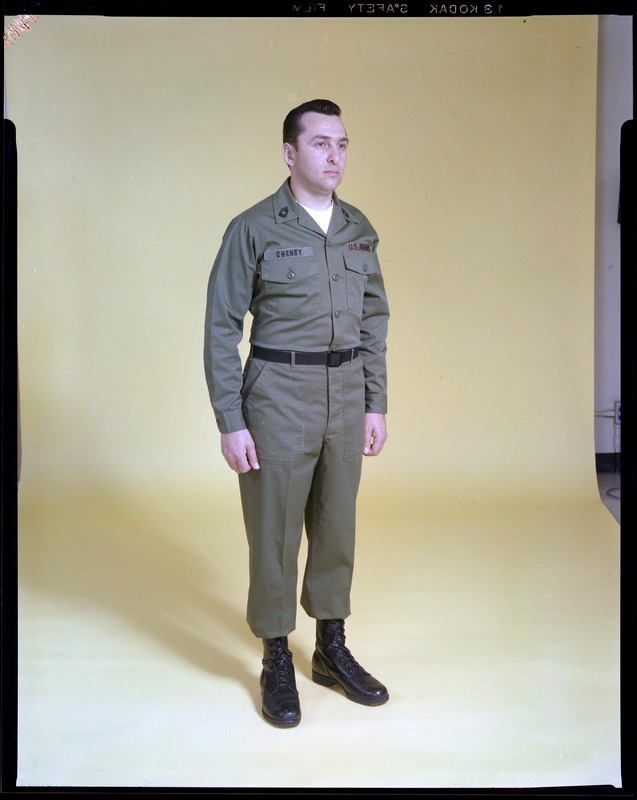 Both styles of patch pocket fatigue served as a transitional model between the more archaic garments worn by the U.S. Army in WWII and the M-65 of the Vietnam War.
Though dense and durable, the cotton sateen used in the OG-107 was light, breathable, and comfortable.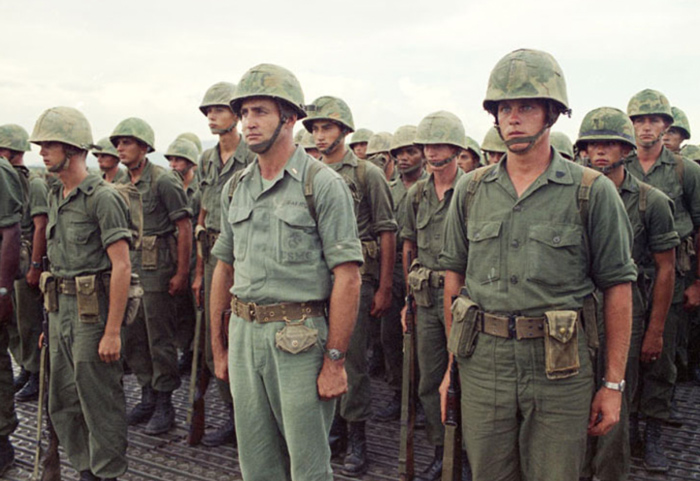 The Fatigue Pant saw action in the Korean War as well as in Vietnam, although by 1965, most soldiers in combat were wearing the M-65 pants, which more closely resemble a cargo pant, with extra pockets down the side and a double-layer at the knee. Even as OG-107s left the field of combat, they remained an important piece of equipment in both military and civilian life. The patch pocket fatigue was eventually adopted in circles critical of the U.S. military, a young John Kerry wore fatigues in his role as a member of "Vietnam Veterans Against the War." Climbers and various outdoors adventurers also adopted the pant for its versatility, comfort, and all-around durability.
Styling OG-107 Fatigues
By and large, vintage fatigue pants are going to fit larger than many other pants you may be accustomed to. A high rise and a boxy top block are fairly common, but just about everything else in a vintage pair is variable. Much like vintage Levi's 501s, which were produced in different factories from slightly different materials, there is a great deal of variance in vintage fatigue pants.
If you find a pair of fatigue pants you like, there are a few ways to guarantee a flattering fit. The first is to hem the pants if they feel too long. Because they're often so large, any break in a pair of fatigues can make them feel even bulkier. Wearing a high-top sneaker or a boot can also help with this problem, as they rest tight against the ankle and won't cause your pants to break. In lieu of a hem, you can always do a cuff or two. This gives the pants a more tapered effect.
But perhaps your best bet with a pair of vintage fatigues is to buy a pair in which you have a little room to breathe and then wash and dry them in the washing machine. This can shrink them down a bit more and get them to fit a little closer to your body, if that's what you like. In addition, if it's a slim fit you want, maybe look more for the poly-blend OG-507, which fits slightly slimmer, with a moderately lower rise.
Simple styling is best with fatigue pants. Avoid other olive and green pieces to avoid looking too much like you're in camouflage. Dark blue and white t-shirts always pair nicely and a heavy-duty, weathered belt is always a good addition – and will help them stay up high on the waist.
How to Wear OG-107 Pants
Some outfit inspiration built around fatigue pants by several sharp dressed gentlemen, republished with permission. Give them a follow on Instagram!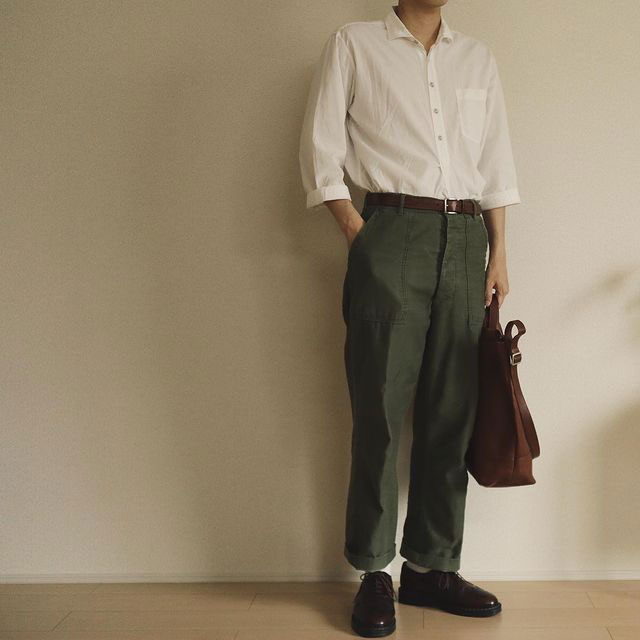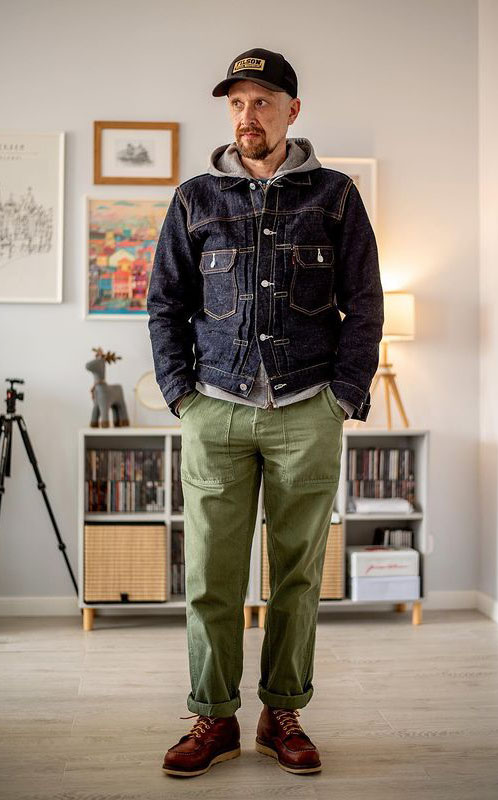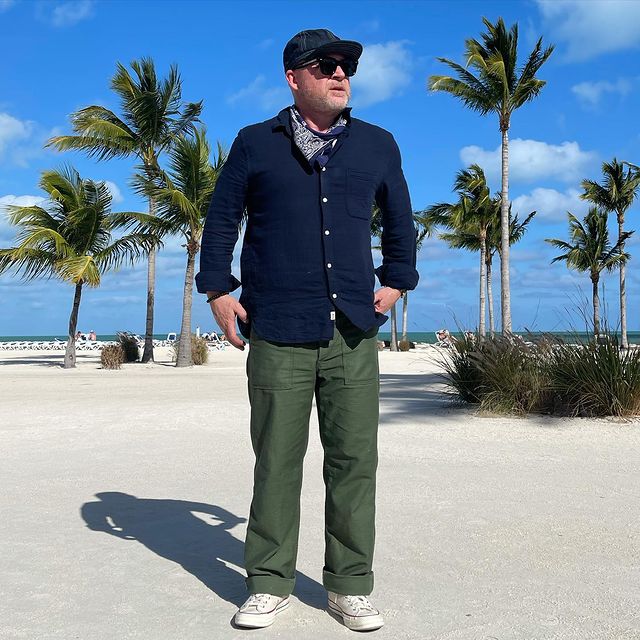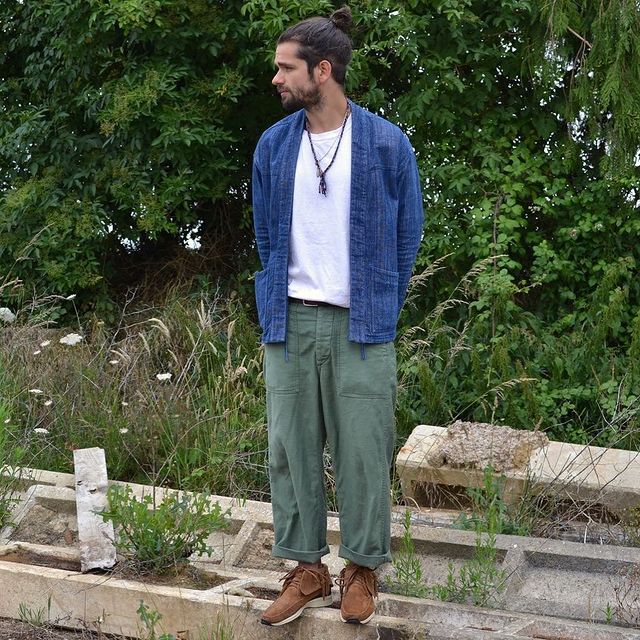 Buying Vintage OG-107 Pants
For vintage pieces, sites like Ebay and Etsy are best. Keep in mind that fatigue pants were often issued as a set, so you'll likely come across the shirts that once accompanied them as well. It should be relatively easy to find a pair that fits under $50, but if you want a deadstock, never-worn pair, or an exceptionally distressed one, you may have to pay a premium. Keep in mind that the tag sizes are likely not accurate, as most cotton clothing shrinks considerably over time. Most reputable sellers will provide actual measurements of the garment for you to compare.
Shop New OG-107 Fatigues
The Okonkwo Fatigue Pant is a classic vintage design with a Japanese twist. With a relaxed fit, and adjustable waist straps with buttons, this pant is easily a go-to for a stylish getup on the fly. Finished with midweight herrinbone fabric, this quality made pant will be around for all season wear.
Dial in on fit with the Craigmont Utility Trouser. These pants are a classic uniform trouser with a slim fit for a more modern look. And the luxe lightweight canvas fabric keeps you comfortable for all day wear.
If the detailing of the classic fatigue pants appeals to you, but the classic wide leg fit does not, Tellason does their own interpretation of the Og-107, but with a more tapered leg. The made in Italy iteration provides the convenience of the original, but in a much more contemporary fit.
Bronson Mfg makes a faithful interpretation of the late 1950s-early 1960s fatigue pant worn in the early part of the Vietnam War. Featuring period-accurate details like waist adjusters, a button fly, and a heavy-duty cotton sateen, this is a faithful replica of the classic.
With style inspired by authentic OG107 military chinos, these pants mean business when it comes to quality and comfort. The durable herringbone cotton material, adustable tabs at the waist, and interior button closure allow a fit to your liking, and the vintage style is a great option for adding a rugged touch to your everyday getups.
Read next
The military jacket styles from this era have long been a sharp addition to your wardrobe for both casual and smart casual looks: