Fact: Most men don't wear a proper fitting suit jacket. Too big here, too small there. We'll help you get it right.
The fit of a jacket is of special importance because it acts as the foreground of an outfit. The shape of a jacket's lapels help lead the viewer's eye up to the face. The length of the jacket affects the appearance of the length of your legs and torso. Your jacket is central in determining whether you appear to have a slim, v-shaped chest. For these reasons, the fit of your jacket is crucial.
What's the difference between a suit jacket and sports jacket?
Suit jackets are made of lighter worsted wools, although cotton and linen suits are also available. Wool suit jackets will almost always have a bit of a shine to them. The greatest aspect of a suit jacket that distinguishes it from blazers and sportscoats is the fact that it is always paired with matching pants. Even if the jacket has some less suit-like characteristics, if it is paired with matching pants, it is a suit. Note that most suit jackets, but especially worsted wool jackets, should not be worn without their matching pants.
Sportscoats were originally used for sport, especially hunting. Because of this, they are typically made with a thicker fabric than most other lapelled jackets, and are normally made of tweeds or other thick wool fabrics. They tend to be less structured, and they are not expected to be quite as slim or tapered as a blazer or suit jacket–however today a slimmer sportscoat is acceptable. Its pockets usually have flaps, and there may be a ticket pocket. Sportscoats are frequently soft-shouldered.
Blazers are also a type of sports jacket. They are traditionally composed of navy wool with metal buttons. However, more casual blazers may be made of cotton with plastic buttons. Dressier blazers will have sharp padded shoulders while more casual blazers will have soft shoulders. Blazer pockets are typically a flapless patch pocket, which is to say that the pockets are stitched onto the torso rather than cut into the garment, which you find on other lapelled jackets.
Tuxedo jackets are most similar to suit jackets with a few important differences. Like a suit jacket, tuxedo jacket fabric matches the pants. Tuxedos normally have satin lapels and satin buttons. They frequently have a shawl or peak lapel, rather than a notch lapel. Tuxedos are almost always made of a black worsted wool, and may have other satin trimming. It should be noted that suit pants also have a satin stripe down the sides, and tuxedos are usually worn with patent leather shoes.
How to assess the best fit of a suit jacket or sports jacket
Shoulder
Like a shirt, the shoulder seam should be at the corner of the shoulder, but with enough room for a shirt, and maybe even a slim sweater or cardigan. The shoulder should be smooth, and should not have an indent below the seam (known as a divot) when standing with your arms at the sides. Padded shoulders may be used to accentuate your chest, but make sure they are smooth, rather than misshapen. If you plan on using a sportscoat in particularly cold weather, make sure there is enough room in the shoulders to accommodate thicker layers.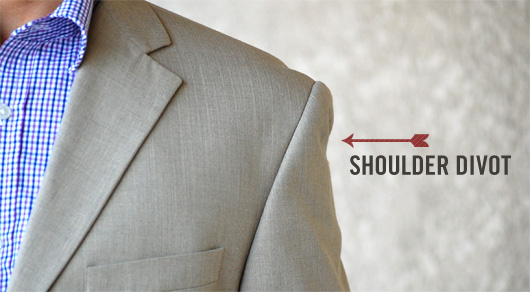 Sleeve
A jacket sleeve should show half an inch of cuff. It should not be so tight that it pulls at your shirt or restricts motion. However, there should not be so much room that your arm moves around loosely in the sleeve. Avoid billowy sleeves – they should follow the contour of your arm. There should not be a significant gap between the shirt cuff and the jacket sleeve. Heavy sportscoats are a bit more rugged, so it is fine if they do not show any cuff.
Collar
The collar should lie close to your shirt collar. Any space between your shirt collar and the jacket collar is known as "collar gap" and indicates a poorly fitting shoulder-collar stance. The jacket collar should go about halfway up your shirt collar – showing some, but not all, of your shirt collar.
Front
Your lapels should lay against your chest, but they should not be tight. Some poorly fitting jackets clearly show space between the wearer's chest and the front of the jacket (while buttoned). The fastened button of a 1, 2, or 3-button jacket should be ~3-4" above your navel. The importance of this is called "button stance" – a deeper button stance will make you appear to have a longer torso. For 2 or 3-button jackets, the bottom button should be unfastened. The jacket should not be so tight that there is clear pulling at the button when fastened (signified by the fabric forming an X shape).
Sides
For the modern gentlemen, the sides of the suit should not go straight down. There should be a bit of taper that slims to your waist, and bells out slowly to your hips. This is known as "waist suppression," and it emphasizes the 'V' of the chest. This is less necessary in a sportscoat, which is heavier and is shaped to accommodate layers.
Back
In general, the body of the jacket should be loose enough that you can easily perform normal activities, such as tying your shoes. If the back feels as if it is going to rip, this is a red flag. A popular test is the hug test – which is to say, if your jacket feels like it will tear if you were to hug someone, it's too tight.
Length
There are multiple ways to decide how long a jacket should be. All of these methods should work for the average-proportioned man. The jacket should completely cover your butt, and no more. The jacket should end somewhere between your thumb's knuckle and your thumb's base. For measuring purposes, the back length measurement should be approximately equivalent to half the length from (a) the bottom of the back of your shirt collar, down to (b) the bottom of your foot. When in doubt, use the last method, as it takes your entire body into account and does not vary by arm-length.
Ultimately, when shopping for jackets, make sure you focus on slimness, placement, and comfort. Keep in mind that every person's proportions are a bit different, as you may need to bend some of these rules if your body differs from the average man. These are essential tips on how a suit jacket should fit.
Read the rest of our series on fit, where we examine the tenets of proper fit for jackets, pants, shirts, and accessories!
The Principles of Fit