Covering almost a half of your body, the fit of your shirt is paramount for looking your best. We break it down from neck to waist.
The fit of a shirt is of particular importance due to its centrality in the body and its proximity to the face. When a shirt is the foreground of an outfit, such as when a person isn't wearing outerwear or layers, the fit in the torso is focal. A well-fitting shirt will emphasize the positives of a physique without drawing unnecessary attention to the negatives. The shirt will outline the body without telling too many secrets, offering a flattering figure without emphasizing every curve and crevice.
When a shirt is in the background, such as with layers, the placket and the collar is of greater importance. In both cases, the shirt serves to draw the eye towards the face. With layers this effect may be pronounced by the V-shape created by lapels or a half-zipped jacket. Without layers, this can be achieved by unfastening a button or wearing a v-neck.
The collar is also of great importance because it frames the face. For these reasons, it is particularly valuable to pay attention to the fit of your shirts.
How Should Dress Shirts Fit?
Button-up Shirts: Dress and Casual
Collar
The collar should lay about your neck without constricting it. You want the collar to be as close to the neck as is comfortable, which will allow ventilation without too large a gap. Typically, you should be able to fit two fingers into the shirt without it cutting into your neck. Any more fingers, and the shirt may be too loose – any fewer, and the collar is likely too tight. The shape of the collar is also important as it frames the face. Pointed collars flatter a round face whereas spread collars fit a narrow face. Tall spread collars suit long necks while short point collars suit short necks. The objective is to have a collar that balances your face.
Sleeves
The sleeves should not be so tight that you can see the details of your arm, but neither should they billow. They should allow motion and airflow, but not excessively. The shirt cuff should end where your palm meets your wrist, which is about an inch beyond your wrist bone. It should be sufficiently tight that it does not move past your palm, but it should still be loose enough that there is no restriction and air moves freely. Bending your arm should not make your cuff move up your wrist more than an inch.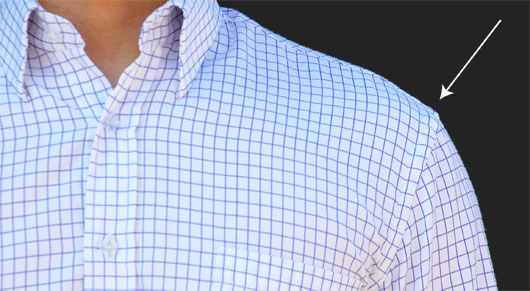 Shoulder
The shoulder seam should meet the corner of your shoulder bone, which is essentially the point on your shoulder which is the farthest from the center of your chest. Armholes should be comfortable in motion–they should not be so tight that they cut into the underarm. However, avoid excessive space. An easy way to check this is to tuck your shirt into your pants –  if lifting your arms 45 degrees lifts your shirt out of your pants more than an inch or so, your armholes are likely too low.
Body
The torso should be slim enough that your shirt does not give any more than 3-4 inches of fabric when you pull the shirt lightly away from your chest or your stomach (with light pulling, the fabric should not be taut against the skin). However, the shirt should allow ease of motion, and skin-tight shirts are usually not preferable.
As it concerns tucked shirts, the length should be sufficient such that normal motion will not untuck the shirt. Dress shirts intended to be tucked will have shirt-tails, while more casual shirts made to be untucked have flat or curved bottoms. As it concerns untucked shirts, the shirt should be long enough that normal motion does not reveal your skin or undershirt. Untucked shirts should not be longer than the bottom of your pant zipper.
TIP: If you have a shirt that is too large in the waist, one trick is to use the military tuck. To do this, pinch the sides of the shirt at the sides of the waist until you have an equal amount of extra fabric on both sides. Now fold that fabric back on itself and keep it in place using your pant waist.
Tshirts: Long sleeve and short sleeve
Neck
Crew neck collars should not be tight, it should be loose about the neck. A shallow V works with many outfits. The deepest a V should go is the middle of your sternum, an inch above your nipples. Henleys work fine buttoned or unbuttoned, but the button placket should not be any deeper than the bottom of a deep v-neck.
Body
Whether the shirt is a long or short sleeve tee, it should fit slim through the body and straight at the sides. The average person does not want a tight shirt that will emphasize every bump and curve of the body. However, you do want the shirt to generally outline your body. Opt for a slim shirt that, when lightly pulled at the sternum or your stomach, only allows 3-4 inches of pull. If you are physically fit, you may want the shirt to be slim enough that it emphasizes the V shape of your torso. This will likely be a bit tighter than the previously mentioned shirt.
The shirt should at least completely cover your belt, but it should not be so long that it goes past your pant zipper.
Sleeves
The shoulder seam should remain on the corner of one's shoulder. Short sleeve tees can have slim, and even tight sleeves. However, it is best to avoid sleeves that are in any way constricting. Avoid shirts with sleeves which are so tight that they cut into your bicep. If you are fit you can get away with something that puts greater emphasis on your physique. Generally avoid shirts that have sleeves which bell out at the sides, as it is unflattering.
Long sleeve tees will be a bit looser in the arms, although not quite as loose as a dress shirt. The length of the sleeve should go to the end of your wrist. Again, avoid low armholes–they should be sufficiently high such that the shirt isn't moving much when you move your arms.
NOTE: Concerning polo shirts, apply tee-shirt rules to the torso and sleeves, and apply button-up rules to the collar.
Undershirts
Undershirts should fit much like tees, but they can be a bit tighter. It is best to have the shirt in a grey similar to your skin tone – the shirt will blend in more and be less visible. When wearing undershirts beneath button-ups remain sensitive to the undershirt's collar type. If you are completely buttoning a shirt, use a crew-neck undershirt. If you are unbuttoning one button use a shallow v-neck. If you are unfastening two or more buttons, it's best to use a deeper v-neck. The reasoning here is that it is best for an undershirt to be hidden.
Ending Notes
When shopping for shirts, always use prudence. Keeping slimness, placement and comfort in mind when comparing your options. When it comes to style, there are always exceptions, but the above guidelines will prevent you from making any serious mistakes.
Read the rest of our series on fit, where we examine the tenets of proper fit for jackets, pants, shirts, and accessories!
The Principles of Fit