What we're looking forward to this autumn.
Yes, it's still hot outside, but fall is nearly here, and it's time to gear up. This fall is all about sartorial simplicity mated to functionality. Soft, warm, rugged fabrics, earth tones, and understated flare (yes, there is such a thing) will keep you looking good, and just as importantly, feeling good.
The days of going to the mall and spending four hours trying to revamp your seasonal wardrobe are gone. We've scoured the internet and found the latest fall pieces that hit every budget, and pair value with classic style.
If your fall closet could use an update, take a look at our top picks below:
Slim Marled-Cotton Shirt
With a linen texture and a marled design, this cotton shirt is somehow a statement piece that's still subtle. Want to tone it down a bit? Layer it under a sweater.
Brushed Twill Pants in Skinny Fit
Brushed cotton with GapFlex technology means you'll be comfortable while still looking professional. And the charcoal color will pretty much match everything you own.
Cashmere Crewneck Sweater in Multicolor stripe
This sweater is beautiful. J.Crew has several decades in the cashmere game, and they've got it dialed in pretty well. Lightweight, but still soft and warm; that's the perfect cashmere sweater. J.Crew has also teamed up with the Sustainable Fibre Alliance, a group dedicated to maintaining ethical and sustainable practices in the sourcing of cashmere.
Timex Navi Ocean Watch
Stainless steel, reversible nylon strap, and a hardened glass crystal mean this easy-to-read watch can take a beating. This watch is perfect for casual fall wear, and it's classic 38mm size can just peak out under your cuff to make a statement without being ostentatious.
Yosemite Shirt in British Khaki
The contrast of the white buttons complements the soft, brushed flannel texture of this chamois shirt. Ultra strong, and smoother than silk, this is the perfect fall shirt to throw on with a pair of dark denim.
Fossil Townsman Stainless Steel Leather Strap Watch
They call it casual, but this watch could pass at the office as well. With a quartz movement (which is the most accurate movement you can buy at a decent price point), stainless case, and blue face with gold hands, this watch is timeless (sorry…I couldn't resist).
Rugby Striped Crewneck Shirt
J.Crew went out on a limb and created a shirt we didn't even know we wanted. This rugby shirt chops off the collar for a more laid-back aesthetic while maintaining the softness and strength of cotton jersey fabric.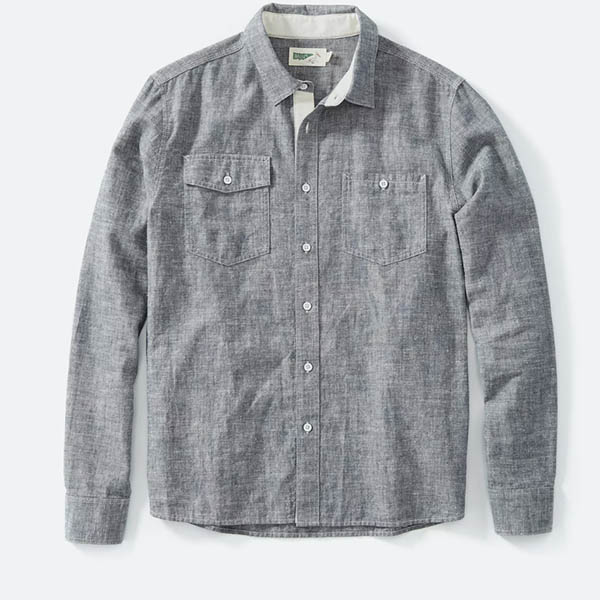 Hemp Chambray Work Shirt
With coated metal buttons and a hemp-blend fabric, this shirt strikes the perfect balance between workhorse and comfortable. And not only is hemp strong, it's also antibacterial, which helps fights odor when you start to work up a sweat. And no, you can't smoke it.
Textured Cotton Crewneck Sweater
Layer this over a button-up shirt with some chinos, or wear it over a t-shirt with denim and a pair of suede chukkas. This sweater is light, versatile, and has a slim cut.
Felted Chore Coat
This coat has been boiled twice, aerating the fabric to give it better insulating properties than traditional merino wool. It comes in multiple colors and has a cut that's perfect for fall layering.
Shawl Cardigan Sweater
This cardigan is cut with a generous fit for layering over your favorite long-sleeved t-shirt or button up. It will keep you warm, and the shaker stitch (think old-school knitting) will make sure it holds its shape.

FRYE Bowery Chelsea Boot
With Goodyear welt construction and military styling, these will stand the test of time in both style and durability.
Walker Vest
This imponderous vest is just right to keep the fall wind off your chest without restricting your movement or making you feel like you're wearing a life-preserver. See how to wear it in our Reader Getup with Khoi from Gentleman Within.
Fisherman's Sweater in Waffle Weave
Taylor Stitch created a lightweight wool blend that gives you the texture of a fisherman's sweater without making you sweat within ten minutes of putting it on. It's soft, it breathes, and it looks damn good.
Neppy Twill Shirt
Brushed twill for softness, with a cotton-poly blend for strength. This shirt comes in four different fits and six handsome colors. And if you're like me, you want them all.
Lightweight Air Chino
This summer weight chino is constructed from a poplin cotton with 4% elastane for stretch and comfort. Great for those first few weeks of fall when it's not quite cool enough yet for wool pants.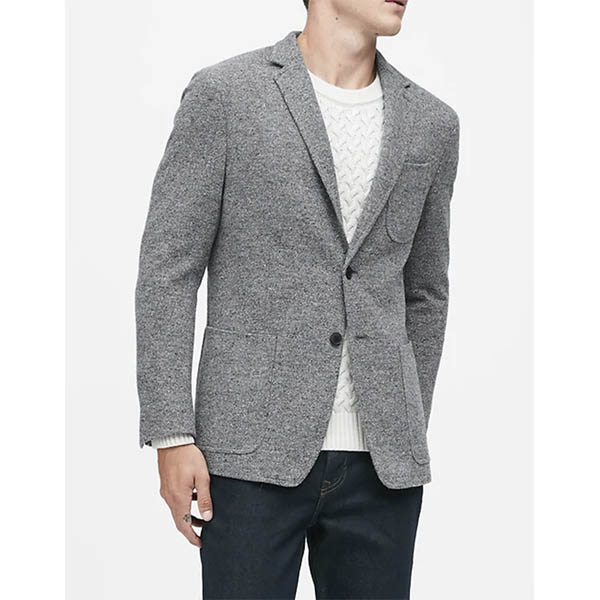 Slim Wool Blend Knit Blazer
This blazer looks just as at-home with a pair of jeans as it does with a pair of dress slacks. Brushed, jacquard fabric has a pattern that is woven in instead of merely printed.
Goodthreads Slim-Fit Oxford Shirt
Amazon's tumbled oxford cotton is soft yet sturdy, and at this price point, you may as well get a few of them.
Cotton Textured Shirt
Who says a cotton shirt has to be boring? With horn buttons and a texture that goes one step above oxford cloth, this classic-fit shirt will take you into fall with style.
Raglan Bomber Jacket
With a nylon woven shell and a quilted lining, this lightweight bomber will keep the wind out without letting you get overheated.
Long Sleeve Broken-In Henley
Like a pair of penny loafers the henley will never go out of style. Grab one of these in sage green, and throw it on with your favorite pair of denim and some casual sneakers. You're all set.
Cole Haan Wagner Grand Penny Loafer
While they also sell women's shoes, bags, coats, and accessories, Cole Haan originally started as a men's shoe company, and loafers were their bread and butter. The bourbon suede is perfect for fall, and the rubber soles will give you the grip and longevity you need.
Flight Jacket by Flint and Tinder
Flint and Tinder modeled this jacket after vintage Air Force issue jackets worn by famous pilots and astronauts. Made in the USA from lightweight cotton, this jacket is the perfect transition piece into fall.
Soft Wear Slim Jeans
These cotton-poly blend jeans bring the ultimate comfort with stretch and softness. Cut slim, not skinny, the fit is form-fitting without being snug.
Bryon Eyeglasses in Aegean Blue Fade
With a subtly arched browline, and a bit of flare with the Aegean blue, these acetate frames are daring.
Slim Leroy Denim
No, you've never owned jeans this soft. Mott and Bow wash the fabric several times over the course of a few months, and that's between sanding it and stone washing it as well.
Seiko Silvertone Stainless Automatic Watch
Seiko has been around since 1881 and has become synonymous with bang for your buck watches. Automatic movement, stainless steel casing, and a black and green face. No one else at the office will have this timepiece, and you won't have to go broke to own it.

Wolverine 1000 Mile Boot
When we talk about classic men's work boots, two names come to mind: Redwing and Wolverine. These boots are for the garage when it's time for a brake job, but they're also for a trip to the pub with your buddies once the job is done.
Cotton Raglan Crewneck Sweater
The slub knit cotton has a casual drape that's satisfying against the skin while keeping you warm. We like the dark olive and the oatmeal: solid earth tones, which complement any fall wardrobe.
Slim-Fit Flex Chino
These are available in any color you want (and a few you didn't realize you wanted). Perfect for work or a night out with your lady, these cotton chinos have a hint of stretch for mobility and the perfect slim cut.
Leather Bomber Jacket in Black
This lambskin leather bomber has been coated to protect against stains yet still maintains its soft, broken-in feel. It's fully lined with two interior pockets to stash your phone and cinnamon gum.
Slim Cut Cords
Thin wale cords with a slim silhouette. They're corduroys: wear them to work, wear them on a date, wear them on the couch.
American Pima Cotton Slim Plaid Shirt
Through their own blend of sartorial magic, J.Crew has created a stretch cotton without actually adding any stretch material. I know. They're amazing.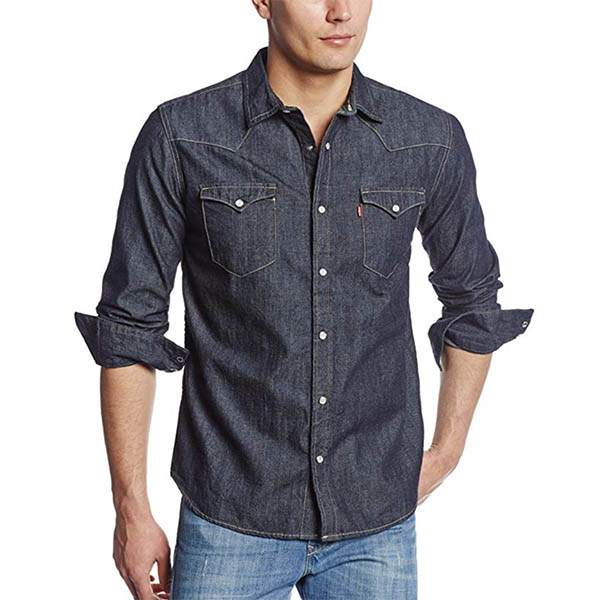 Levi's Western Denim Snap-Up Shirt
This western style shirt has an updated fit but maintains the ruggedness that we've come to associate with Levi's denim. Giddy up.
Goodthreads Plaid Herringbone Shirt
This classic plaid is highlighted by the subtle herringbone pattern and excellent color combinations. Be sure to check out the navy eclipse and the Green shadow plaid.
Slim-Fit Suit Jacket in Donegal Wool
Donegal wool is named after the area in Ireland where the wool was originally made. It's flecked, warm, and cozy. J.Crew Factory has made this jacket in a Donegal blend to keep the weight down and the softness up.
Slim-Fit Suit Pant in Donegal Wool
If you're getting the jacket, you can't skip the pants.