Fall forward.
Thanks to Thursday Boot Co. for their support in furthering Primer's mission of promoting affordable and durable style by partnering with us on this Getup.
---
Uniforms have their pros and cons. Sure, wearing the same thing every day can feel boring and drab, but the advantage is you know what's expected of you. The era of most men being required to wear suits, and at this point, even business casual, to work has come and gone. The mornings where we wake up, slide both legs into a pair of khaki pants, tuck in a dress shirt, put on a tie and some oxfords are behind us.
But where does that leave us? Freedom to wear what you want is great, but it can also be a chore. Let's walk through one simple framework to building modern work outfits easily.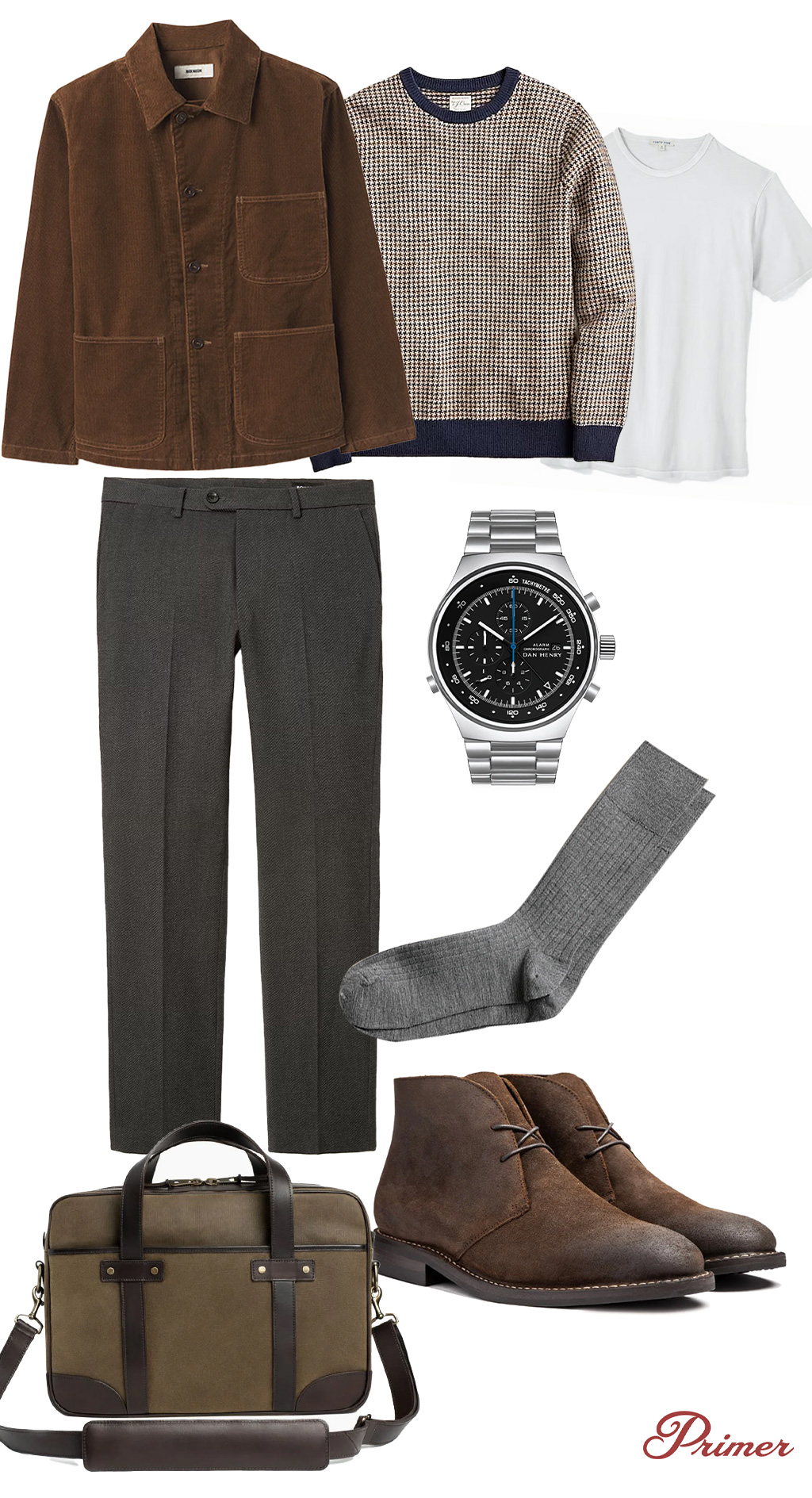 Merino Crewneck Sweater in Houndstooth Jacquard
J.Crew, $58.80
What do we wear when we're allowed to wear something other than a dress shirt? At first glance around the office, it seems like the options are limited to very casual items, such as pique polos or t-shirts.
But it is possible to dress casually and comfortably, fit within the new cultural attire expectations, and still present yourself intentionally in a way that is respectful to your career goals.
Any loss of texture, color, or pattern from a shirt and tie combo can be made up in other ways.
This sweater features the classic houndstooth pattern, one of the more detailed but timeless patterns. It's often associated with finer English or European menswear and has a refined English sportsman air to it. Jacquard isn't a pattern but a type of fabric that is woven using a Jacquard loom, which utilizes a series of punched cards to control the pattern being woven, allowing for intricate designs and textures.
Merino wool's fine fibers make for soft, comfortable sweaters, while its natural temperature-regulating and moisture-wicking properties provide all-day wearability.
Thursday Boots Chukka in Mocha Suede
Thursday Boot Co., $160
What if I told you there was a perfect work shoe that was as easy and comfortable to wear as a pair of canvas high tops, went with just about everything you own from jeans to suits and is on the more affordable end of the spectrum?
Well…there is. It's the suede chukka, and they've been one of my primary go-tos for smart casual and business casual outfits.
Suede chukkas have a sleek and streamlined profile with minimal decorative additions. The suede can read either as casual or refined, making it an easy style buy if versatility is of primary concern.
I've had the chukkas from Thursday Boots for years and they've held up great. These are fully lined with soft glove leather, have shock-absorbing insoles, and leather mid-soles that conform to your feet. Not only that, the suede is WeatherSafe, so you don't have to baby them or check the weather before choosing which shoes to wear. Especially in this rich mocha color, there's no need to worry about either matchability or maintenance.
Canvas & Leather Commuter Bag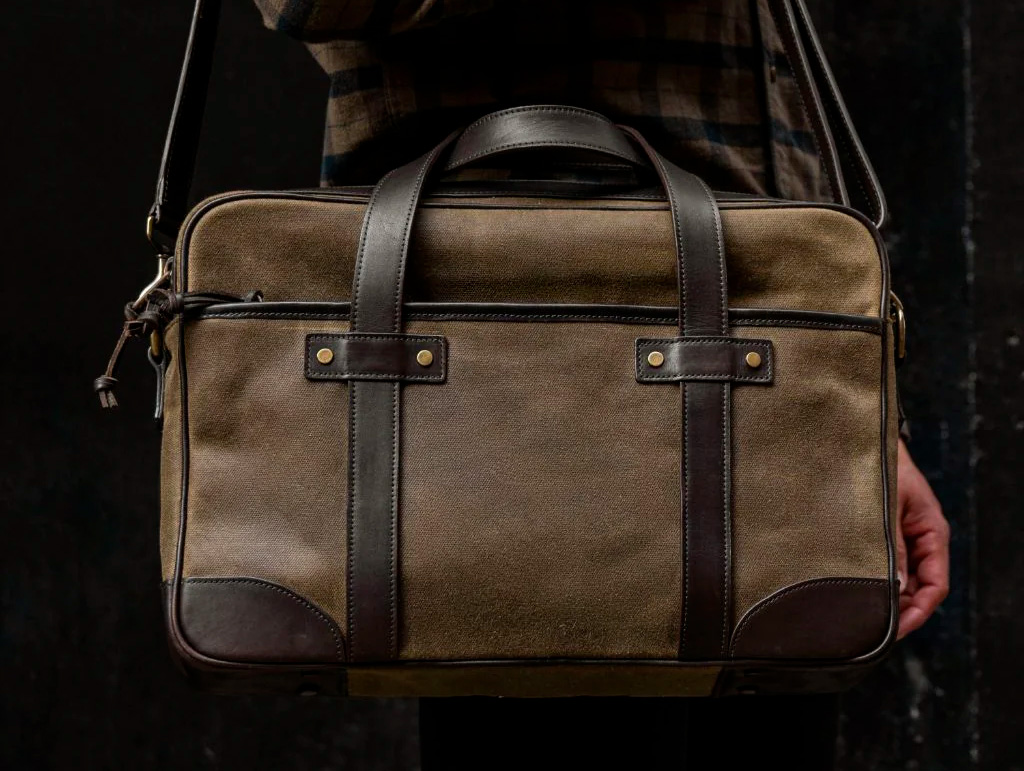 Thursday Boot Co., $295
There's kind of this blind spot for men. They'll spend a lot of time putting together a coordinated outfit, neck to feet, with a goal of creating a strong presentation for who they are and how they want to appear in their career. But then they'll wear their athletic sunglasses or carry their laptop in some came-free-with-purchase-of-laptop-at-Best-Buy backpack. It's not that I'm judging those items specifically, they're being used in the wrong context, and as a result, undoing all the efforts you put in.
I love that Thursday Boot Co. has branched well beyond footwear, from belts and jackets to a surprisingly broad line of messenger bags. Available in both leather and canvas options, the Commuter Bag comes in 9 colors, 6 leather and 3 canvas. The vintage tobacco canvas shown here is made with 18 oz Halley Stevensons canvas with bridle leather handles and shoulder strap. It's a tough-as-nails bag that also looks like it belongs in a conference room, and at under $300 you won't have to negotiate a raise to afford one. 
Refined Stretch Twill Chino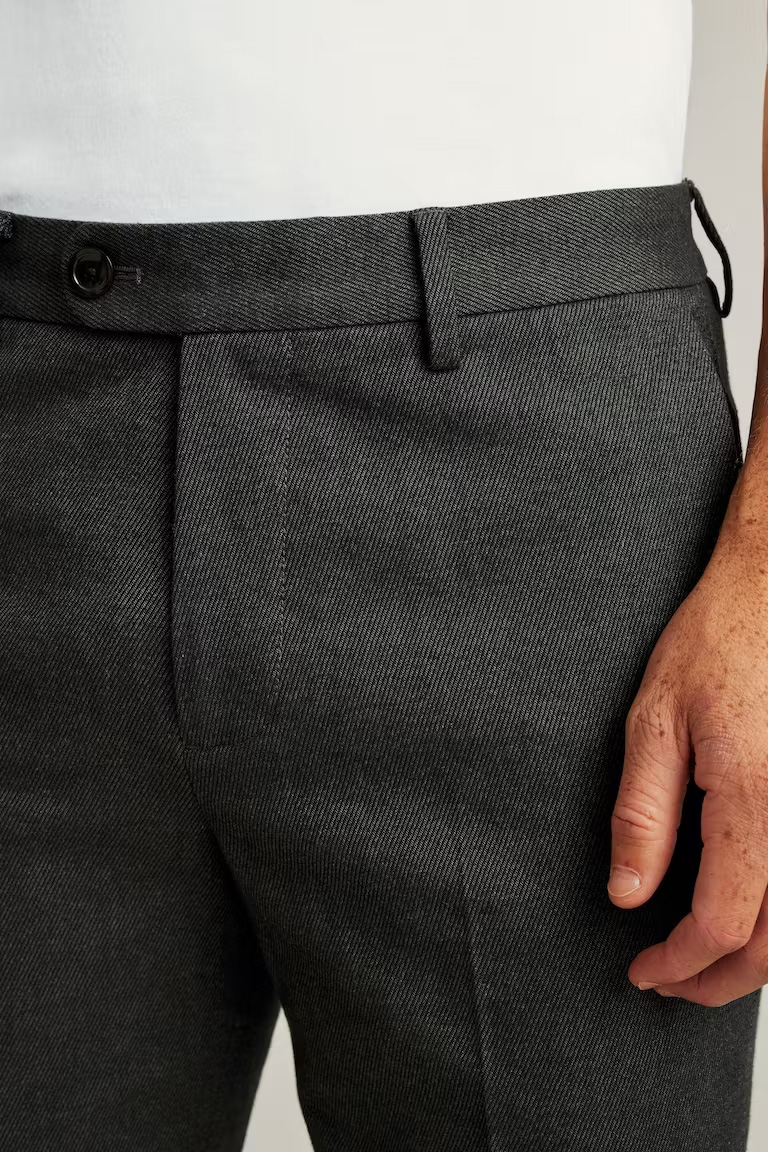 Bonobos, $149
In a dressy casual outfit, often our pants tend to fall to one end of the formality spectrum or the other and then balanced out with other more neutral items. Dress pants or jeans, say. But it is possible to find that middle ground chameleon pair of pants that can have it both ways. These chinos are cut like, and have the details of, a pair of dress pants. But they're made with a textured twill fabric, which visibly reduces their formality. Worn in a dark gray, these pants can be paired with a t-shirt and sneakers or dress shoes and blazer. That level of ambiguity is perfect for nailing the modern casual office.
Corduroy Sportsman Jacket
Buck Mason, $198
For many guys, the thought of wearing a blazer or sportcoat to work is but a sartorial dream since their office is so casual it could cause them to be out of place. "Good luck at your interview," my boss used to joke when I overdressed to my creative office job. But that doesn't mean making use of a light layer in lieu of a blazer is out of the question.
Here, we sub the sportcoat for a corduroy chore coat, which provides wonderful fall texture as well as a bit of hierarchy to the top of the outfit. It's an option that works much like a denim jacket in other outfits: It can be worn as a coat and removed, or it can be worn as a layer and be kept on.
Chronograph Watch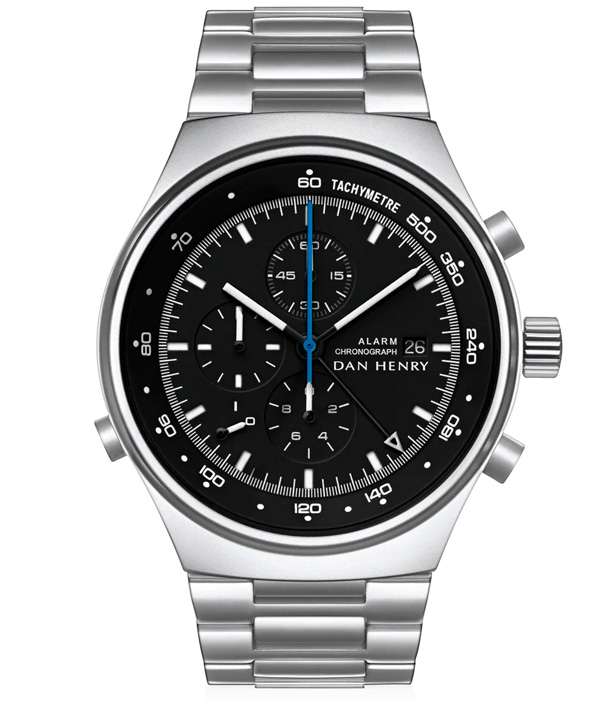 Dan Henry, $350
The Dan Henry 1972 Maverick Chronograph captures the spirit of the '70s – a period when speed boundaries were pushed. Encased in a 41mm stainless steel shell, the watch's aesthetics pay homage to the Concorde generation, when tools for measuring speed and elegance were intertwined.
Founded in 2016, Dan Henry Watches is known for its affordable, vintage-inspired timepieces, influenced by its founder's extensive collection. Typically priced between $200 and $300, the watches are limited edition, made with quality materials and Japanese movements.
US-made T-shirt
Huckberry, $31
The white t-shirt from Huckberry's house brand, Forty Five, serves as an anchor in this Getup, subtly toning down the overall formality by peaking out of the top of the sweater. Made in the US from premium Supima cotton, it not only introduces a touch of relaxed casualness but also acts as a comfortable layer beneath the sweater.
Wool-blend Socks
Banana Republic, 3 / $45
The merino wool blend socks from Banana Republic bring both functionality and a touch of sophistication to the ensemble. With a composition of 47% wool, their muted gray hue acts as a harmonious bridge between the chukka boots and trousers, grounding the outfit with a balanced blend of style and utility.
Do you like this outfit? Chat with me in the comments!