12 ways to wear the most versatile piece in your wardrobe.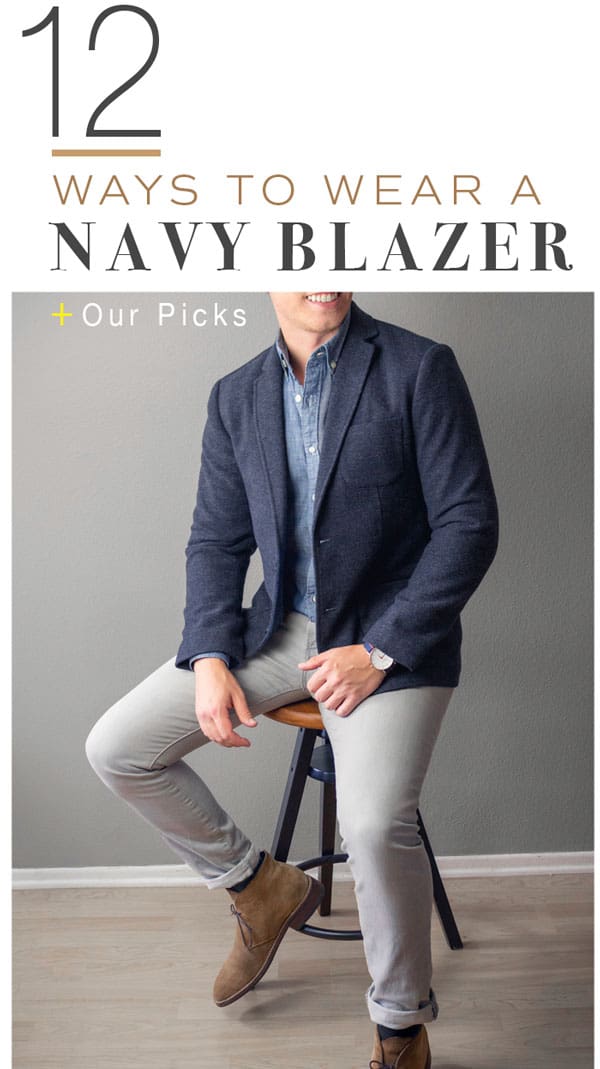 Like casting your first vote or drinking your first beer, picking out your first navy blazer is a rite of passage. Originally cut loosely from hopsack wool to fit like a "sack," navy blazers were traditionally associated with New England preps.  Today you'd be hard pressed to find an American man who doesn't own a navy blazer. And while the cuts and fabrics have seen changes and new iterations over the years, the spirit of the piece remains the same: versatility meets timelessness. Here are twelve ways to style your navy blazer.
1. With Chinos, Dress Shirt, and a Tie (The Original)
A tailored cut makes this a modern take on the original navy blazer. Pair your blazer with chinos and a solid shirt and tie (or throw in a patterned tie if you're feeling bold). Top it off with a pair of loafers, and oh my, you look clean.
2. With Gray Dress Pants
The navy blazer with gray pants is not only classic; it's about as versatile as you can get. Lightweight, wool gray pants with a slim (not skinny) fit work as well in the boardroom as they do in the bar room. Throw in a crisp, white shirt, and you're set. Need to make things a little more formal? Throw on a tie.
3. With Denim

No, a blazer with jeans is not too much blue. Throw on a shirt with a button-down collar (to keep things looking smooth and controlled), and you've got the perfect outfit for a casual Friday or date night.
4. With Patterned Trousers
Patterns don't just have to be for shirts and ties: Counterbalance a top half made of solids with a pair of classy patterned trousers.
5. Over a Sweater
Wearing a sweater under your navy blazer is the go-to look for fall. Keep the sweater thin so it doesn't hinder your movement or get too hot.
6. With Shorts
Calling all true preps. This look is perfect for a summer evening. Pair it with loafers (and loafer/no-show socks). Or if you're feeling ostentatious, lace up a pair of oxfords or saddle shoes.
7. Double-breasted, With White Pants
A double-breasted blazer sets a man apart. White pants set a man apart. So why not put them together? White pants have an implied casual feel, without leaving you underdressed. Wear this look to a summer wedding; just don't upstage the groom.
8. Over a Polo
When the invite to the company picnic says, "business casual," this is what they mean. The polo is comfortable, classic, and looks stellar under a navy blazer. Just make sure the fabric of the polo is a heavy gauge. You don't want to high beam your CEO.
9. Over a T-shirt
Any nice t-shirt will do, though we recommend going with classic white or a horizontal stripe (in navy, gray, or red). The t-shirt under the navy blazer is casual; it's easy-going; it's just something you threw on. But as understated as it is, it still looks more refined than just a t-shirt and jeans.
10. As Outerwear
First and foremost, a blazer is still a jacket. There's no reason why it has to be relegated to only more formal occasions. Layer it on top of a shirt, sweater, or denim jacket to add a touch of rakishness to your outfit.
11. With a Floral Shirt
If you're scared you'll look like your dad circa 1982, mix up the navy blazer by pairing it with a floral shirt for a playful take on the essential menswear classic.
12. With Earth Tones
If your style is more rugged than nautical, bring your blazer to shore by wearing it with earth tones like these brown twill pants, gray check shirt, and suede oxfords.
A Few Navy Blazers to Consider