When you're ready for better quality, start with these 9 brands.
---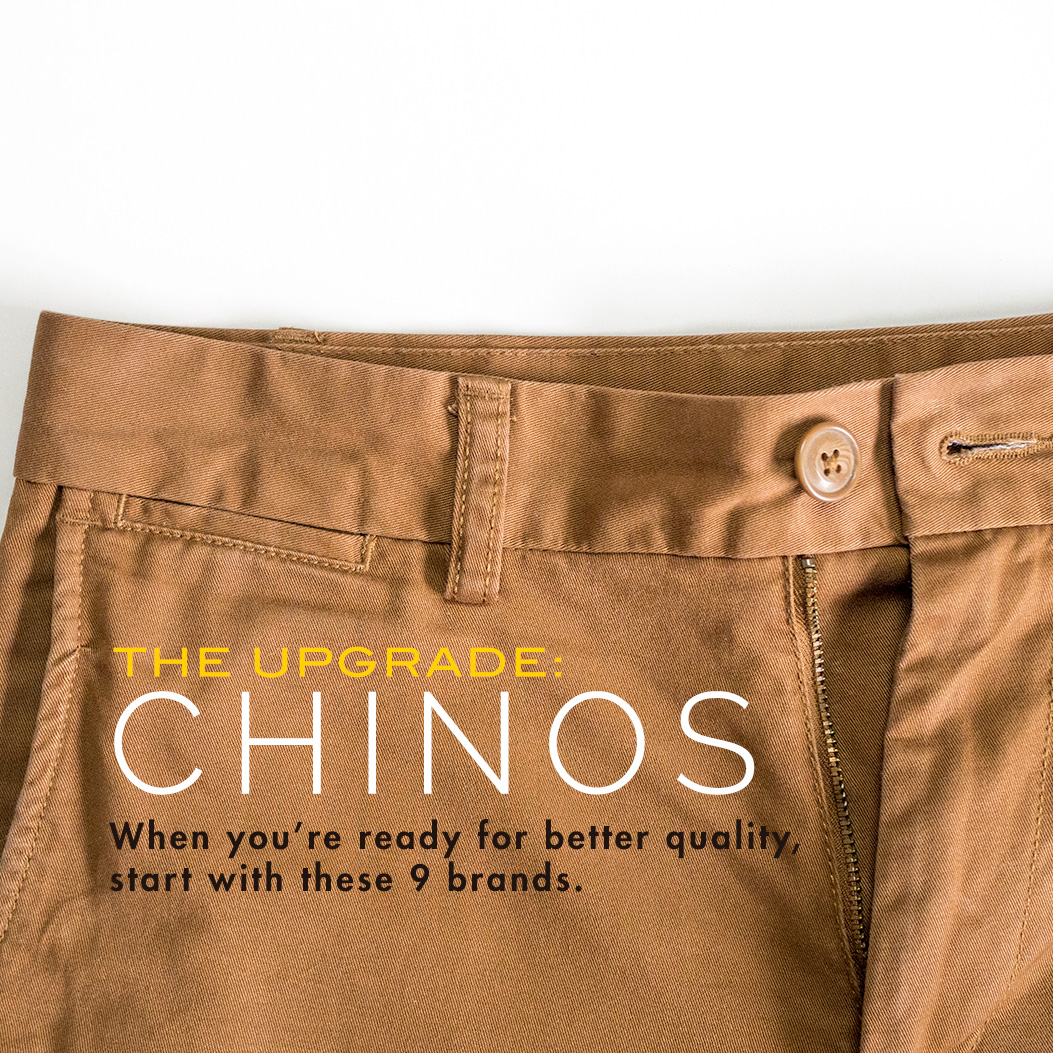 Spring is here and the changing season reminds us that maybe it's time to take a look at our wardrobe and freshen it up a little as well. Admittedly, I get a little hung up on raw denim sometimes and don't always branch out with other styles of pants. I've always been a fan of military inspired chinos though, so let's rundown some of my favorites for a spring denim alternative.
First let's look at what makes something a chino. Chino cloth is a twill fabric that's typically made of 100% cotton and is woven with diagonal parallel ridges on the surface. Chino trousers were originally designed in the mid-19th century for British and French military uniforms. It didn't take long for the look to take hold and stick around for over 150 years. We still like them today for the same reason they were developed in the first place; they're durable, tough, and neutral.
There are plenty of great options if you're buying on a budget, stores like Target, Old Navy and Gap, as well as online brands like Combatant Gentleman offer modern, slim chinos at around $30-$50. If you find yourself in a position needing or wanting to invest in higher quality, consider these 9 brands that we're introducing in a new series called The Upgrade.
I'm a fan of independent well-made brands, but when it comes to mainstream retail shops you can't beat the quality of J. Crew. The 770 Broken-In Chino comes in six neutral colors and features an urban slim fit. These have been around since 2003 and made from heavily washed cotton for a vintage look. These will fit like an old friend.
Bonobos started because they couldn't find pants that fit correctly. Their secret is their signature curved waistband that conforms to the natural shape of your waist. The result is a trimmer more flattering cut with the perfect medium rise. What sets them apart is 365-day returns, free shipping both ways, and their "ninja" customer service. They have over 20 locations too. Just schedule a one-hour appointment at one of their guideshops and have a cold one while a guide helps you find the perfect fit. They come in 5 different fits and plenty of colors. I liked the Jet Blues shade, but they come in another 22, with names like pinebreakers, mojito, buckeyes, redrums, chino grigios, cappu chinos and graham slackers. Clever.
Naked & Famous is a Canadian brand that is known primarily for its denim. These are 12 oz selvedge chino made from Japanese fabric. They have a slim fit that tapers from the knee down. I love these so much that I grabbed two pair in khaki and olive. I dig the red selvedge seams and heavy construction.
The Unbranded Brand is unique in that they don't do any advertising or labeling. They do, however, use premium materials and quality craftsmanship. I have a pair of their steadily built denim. Their chinos come in skinny, tight, tapered, and straight. Available in beige, black, and navy selvedge with a smart leather patch, these chinos offer an affordable high-end experience without compromising quality.
Tellason is one of my favorite brands, based in San Francisco. The Cramerton Chino is a tapered army cloth 8.8 oz chino with a corozo button fly. Cramerton twill was originally made in South Carolina in the 1930's for U.S. Army uniforms. The fabric is still made the same way and in the same state, but cut and sewn in San Fran. Putting these on is like wearing a piece of history.
If you're looking for something that can be both dressy or casual there is always value in Banana Republic that won't break the bank. The Aiden Slim Bedford is a classic flat-front straight leg pant that are great for everyday wear. Available in four colors and perfect for relaxed weekends or social evenings. This one sits at the waist and is slim through the thigh with a slim leg opening. Sharp with a dress shoe and no socks.
These are a little edgier and have a little bit of attitude. The Rogue Territory Officer Trouser is inspired by workwear. They are handmade in downtown Los Angeles and are made from 9 oz sanforized (pre-shrunk) twill. They have bright white selvedges and are slim fitting, if not a little on the tight side. The one piece button fly and slash front pockets are offset by the cool flaps on the rear pockets that can be worn tucked in or out. Available in several colors but I love the olive.
When it comes to ruggedness and durability Freenote really makes the grade. With pants like this it's all about the details. They have custom leather branding, custom corozo buttons and they're made of 100% Japanese selvedge twill. The pocket bags are herringbone from Japan too. These are made for the long haul and will last a long time.
These have the highest price point of the lot, but for good reason: They are made by one pair of hands from start to finish. Owner Amos Culbertson takes the phrase "small business" to the extreme. These work trousers are an 11 oz olive selvedge twill from Cone Mills in North Carolina. In fact, every piece of the pant comes from the United States. The coolest features are the reinforced knee panel that wears more like a patch and the utility pocket at the right thigh.
Have a favorite pair of chinos? Keep the list going in the comments.