To celebrate the 40th anniversary of the release of Jaws, we honor the timeless costume design with 4 inspired sharp and affordable outfits.
It's hard to write about Jaws. Everyone knows it. Even if you've never seen it you know all of the film's story beats because they've been copied so many times. You're probably terrified of sharks even though more people are killed every year by donkeys. You can thank Jaws for that. Peter Benchley, the author of the original novel and screenplay, later became an ocean conservationist and expressed regret at having ever written it. It was a cultural phenom the likes of which had never been seen before.
Jaws also helped to create (for better or worse) the summer blockbuster as we know it today. It made Steven Spielberg one of the most well-known and imitated directors in modern cinema. The imitators and sequels can't take away that Jaws is an expertly constructed film and this particularly shows in the costuming. While there are many elements that scream late 70s, costume designers Robert Ellsworth (who handled the men) and Louise Clark (the women) give a master class in how to convey essential elements of the characters and the times they live in while still maintaining an absolutely timeless look. So timeless in fact that many of these looks can be adapted and look just as at home today as they did in the 1970s.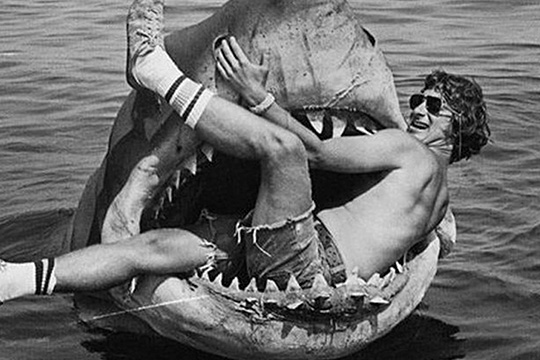 When looking at the clothes you first need to look at the environment. The story takes place in a New England beach town at the start of the summer beach season. This means that the water and air temperatures are still a bit on the chilly side so you see a lot of sweatshirts and jackets in addition to bathing suits and t-shirts. This makes for some outfits that are absolutely fantastic for those chilly end of summer nights.
Take a look at the three main characters, Quint, Brody and Hooper, and you can see how important, and subtle the costuming is. Even if you've never seen the film it's easy to see which character is the battered old fisherman, the big city cop turned small-town police chief, and the young academic in the field. Where Jaws succeeds is the verisimilitude of these outfits. They don't look like costumes or stereotypes of how these people are supposed to look. It's just how they look.
Now, these aren't going to be perfect replicas of the looks in the film. It's not cosplay and it's based around easy to find clothing that most guys have already in their wardrobes. You may need to buy a new piece or two but almost everything here can be considered a staple.
Hooper
Matt Hooper enters the story as the young oceanographer brought into the field to figure out what the hell is going on and his costume reflects that perfectly. His leather duffle bag shows his youth. He is a professional but he has not been out of college for very long. I know plenty of guys who have a bag just like this handed down from their dad's college days and they still use it to this day. He wears a watch cap and a dive watch to show his bona fides as an ocean explorer. He is an oceanographer dammit and he will be taken seriously.
The dive watch is of particular interest to me. By this point in the late 70s dive watches were just starting to make their transition from a true tool watch mostly worn by divers to a staple that guys who never even thought about going deeper than a swimming pool wore. This was the start of the Rolex Submariner's climb up the market ladder to the position of luxury it inhabits today. To illustrate this, when the Sub was introduced it sold for $150 (around $1200 today) and by 1977 it was selling for $585 ($2300 in today's dollars.) In less than 10 short years an entry-level Sub would be selling for $1,575 (around $3500 today.) Dive watches were becoming more than tools but at this point
Hooper's watch is still meant to convey the point that he is a true professional even if he is young.
As an aside it was always something of a mystery what watch Hooper was wearing but finally after the release of the Blu-rays it was determined to be a Nautoscaph from long forgotten watch brand Alsta.
Hoopers outfit is a pretty easy one to replicate and is great for those chilly nights in late August early September.
Sweatshirt – J Crew Factory, $30
Jeans – J Crew Factory, $45
Watch – Tiger Concepts 16800, $140
Sneakers – Gap, $20 [similar – Converse, $55]
Bag – Gusty Leder Toby, $74
Sunglasses – ZeroUV, $12
Watch cap – AE, $13
Total – $350
Oddly enough I don't actually own a denim jacket and could not replicate this look completely. Throw on your own and you are good to go.
The bag, Gusty Leder Toby, is actually a pretty good bang for the buck. The leather is supple and does not have the plastic feel that a lot of lower-end leather items do. My only complaints are the zippers. The black with brown leather I think is a poor combination and reveals it's more "affordable" nature. Still a damn good bag for the price though.
Quint
Everything about Quint's look let's you know that this guy has seen some shit. I don't think you will ever find a a better grizzled sea captain than Robert Shaw as Bartholomew Marion Quint. The costuming for this character is truly masterful. There are no fisherman's hats or thick knitted sweaters. Not a sailor cliche to be found. Instead this is just a man that is used to work and hardship and it has broken him down but he is still tough as hell. He is battered but not beaten. And damn is that a good look to steal.
Jacket – US Army Surplus M65 Field Jacket, $60
Jeans – J.Crew Factory Driggs, $40
Shirt – J.Crew Factory Chambray, $35
Watch – Casio MDV106, $45 on a perlon strap, $15
Webbing Belt –  Army Surplus, $7
Shoes – Converse Chuck Taylors, $40
Sunglasses – American Optical Aviators, $60
Total – $302
The Casio MDV-106 is the perfect watch for a guy like Quint. It's inexpensive, durable and no-nonesense. Throw it on a perlon strap and you have something that will take a beating with the fast-drying, easy to adjust perlon strap being the ultimate strap for tough voyaging. The American Optical Aviators were the original aviators used by the US Air Force during the Vietnam Conflict and well beyond. Randolph Engineering now produces them for the US Military but American Optical still makes them to GI spec in the USA for the civilian market.
The jacket and sunglasses are both staples of military looks adopted by civilians since time immemorial. The M65 Field Jacket in particular has been adapted by everybody from the Gap to Ralph Lauren to meet every budget possible. But nothing beats the real deal in terms of bang for the buck. These do tend to run big so I would suggest sizing down quite a bit.
Brody
Brody is the fish out of water (pun intended.) A big city cop turned small town police chief, he is the only one that sees the true danger the shark presents. When the rest of the town is working to keep things going as normally as possible he is trying to save whomever he can. The costuming shows this pretty well and I don't think I've ever seen another man look more awkward in a lifejacket than Brody.
Despite not being comfortable at sea Brody still manages to save the day and go on to slaughter even more sharks in a multitude of Jaws sequels.
Chambray Shirt – J Crew Factory, $35
Undershirt – Old Navy Thermal, $17
Jeans – Levi's 511, $40
Shoes – ASOS Plimsolls, $40
Belt – J.Crew Factory, $20
Watch – Timex Main Street, $37
Total – $189
The Timex Main Street is a fantastic bang for the buck. While it comes on a black faux-gator strap you can easily swap it out to something different to change up the look. With a water resistance of 30 I would not go for a swim with it on but it should have no problem getting splashed if you are out shark hunting.
Mayor Vaughn
Larry Vaughn is the mayor of Amity and is trying to keep the problems with the shark under wraps. If this was a real world situation I would sympathize with the mayor quite a bit. The town's life blood is tourism and shark attacks are so rare the last thing the town needs is a hysterical sheriff scaring the bejeezus out of everyone. But this is a movie and the shark in this film is a heinous monster not a wild animal doing what animals do. And so the Mayor is also a villain letting his own greed get people killed.
As far as his wardrobe goes I don't think you could costume a better prep-school mayor. Just look at that sports coat! Looking at this outfit you can tell that his family sailed over on the Mayflower and has been in Amity ever since. He only wore J. Press in college and he will be in Brooks Brothers until the day he dies. My wardrobe leans towards the preppy side but I don't have anything close to that sports coat but I can put something together with the same vibe.
Sports Coat – J.Crew Factory Oxford Suit Jacket, $75 [similar, $60]
Pants – J Crew Factory Chino, $35
Shirt – H&M, $15
Shoes – Steve Madden Cabal Oxfords, $80
Belt – H&M, $20
Socks – Topman, $25 for pack
Watch – Vintage Bulova, $150
Cufflinks – Vintage, $25
Sunglasses – J.Crew Factory, $15
Tie – J.Crew Factory, $24
Tie Clip – Vintage, $20
Total – $469
So there you have it Jaws from a menswear point of view. Movies are truly a fantastic place to look if you are trying to figure out what you want to do with your wardrobe. In a lot of cases, costume designers will put things together that you may never have thought of before. It can also help you define the language of style. A good costume designer does not just grab clothes off a rack and throw them on an actor. Every outfit is meant to convey something to you, the audience, about that character without you ever being aware of it. Applying that same type of care to your own outfits can go a long way to determining how you present yourself to the world.
Would you like to see more posts like this? Help us spread the word!