Comfortable, casual spring style has never been easier.
Spring is a wonky time of year: The mornings are cool; the afternoons are warm, and it rains seemingly all the time. Nonetheless, the slow crawl out of winter's gray skies is pleasant as the trees blossom and sneakers and lightweight jackets become more appropriate garb. While it's easy to feel intimidated by this strangely transitional time of year, the key to conquering spring in the sartorial sense is two-fold: layer up, and mix the bold with the subtle. Think of a capsule as a one-stop shop for an entire season. Grab these items, and with the ability to mix and match them, you'll be all set until summer rolls around (and even beyond).
With this spring capsule, we've narrowed down the basic casual items you need to get you through the season, and we've thrown in a few different options for each depending on your preference and your payroll.
What is a Capsule Wardrobe?
A capsule wardrobe is a small collection of thoughtfully chosen pieces that all work together and that you love to wear. It reduces wasteful spending on items you won't wear that often in favor of investing in favorites that offer a true mix-and-match versatility.

Outerwear
Trucker Jacket
The trucker was the original jacket for the 20th-century working man; that is, the man who comes home with dirt under his fingernails and sweat in his hat. This jacket from Everlane is constructed from a Japanese denim. Each jacket is washed (so no two are exactly alike), and perhaps best of all, it's backed by a 365-day guarantee. If this jacket shrinks, or a seam comes loose, they'll take care of it. If you want to go absolutely old-school, then check out this model from Levi's. While this one is available in 44 different styles (yes, 44), we like the Colusa/Stretch. It's the perfect medium indigo to go with just about anything. Want to know the history of the Trucker? Check out our in-depth article.
Suede Jacket
Clean lines and a smooth hand are the defining features of a suede jacket. Well, those and it somehow looks badass and polished at the same time. A proper suede jacket should be slim without restricting your movement, with a short cut in the body and minimal stitching. This one from Thursday Boot Co. combines the subtlety of taupe suede with small details like brushed silver buttons and a racer collar.
M65
There's a reason a man in uniform always looks good: Military attire never goes out of style. The M65 military field coat was designed with a cut that's generous (for layering) without appearing bulky. With ample pockets and a zip out hood, this jacket is ready for whatever spring throws at you.
Hoodie
Hoodies are comfortable and a great light layer – that's why lazily-dressed guys have opted for them for decades. But, it is absolutely possible to incorporate one into smart casual outfits and look purposeful. This lightweight, cotton hoodie from Amazon looks great in black with contrast white pull strings. The full zip style means you can decide how much t-shirt you want peeking out, and you can put it on without messing up your hair.
Bengal Striped Oxford
Frankly this shirt works in any season (it's simply a closet staple), but it especially shines in spring. It looks just as good with jeans and your suede jacket as it does with slim chinos and basically every tie you own. Dress it up, dress it down; it's a workhorse.
Patterned Short Sleeve Shirt
This short sleeved cotton shirt is perfect for layering under your hoodie or M65 with denim or twill pants. The small floral style is subtle while still adding a pop of pattern. Just remember it's all cotton, so expect a little bit of shrinkage if you throw it in the dryer. Looking for some extra bold pattern and color combinations? Check out Abercrombie's selection as well.
Textured Crew
The waffle knit shirt is the year-round staple you've probably forgotten about. The subtle texture sets it apart from your ordinary t-shirt without trying to make a loud statement. Layer this shirt under your hoodie or suede jacket for a streamlined look that's svelte and comfortable. Looking for a less expensive option? Check out this one from Goodthreads.
Raglan Henley
This raglan henley captures the essence of our spring capsule: It's classic, understated, but it still has a few bold details. The slim cut gives it a classic silhouette while the raglan sleeve seams and contrast buttons and placket give it a dose of character.
Pocket T
The white t-shirt has been effortlessly cool since the early 1950s when James Dean showed up on the scene. This minimalist layer is comfortable, with a simple aesthetic that looks great under any jacket you own.
Slim Chinos
Slim-cut chinos do it all: Wear them to the office with a pair of loafers, then rock em' in the evening for a date night. The slim (not skinny) cut keeps the silhouette from looking sloppy but won't restrict movement or comfort. And with a myriad of colors from which to choose, you can get the pair that most suits your tastes (but we all know that deep midnight color is amazing).
Charcoal Denim
Notice we didn't say "black" denim. Charcoal denim has a versatility that black does not, as charcoal creates less contrast, thus matching more colors. Black can also seem out of place if it's daytime and hot. We like the Levi's with the slim, tapered leg, which pair great with sneakers and a t-shirt for those casual days but also look svelte with a button-up shirt for a night out.
Light Gray 5 Pocket Twill Pants
For those warmer days, these five-pocket twill pants are perfect. "Five-pocket pants" are tailored like jeans (hence the horizontally cut pockets with riveted buttons) but they're made from lighterweight fabrics. They'll keep you cool with the comfort of jeans but the aesthetic of chinos.
Suede Boots
Suede boots easily transition from your office chinos to your Friday-night jeans. Suede is a great choice for springtime, as it's somehow rugged and deliciously soft. On this pair the cap toe and dark-olive (almost loden) suede bring the versatility, while the rubber sole keeps them lightweight and ready to take on the rain (just make sure you treat the suede with a good water proofing spray). If the chukka boot is more your style, check out this model from Frye.
Trainers
I love these trainers from Everlane. The white upper, the cream sole (which is made almost entirely from recycled plastic), and that peak of black on the heel, it just works. Nothing says spring like a pair of white kicks, and these are simply it. Want that knit look? Check out the Royale from Greats.
Canvas Sneakers
If you want a sneaker with a little more edge, you can't go wrong with classic Vans. The Low-Top's thick, white sole looks great with charcoal denim, or your Trucker jacket. The dark color means they won't be out of place in your evening activities.
Sunglasses
When it comes to accessories, we have a strict keep-it-simple policy. The Downing from Warby Parker is a wayfarer style, the likes of which JFK used to wear. They're chic; they're functional.
Field Watch
Seiko has been making high quality, affordable timepieces since 1881. Their Japanese mechanical and automatic movements are hard to beat in terms of value and accuracy. This military field watch has a stainless steel case and a nylon strap for comfort and durability. The first two options appear on our Best Watches Under $200 list.
12 Outfits Made from the Capsule
Here are 12 sample outfits you can easily create with our spring capsule.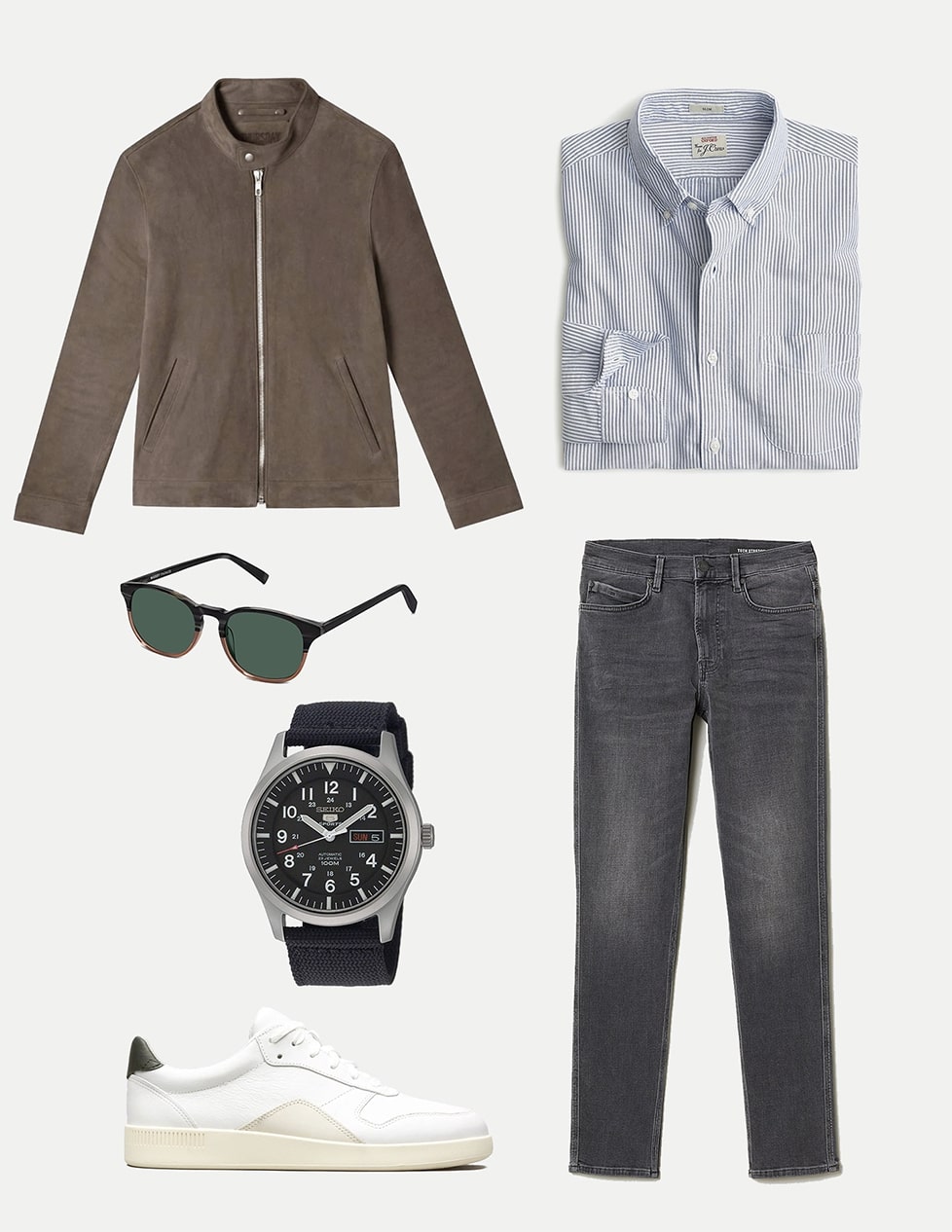 For casual Friday at work
For Sunday brunch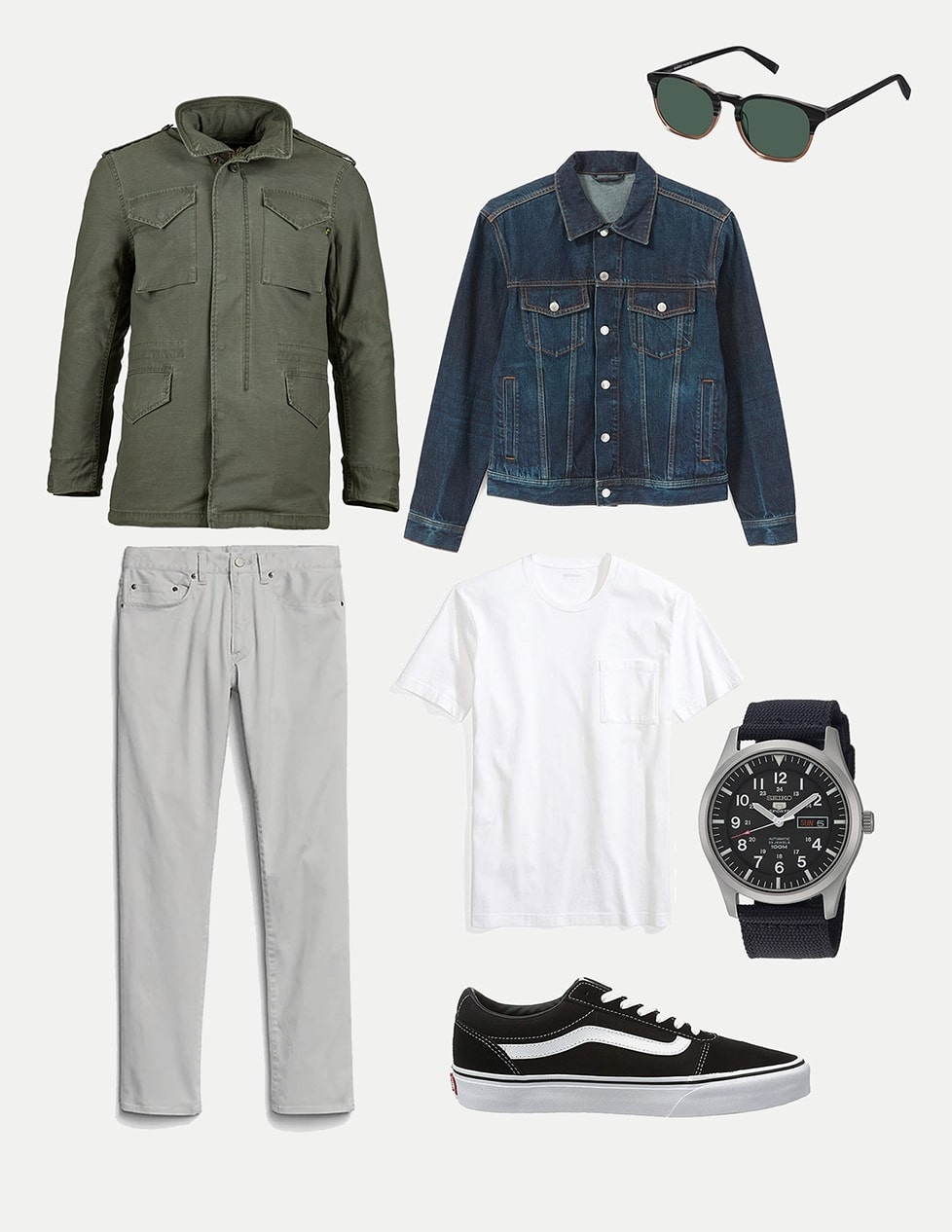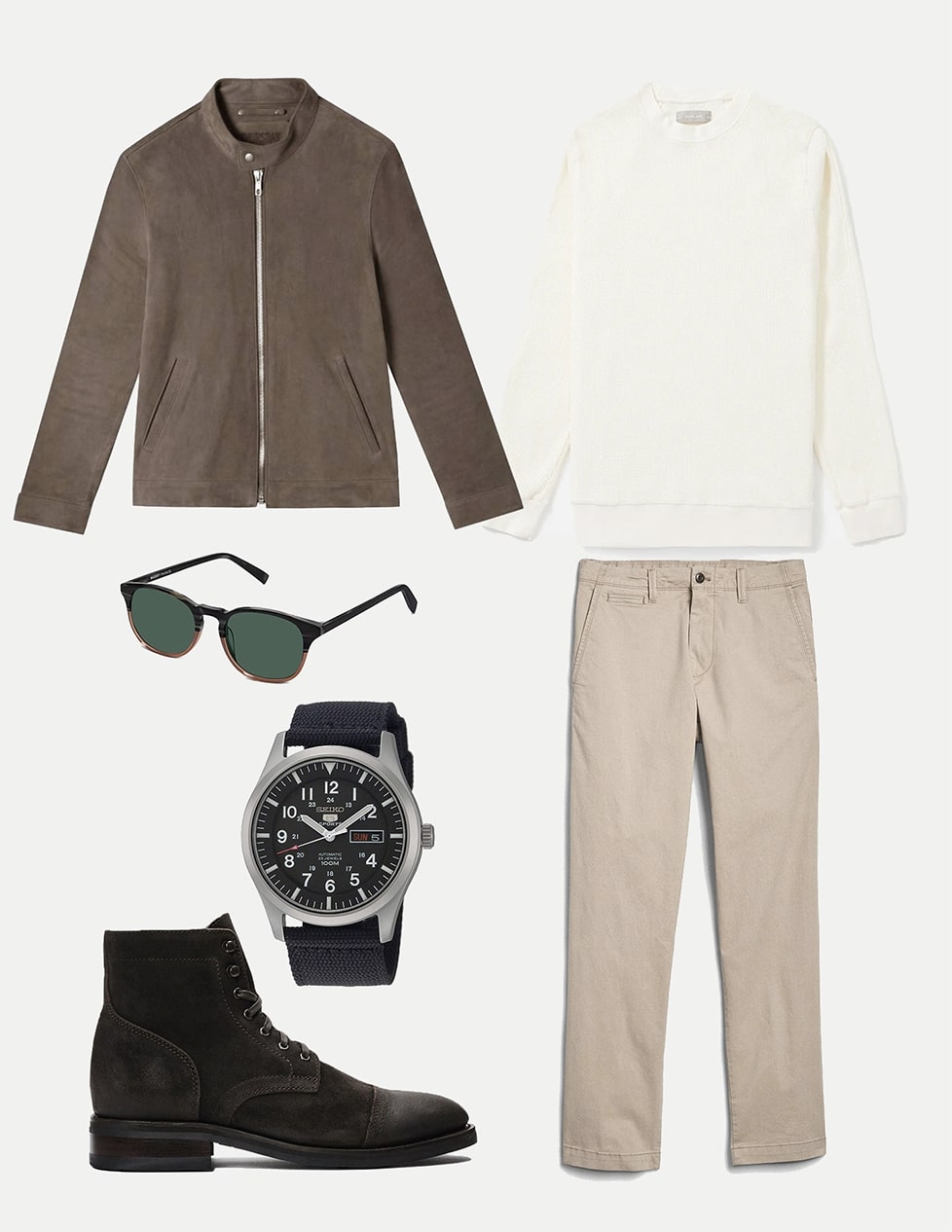 For a nice dinner out
For a night out with the guys
For grabbing a quick bite after work with your S.O.
For running errands on Saturday afternoon
For taking the dog for a walk
For ballpark watching (not playing)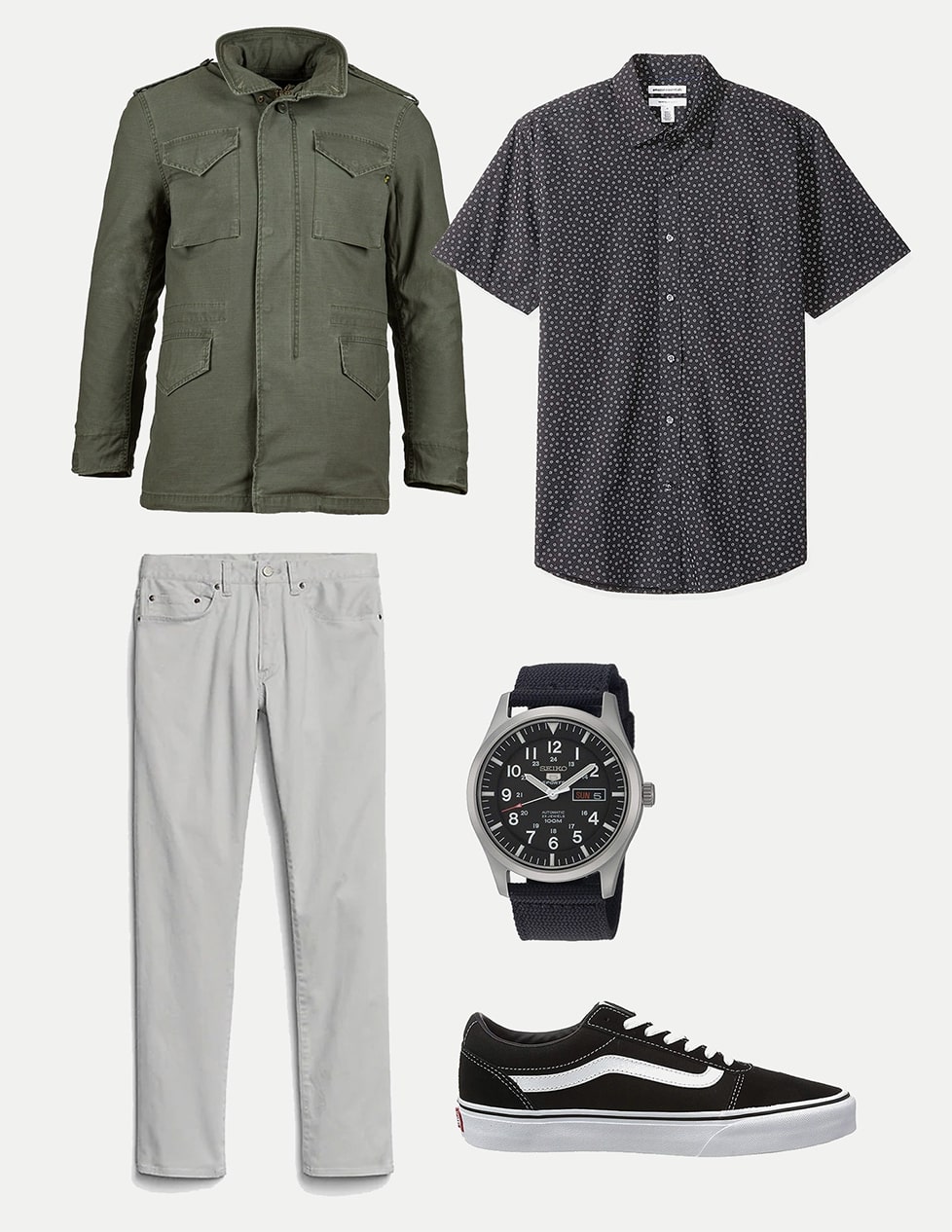 For your day off
For drinks on a warm evening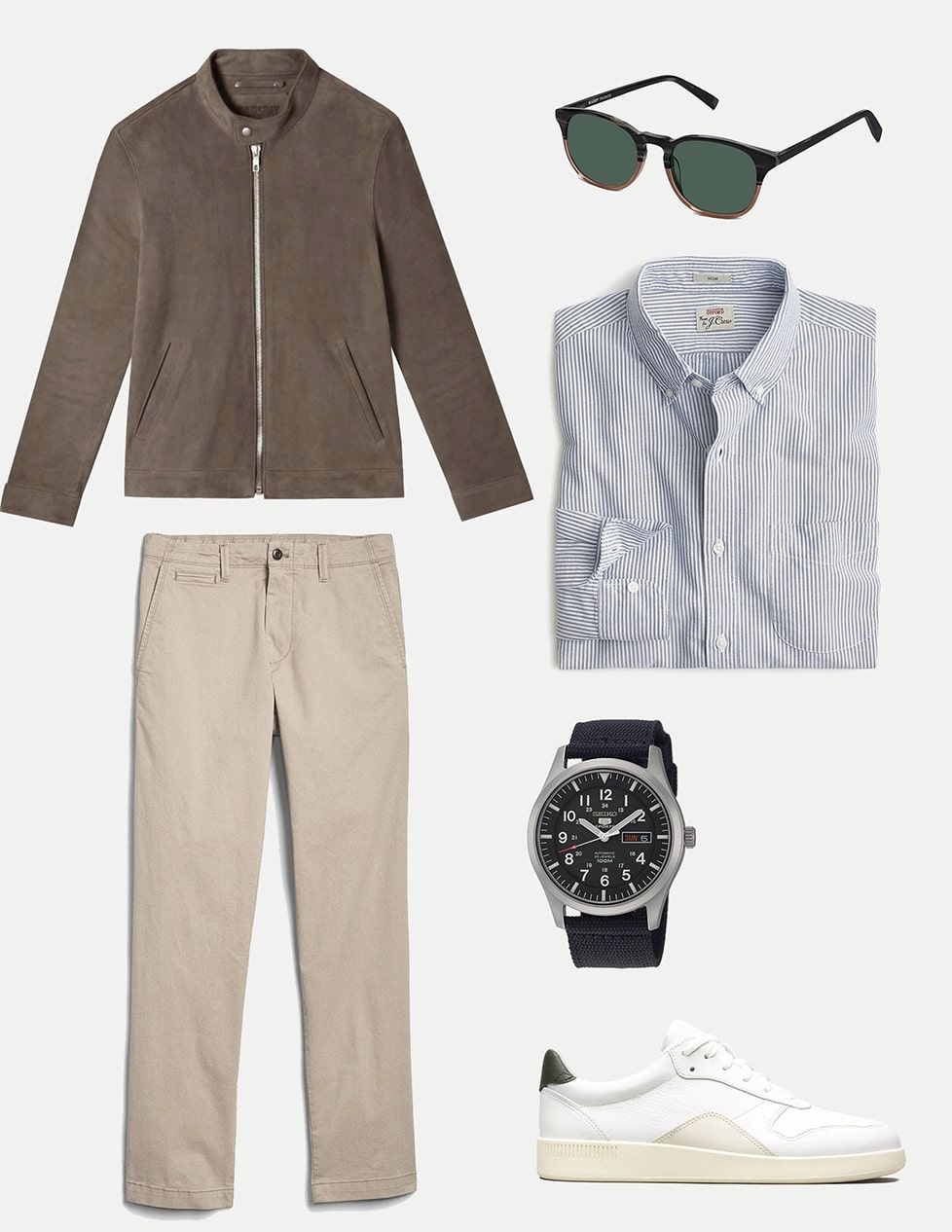 For a weekday at the office (if you're allowed to wear trainers).
What other pieces are essential to your spring capsule? Let us know in the comments!