The Amazon Outfit:
Vintage SoCal Vibes in
Palm Springs
Just because you're contending with the high summer heat doesn't mean you can't look stylish. Men have been waging the style battle against the elements for generations. And sometimes, it pays to look to the past to find modern style inspiration.
Style by Shane Martin / Photos by Andrew Snavely / Words by Brenden Gallagher
We headed to Palm Springs to find the inspiration for this summer look. The desert oasis has been the getaway for LA's most stylish residents for decades, and newer vintage-inspired spots like the ACE Hotel Palm Springs are bringing back that old school charm.
At the ACE, the wooden doors open up to hip rooms with curated record collections, a swanky salt water pool with mid-century flair, and other touches of boho-chic.
With this look, we tried to channel the vintage yet fresh feeling that you get walking around Palm Springs, where Elvis and the Rat Pack once cut loose, and you can still find the starlets of today sunning themselves poolside.
You don't have to speed through the dusty deserts of SoCal to find this style. For guys, shopping for clothing can be a frustrating drag. That's why we started doing the Amazon Outfit series: Everything is available with Prime meaning free two day shipping and free returns if you don't like it or it doesn't fit. That's especially important if you're trying out a new type of style you're unsure about. With Amazon Prime Wardrobe box, you can have multiple outfits delivered to your door to help find the perfect fit. Even when you're taking fashion risks, your purchase is risk free.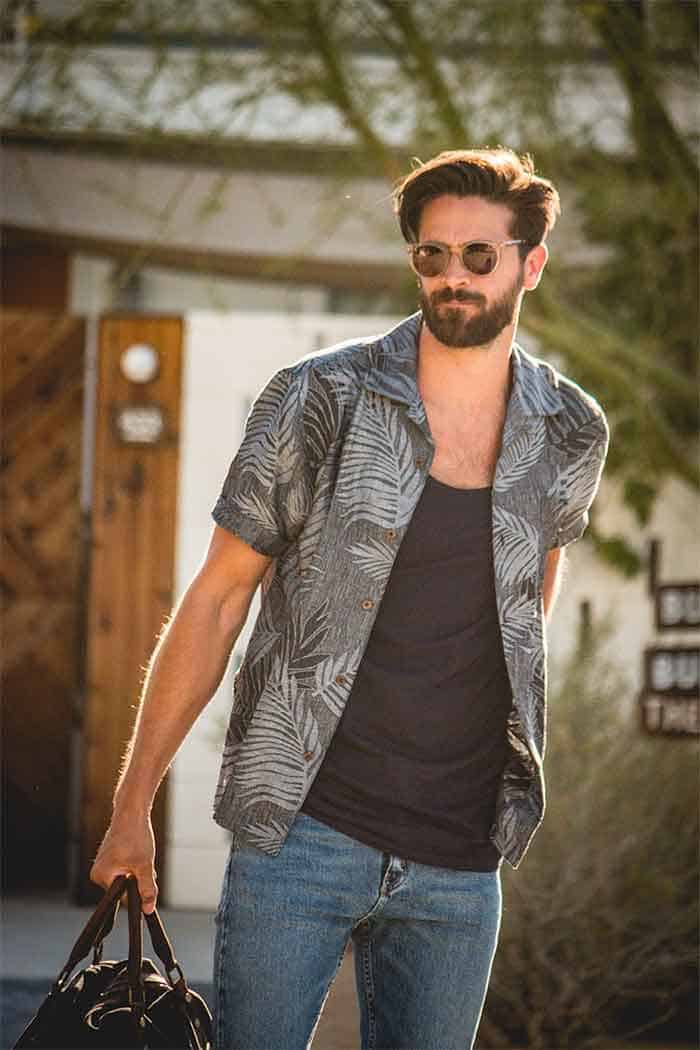 Shirt
28 Palms Men's Relaxed Fit Silk / Linen Tropical Leaves Jacquard Shirt, $40
Though this silk-linen blend has a vintage feel, this isn't your grandpa's Bermuda shirt. This playful take on the classic look features modern florals and a loose summer fit. The brand, 28 Palms, is a play on 29 Palms, a town between Joshua Tree and Palm Springs. Their entire line channels the relaxed stylish vibe that made the region legendary.
Tank top
TrueM Mens Premium Jersey Tank Top, $8.99
We've paired the shirt with a tank top for a more relaxed summer look. The key for this look, especially when buying a budget tank, is the lower, looser neck – otherwise it'll just look like you're wearing a t-shirt.
Pants
Levi's Men's 510 Skinny Fit Jeans, $69.50
Stretch jeans are ideal for the summer heat. You get a slimming look without feeling like you're suffocating. This denim wash here is slightly faded to emphasize the vintage feel, a look that has made a big comeback in recent years. If you don't like your jeans too tight, you can go a little looser with 511s and still maintain a nice contrast with the relaxed shirt.
Read more: The 10 Best Jeans for Summer
Sneakers
Believe it or not, you're looking at Crocs. Recently, the brand has moved effortlessly into a fashion forward space without sacrificing comfort. These entirely rubber shoes are perforated to breathe, creating the perfect shoe for taking in a worry-free  pool or beach front drink. Think of these as your incognito summer water shoe that can handle any summer activity.
Sunglasses
These vintage inspired sunglasses bring the outfit together. You get the durability and protection you expect from Fossil with UV protection and sturdy plastic frames. And the classic look might make people think these modern marvels are actually a clutch thrift shop find. The subdued translucent amber color is just as laid back as you are.
Canvas & Leather Weekender Bag
S-Zone makes some of the best budget weekender bags available (we are big fans), and this particular bag is no exception. There aren't many other brands that offer that oil and leather feel at this price point. For a canvas bag, this model is particularly durable; the leather bottom ensures this is a product that will last. Currently priced at just under $40, this bag is a steal.
Read Primer's guide to The Best Weekender Duffel Bags Under $125