No more tears as you toss that Restoration Hardware catalog into the recycling bin. We've got you covered with affordable alternatives.
Ask and ye shall receive!  After our crazy popular Mid Century Modern on a Dime piece, many of you have requested help putting together an industrial look for your place.  And specifically, you asked about the cleaner, modern look, rather than the vintage or rustic aesthetic that can often be more ornate.
It's as if everyone got a memo to study the Restoration Hardware catalog!  Well RH certainly dominates the modern industrial look, but while we may lustfully click through their website, alas, their wares are too expensive for most of us.
Fear not, though!  It's not hard to pull this look together from other stores besides RH if you know what to look for.  Let's study some examples of our desired design style.
A hallmark of the industrial look is that we go back to basics.  You will see lots of raw materials (think distressed wood, galvanized metal, unfinished concrete) and structural elements (like beams, pipes, ducts, and brick) coming to the forefront rather than being hidden behind walls.  There is a minimal feel to the modern industrial look.  Although fewer pieces of furniture inhabit the space, what is there is functional and solid.  And colors tend to be neutral, letting the wood, metal, or concrete stand out.
As always, I've found some great alternatives for you.  Below are 30 affordable items from a variety of places, including Target, Urban Outfitters, Cost Plus World Market, Dot and Bo, CB2, and Froy.  Can't wait to hear what you think, so leave me a comment below or email with your ideas and questions!
But first! Check out Primer's easy and cheap DIY industrial projects!
Chairs
This is THE industrial chair.  You can find it lot of places, but this is good price and it comes in a variety of colors.  You can also get it with a wood seat and different metal finishes here.
You see this chair everywhere for a reason.  It works in both commercial and residential spaces, and would look great in your place, too.  It comes in counter stool and bar stool versions, too.
Target gives you another option with this clean-looking vintage chair.  It features distressed wood, weathered metal, and rivets as the main detail.
This iron wire stool is a slightly different take on the industrial look.  Although distressed, it does not look worn out and adds a modest touch of color.
End / Side / Night Tables
For you handy folks out there, there are various styles of concrete DIY tables that you can make.  Here's one for a round side table by A Beautiful Mess.
For the rest of us, Target offers a square-shaped faux concrete table to complete your industrial look.
Here's a great piece mixing unfinished wood and industrial black metal.  It is simple, but the bent corners and hairpin leg braces lend a clean design.  If you like it, there's also a coffee table for $149.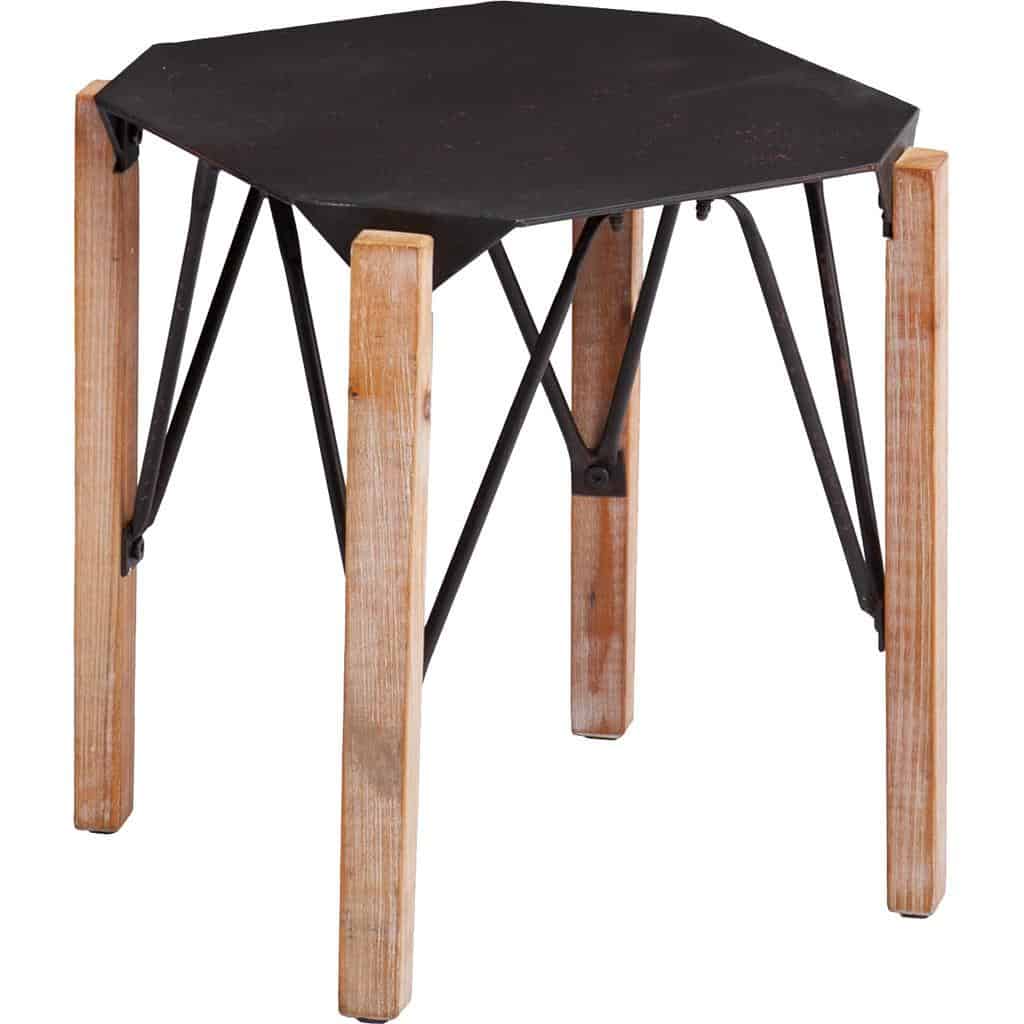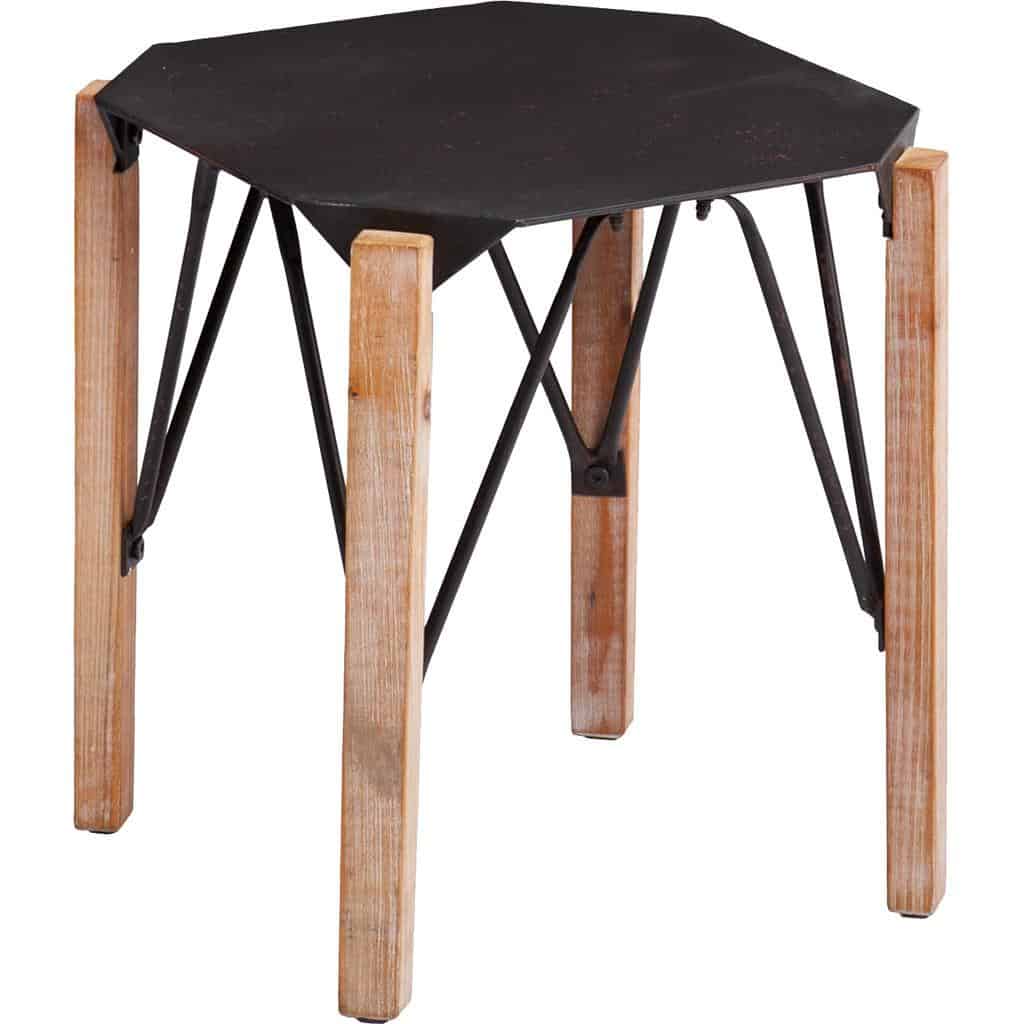 Clean lines dominate this versatile table, which can function as an end or side table, as well as a night table.  It is also available in chrome, should that fit the look in your place better.
More concrete!  For the crafty among you, make your own version of the below table with this DIY project.  For the rest, you can buy this one.
Who doesn't love furniture that does double-duty?  Use this for storage and as a stool or side table.
Nesting tables are great in small places.  Tuck them away when you don't need them to maximize space, and then pull the tables out when you have company.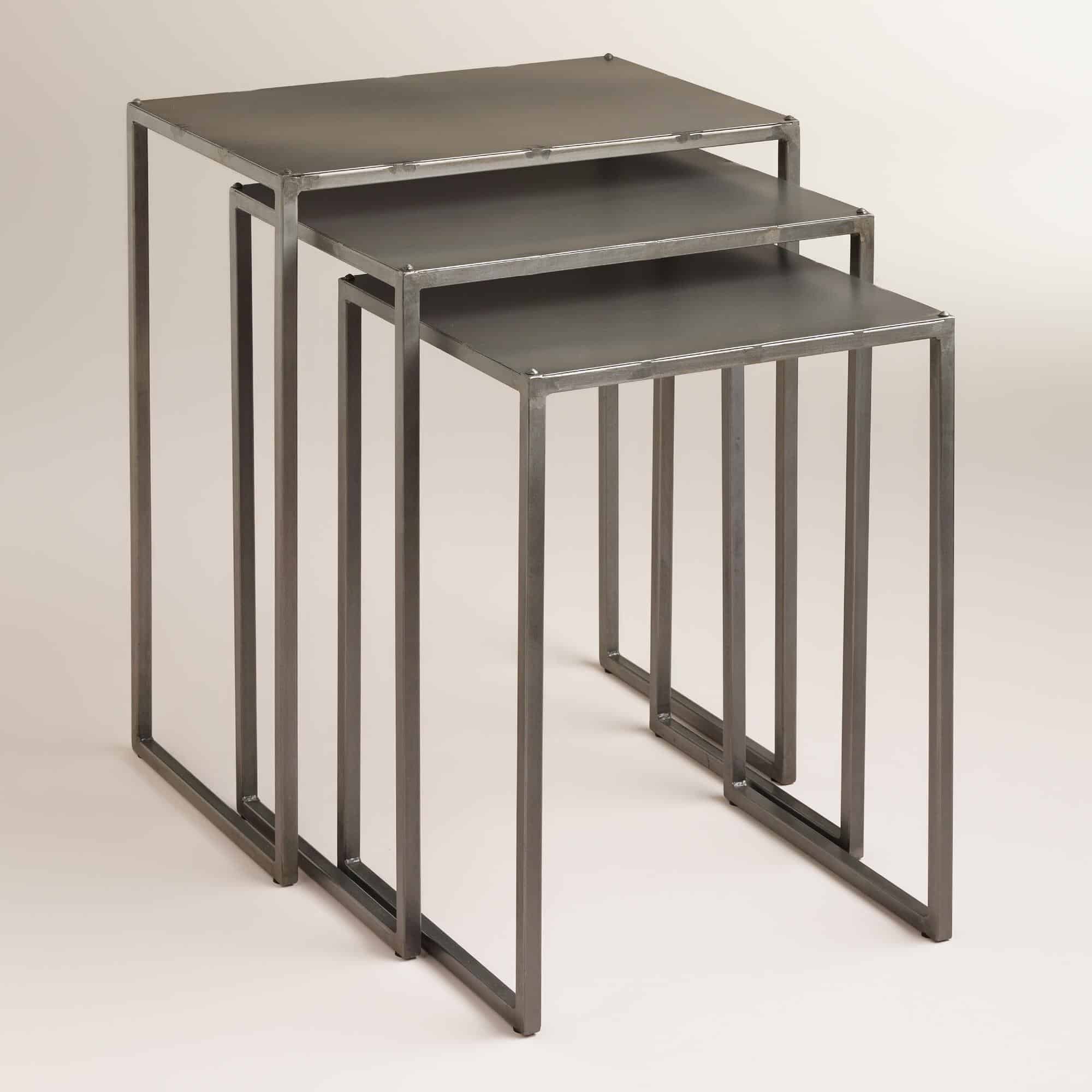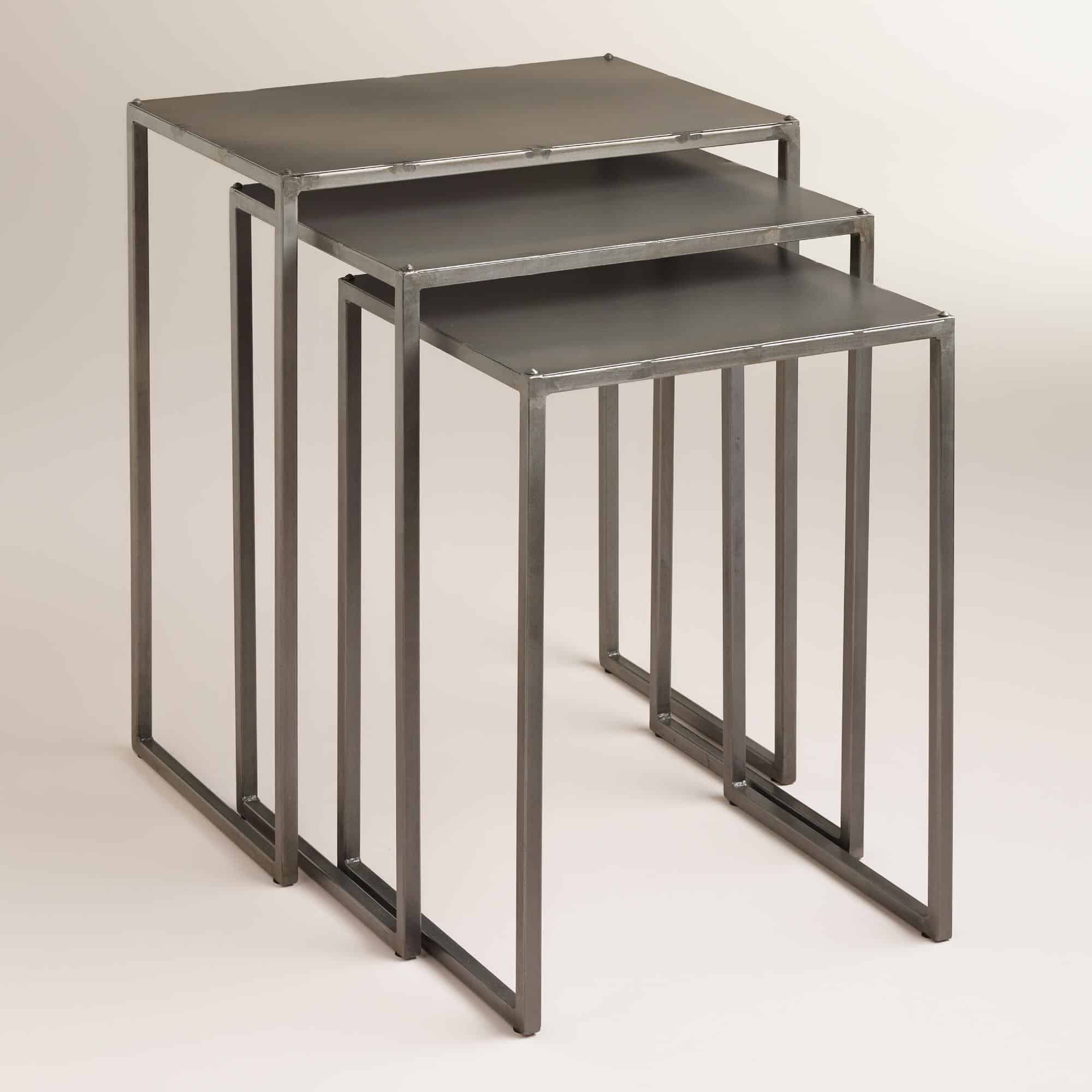 This table has three shelves for all your storage needs, plus it's aesthetically pleasing with subtle contrasts.  Note how the wood panels are laid out in opposite directions, so that the grain on each shelf runs in different ways.
For those of us who need a drawer to stash stuff out of sight, this table may be a good option.
Desks/ Tables
This is a simple, modern take on the classic sawhorse desk.  You can't go wrong with it.
Square or round dining tables can do the trick in smaller spaces.  This one also fits the industrial bill.   It also comes in another version with a wood top.
This desk will help you stay on top of things with its built-in organization system.  There are trays, a pencil cup, and a magnetic white board.  And the metal X-base of the table ensures that this fits in with your industrial look.
If less is more is your motto, then maybe this table, with its geometric hairpin legs and clean white top, is the one for you.
Bookcases / Shelving
Brackets, wood.  Simple, functional.  Done.
Add some color to your life with this 3-piece set, which can hold your mail, files, or magazines.
These dark mesh cubbies can be used alone or in multiples.  And the brass welding at each corner gives just the right touch of shine.
With three shelves, this bookcase should fit all your books and maybe some decor, too.
Lighting
Nice table lamp at a great price from Target.  The seeded glass is a fun touch.
This floor lamp has a mesh metal shade, invoking the industrial look, and allowing a warm glow to permeate your room.
If you're willing to have some brass in your place, then this floor lamp adds a nice touch without taking up too much room.  It, too, has a seeded glass shade.
The pulley system on this floor lamp is functional!  It's the mechanism for adjusting the level of the lamp head.
Decor
This is a great way to organize your desk or tools.  Keep your pens, pencils, paperclips, nails, bolts, nuts, etc. in this caddy.
What industrial look would be complete without crates?  This is a great way to stash and organize all kinds of stuff.
You have to hang your coat and briefcase somewhere, so why not here?  It would work well in your entryway, mudroom, or a narrow hallway.
The unfinished wood of this mirror is framed by a thin metal strip and accented with small rivets all around.  Nice and subtle.
Rough rope adds a different texture to the black metal here.  Buy 2 and hang them at different heights.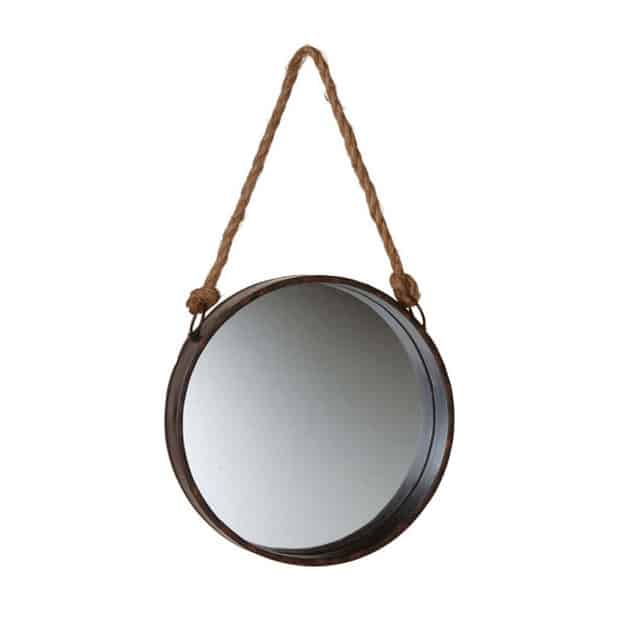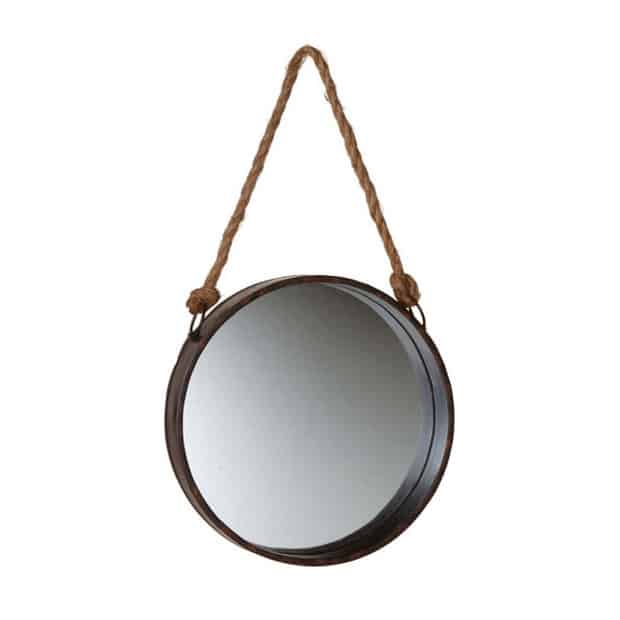 Small spaces often lack optimal closet space.  This storage rack looks a lot more interesting than the ones you can get at Bed Bath and Beyond.  Show off your clothing in a stylish manner!
See something you love?  Have another piece you like?  Share it in the comments!