A tasty top-notch cocktail with great depth.
The dirty little secret about the Cosmo, for all the snickering it often engenders, is that it's actually a top-notch cocktail. It delivers a beautiful balance of sweet and tart in an eye-pleasing package, and it contains as much booze as an Old Fashioned. Yes, it's pink … but if you're really that worried that a pink drink will shatter your masculinity, might I suggest some blue curacao?
I like to use gin instead of citrus vodka, because I really like gin and think it makes a drink with greater depth, but don't sleep on the original either. No matter what you think of the culture that came to surround it (thanks in part to Sex and the City and in part to the drink being a staple at overpriced Manhattan bars even before that), the Cosmo is one of the best cocktail inventions of the modern era. People are still going to be drinking it, right alongside the Manhattan and the Martini, in fifty years.
Oh, and while this drink has fruit juice in it, and should theoretically thus be shaken, I think it looks its best when stirred!
This article is a modified and enhanced version of a post that ran on my nightly cocktail blog, DrinkShouts.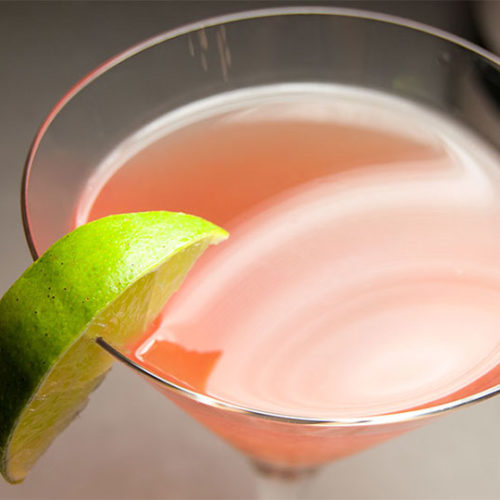 The Gin Cosmopolitan Cocktail Recipe
A sweet and tart gin cocktail
Equipment
Bar spoon

Cocktail Strainer
Instructions
Combine all ingredients in a pint glass over ice and stir thoroughly. Strain into a chilled cocktail glass and garnish with a lime wedge.