Build a better you, one book at a time.
It's finally here.
With summer on the way and the world finally starting to open, even the most introverted of us are ready to shake off our routines in favor of fresh beginnings. It's time for some new styles. It's time for some new commitments. It's time for new diets, new goals, new tastes. Above all else – it's time for some new ideas.
For the man with the plan to be all he can – for those ready to get back to growing in every aspect of their life, it's time for some summer reads that will surprise, challenge, and ultimately change our outlooks and perspectives. Though there's no shortage of worthy titles out there, here are seven of our absolute favorites.
Ficciones – Jorge Luis Borges
A traumatic head injury leaves a teenage boy burdened with a perfect memory. A labyrinthine library swells to contain books with every variation of every sentence imaginable. A detective relentlessly follows a sequence of Kabbalistic clues across a nameless city.
Masterfully combining mystery and philosophy, Borges' iconic collection of short stories entices us to reexamine the very foundations of our understanding. Whether grappling with our understanding of identity or the very concept of time itself, these brief but brilliant allegories will have us looking at the universe with fresh eyes long after we've closed the covers.
On Amazon / Indiebound
Raised in Captivity: Fictional Nonfiction – Chuck Klosterman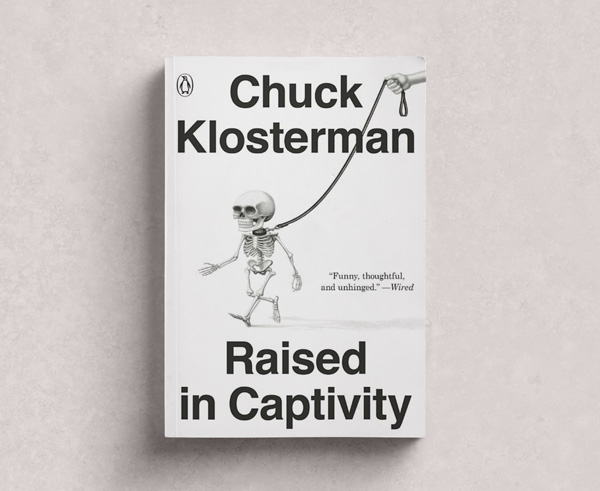 With so many books trying to make sense of the universe, it can be curiously comforting to have a book that affirms how strange life can be. In 34 vignettes that feel like a mashup of Black Mirror and The Good Place, Klosterman delivers funny, alarming, and always-engrossing meditations on just how absurd modern life can be. Whether it's debating the morality of a device that transfers childbirth pain to the father or examining how we'd reasonably react to discovering a mountain lion in an airplane bathroom (midflight), Raised in Captivity takes us on a whirlwind tour through the surrealism of existence. Lockdown might be ending for many of us, but as we move inexorably into the New Normal, we could all stand to reconsider what "normal" even is.
On Amazon / Indiebound
Heart of a Dog – Mikhail Bulgakov
It's a miserably cold day in Moscow. Sharik, a stray dog, has spent most of it being bullied, cursed, chastised, and chased. If that wasn't bad enough, he's now been captured by a mad scientist, hellbent on transforming the poor mutt into that most vile of all creatures: a man.
And it works.
Newly transfigured, the profanity-spewing Sharik obtains a job, a wife, and climbs the ranks of Muscovite society – wreaking Monty Python-esque havoc across the city in the process. As one absurd catastrophe crashes headlong into another, Sharik's creators (and we, the readers) are forced to reckon with the pompousness, arrogance, bureaucracy, and egotism that we can all fall prey to. As we move along our individual journeys of self-development, Heart of a Dog is a perfect read – not because it challenges us on what it means to be better, but because it asks us what it means to be human.
On Amazon / Indiebound
Pale Fire – Vladimir Nabokov
Lolita might be Nabokov's most famous work but Pale Fire is without a doubt his best. Weaving together a gorgeous poem about loss with an increasingly alarming set of annotations from a mysterious commenter, Pale Fire isn't so much a story as it is a puzzle – one that actively involves us in piecing together the truth that lurks beneath the lush and lavish language (you might recognize a portion of it from Blade Runner 2049).
Slowly but surely, we're drawn in the mystery surrounding the sudden death of the poet John Shade, relayed to us by the man claiming to be his editor. But does the narrator truly know the deceased as closely as he claims? Does the intricate wordplay truly signify what the self-appointed critic suggests? What actually happened to John Shade on the day he died?
Equal parts prose, puzzle, and an examination of the limits of our perception, Pale Fire will have us both beguiled and bewildered in the best possible way.
On Amazon / Indiebound
Ethan Frome – Edith Wharton
As stifling as this summer is going to be, Wharton's masterpiece novelette is certain to chill us to the core.
Over the course of a mere 30,000 words, we bear witness to the story of a young man trapped in a loveless marriage, smitten by his wife's cousin, struggling to escape a freezing New England house that's become a prison of his own design.
As Ethan is torn between obligation and affection, security and self-fulfillment, we're given a first-hand look at what Sartre dubbed "living in bad faith" – an unflinching view of what it means to imagine we have no options and the dire consequences of deciding not to decide. Bleak without being heartless, Wharton gives us a much-needed warning that even in the worst of times, we always have something to choose.
On Project Gutenberg / Amazon
Friday Black – Nana Kwame Adjei-Brenyah
The discomfort of some subjects is matched only by the desperation of their need to be explored, and few people do that more boldly or brilliantly than Nana Kwame Adjei-Brenyah in his debut collection Friday Black – tackling race and racism, meaning and menial work, hate, horror, and hope.
We bear witness to a day in the life of a young man working a theme park devoted to bigoted fantasies. We watch as another nameless protagonist struggles to survive a Black Friday frenzy in a dismal job that many of us will find all-too-familiar. We follow the ghost of a school shooter, trying desperately to amend his past atrocities. Powerful, provocative, and always – always urgent – these stories are required reading for anyone looking to truly challenge themselves.
On Amazon / Indiebound
Haiku in English: The First Hundred Years – Jim Kacian, Philip Rowland, Allan Burns
This past year and a half has been nothing if not anxiety-inducing. Given the state of the world and the struggles of adulthood, it can be easy to spend our time agonizing over a future that hasn't happened yet or a past we can't recover. When it feels like the world is slipping away, it can be helpful to find something to anchor us to the present, and as strange as it might seem, the ancient art of haiku can offer exactly that.
Combining an easy introduction with over 800 breath-long poems, this gorgeous anthology reminds us to be more aware, more mindful, and more appreciative of the moment we're actually in. Birds in flight on a spring morning. The shadow a napkin throws across the table. The space between a deer and a gunshot. These things are more real than any of our imagined worries or regrets. Reflecting on them can help us find solace, insight, and even joy in life's smallest details – and there's no better place to start than here.
On Amazon / Indiebouund
Some more great book recommendations:
What books have shaped your perspectives or challenged your views? Keep the conversation going in the comments!