25 Spring Jackets for Every Personal Style
With spring around the corner, it's time to take an inventory of your jacket situation. Winter and fall? Easy. Wool, down…the usuals that will keep you dry and warm no matter what the elements throw at you. But spring? Well, spring can be a little difficult. You need a jacket that will break the wind and keep you toasty–without getting too heavy or bulky. Luckily, Spring 2019 is favoring classic looks–the Harrington, the Trucker, the Bomber–jackets that looked good when your dad wore them in the '80s, and still look good now (and yes, Members Only is still a brand).
The bottom line is that it's not going to be hard to look good this spring. These jackets have all the function you need while still maintaining a svelte profile. So pick one up, throw on your favorite jeans, and get your damn hair cut: it's springtime.
Alpha Industries M65 Defender Field Coat
Like many of our favorite styles, the M65 Defender has a military history; it was first issued to soldiers during the Vietnam War. Its heavyweight cotton and optional button-in liner (sold separately, and wearable on its own) make it perfect for those chilly spring nights. And if you layer it well, it will actually keep you toasty well into fall and even winter.
Baracuta Harrington G9
We covered the history of the Harrington here. What you need to know is that it doesn't get any more classic than this. The standing collar. The ribbed cuffs and waist. And of course, the signature lining that offers a pop of color and pattern, making you stand out without trying to make a loud statement. The Harrington has been donned by the likes of Frank Sinatra, Elvis Presley, JFK, and yes, the great Steve McQueen. With its cotton/polyester blend, light rain will roll right off, and the lightweight lining will cut the wind without making you overheat. Baracuta makes the Harrington G9 in just about every color imaginable. Find the one that suits you best.
Read more: The Harrington Jacket – How to Wear It, History, & Affordable Picks
chouyatou Green Cotton Bomber
This neutral green jacket will compliment just about any shade of denim you have, from medium and dark blues to black and charcoal gray. Inspired by the heavy jackets originally worn by fighter pilots, this civilian-friendly version is more of a no-nonsense Harrington with a bomber silhouette. It's slimmer and more streamlined than its military cousin, but it keeps the ribbed collar, cuffs and waist that will keep the wind off your torso–at high altitudes or on the ground. Its thick cotton shell will still keep you warm, especially with some strategic layering underneath.
Shop the Look: The Amazon Outfit: Weekend Work Session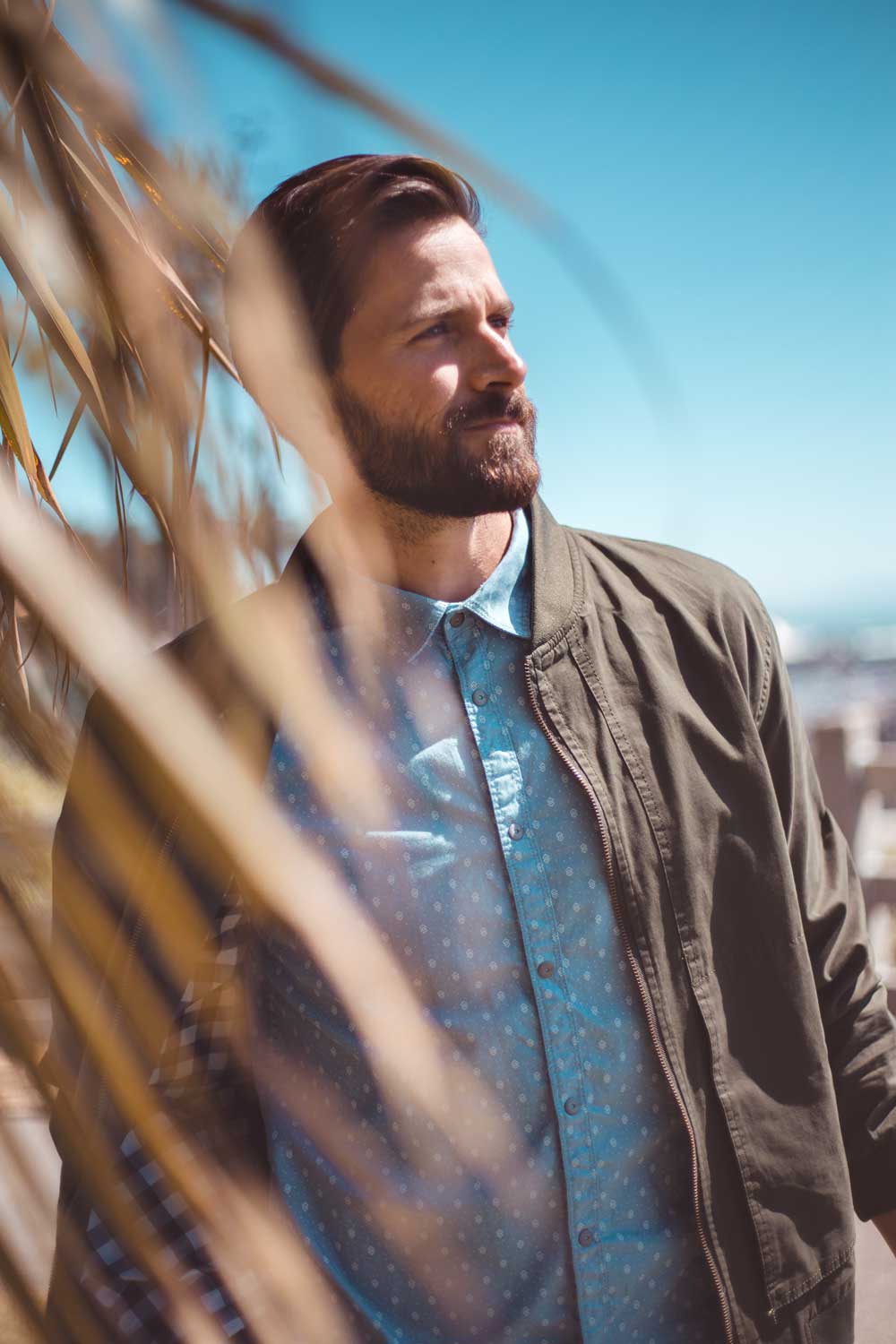 Levi's Denim Trucker Jacket
The classic Levi's Denim Trucker Jacket is cut slim, tapers at the waist, and has a badassness encapsulated in its longevity alone. While there is some debate, the general consensus is that denim was a fabric originally woven for farmers, and other men and women who worked in the dirt with their hands. (We dove into the difference between a denim jacket and a trucker jacket not too long ago.) Fast forward to the 1960s, and denim became synonymous with not giving a damn. The Denim Trucker has kept that legacy alive for the last 60 years, and it still looks good on a spring day with a pair of  chinos–or jeans, if you want to rock a Canadian Tuxedo.
Carhartt Full Swing Armstrong Jacket
The Carhartt Full Swing Armstrong is made from durable 12-ounce ring spun cotton with a contrast corduroy collar. With stretch panels between the shoulders, around the elbows, and under the arms, it balances good looks and practicality. Carhartt's classic Americana style adds a rugged edge to your favorite T-shirts and plaid button-downs–we like the Armstrong jacket paired with darker denim and leather boots. This coat will keep you warm and dry, and it's built to stand the test of time.
Flint and Tinder Flannel-Lined Waxed Cotton Trucker
Flint and Tinder originally launched with the goal of making the most perfect underwear for men–and yes, they cracked the code. Soon they were making a variety of sartorial products in the USA, from leather belts to a hoodie guaranteed to last you for ten years (seriously). Recently they teamed up with Huckberry (which is where you can find their full range of products), but this jacket in particular is something special. 7-ounce cotton sourced from New Jersey is waxed on both sides for added water resistance and durability. And they didn't just line the body of the jacket with insulating flannel; it's in the sleeves, too. It's an American classic, and it's American made.
Read more: The 10 Best Field Jackets