Primer wouldn't exist without you, our readers.
I said it in my 10-year anniversary kickoff vlog. I'll say it again, I'll shout it from the rooftops of the internet:
You form the community that sustains what we do here. I'm thankful and humbled by your passion.
Over the last ten years we've grown from a few hits a day to a wide-ranging group of over 600,000 monthly readers – and Primer continues to grow.
It blows my mind.
Each month for the rest of the year we're giving away some of my very favorite tools, gadgets, and style items. It's not a contest. There's no gimmick. It's just one way I can express my gratitude for all your years of support.
And I'm super excited for our inaugural Primer 10 Giveaway because it's one of my first and favorite pairs of boots – and an all-American style icon.
Giveaway #1: Three Pairs of Wolverine 1000 Mile Boots
Wolverine's flagship 1,000 Mile boot just seemed like the perfect style item for our first giveaway because, in many ways, they embody the Primer spirit: self-reliant, timeless, with a touch of polish.
I've had my pair since 2013, when I purchased them for the first Live Action version of our Getup series.  Getting them was a big deal because they carry a pretty hefty price tag. But in doing so, I discovered one of the most versatile, well-made pieces of footwear you can invest in.
Why I Love Them: First, The Versatility
The Wolverine 1,000 Mile boot's features have come to really define the category. The first thing you notice about the 1,000 Mile boot is it comes with a leather sole, making them more like dress shoes than most classic American work boots.
On the other hand, they're obviously not dress boots, either. Visually and physically they're boots, plain and simple.
Combine the leather sole with the Wolverine's self-evident boot-ness and you have a remarkably versatile piece of kit. You can dress them up or down. They're definitely suited to smart casual and extend to business casual if in good condition.
The Quality
The title of the original Getup in which I first featured the 1,000 Mile boot was titled, "Don't Forget to Treat Yourself, Too," because at $365 ($350 back then) they're a big spend. They were a big spend for me then, and if I were ever to replace them (and I definitely don't need to yet!) it would be a hit to my wallet.
But I have yet to meet a guy who regrets getting his pair of 1,000 Milers.
The key is in their quality construction. They're almost entirely American made, with Horween leather out of Chicago, flat wax cotton laces from South Carolina (which also allow them to dress up a bit more), and designed in Rockford, Michigan.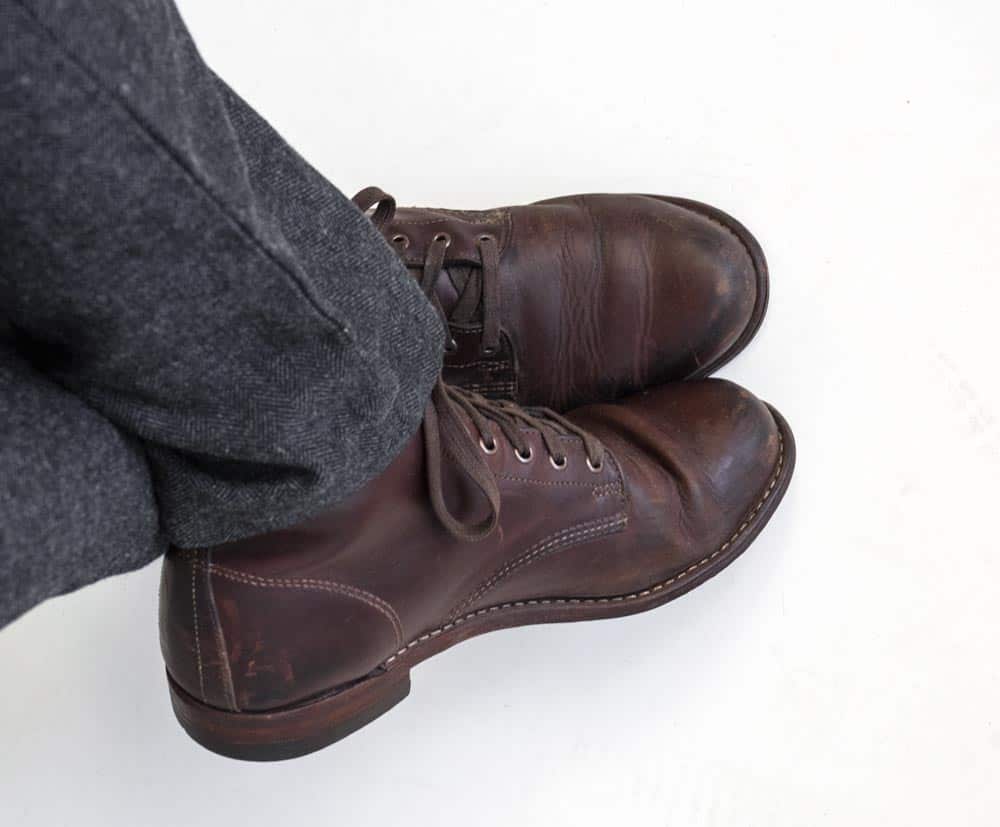 And, of course, they carry the gold-standard in boot construction: Goodwear welts, meaning they can be re-soled over and over and last you a lifetime, provided you take good care of them.
I never fail to be impressed by the leather. One neat trick: if you run your finger along the inside of the leather, it ever-so-slightly changes color – a sign of true quality.
The Heritage
The 1,000 Mile boot is based on a model built first introduced in 1914. As a consequence, they've become a big part of the Americana style movement that sprouted 10 years ago and is still evolving.
This boot has, not surprisingly, spawned an entire line of 1,000 Mile models, and Wolverine now allows you to design your own on their website – a pretty cool feature if you want to mix and match different colors or styles of premium leather.
The First Primer 10 Giveaway, With More to Come
I'm truly excited to be giving away three pairs of the Wolverine 1,000 Mile boot to readers. To enter, simply…
If you don't win this month, stay tuned – we're going to be doing 11 more in the months to come and I'm already stoked about next month's!
Thanks again for 10 remarkable years of Primer.