RECREATE THIS ROOM:
This Primer Reader's Drool-Worthy Living Room is Inspiring and Shoppable
Written by Andrew Snavely / Photos by Rick Lee
You guys have me constantly excited! The Primer community is that rare gem on the internet that is not only encouraging to other readers but gives back by making Primer more than the team ever could on our own. On a recent Intentional Apartment post, Primer reader Daniel Griffiths left a comment with a photo of his recently completed living room setup, which included some items featured in the series, and I was floored.
I reached out to Daniel about featuring his place, and he went above and beyond, having his friend Rick take amazing photos, and chatting with me about his process and where he bought everything.
Daniel is an investor in real estate, small businesses, and cryptocurrencies, and was born in a small town in Wales, but currently lives in Atlanta. He owns his spot, but notes similar places rent for $1,400-$1,600 in his area.
I picked his brain on how he went about assembling this well-designed space.
What designers/shows/friends were your inspiration for redesigning your space? I sense Mad Men, perhaps…?
I've always been a fan of Scandinavian design, minimalism, and mid-century modernism. I Googled images using those keywords to get a feel for layout and colors. The works of designers, and architects such as Frank Loyd Wright, Charles and Ray Eames, and Eero Saarinen were a huge influence. Atomic-ranch.com is a great resource for mid-century design. I wanted to have a game plan so there would be some cohesion. An article on Primer was actually my inspiration for choosing the sofa, and rug.
How did you prioritize your budget? (i.e., Where did you begin? Small, or with a big statement piece?)
I started with pieces that I knew I'd realize their utility right off the bat. The sofa and coffee table were first, as I spend more time than I should vegging on the couch. The statement pieces such as the replica Eames lounger, and the Poul Jensen Z chair came next. The accessories were last in order to plug in the gaps.
How did you decide on which brands you chose for the higher ticket items?
There are quite a few different companies that produce replicas of iconic furniture. I made sure to read reviews and compare dimensions between the replicas and the originals. The Eames lounger replica came from Urabanfurnishing.net. It was the closest in dimensions to the original that I found, and is upholstered in aniline leather. The Z chair was from Joybird.com and they allow you to custom pick your wood, and fabric color. I was able to order the cushions in two different colors. That way when I get bored with one color I can switch it out with the other. Be warned, the chairs are custom made and have a long turnaround time. I'm talking months.
Where would you recommend a guy working with a limited budget begin?
Target has a decent selection of mid-century designed furniture and accessories. It's a great place to start in order to get the aesthetic. Everything doesn't have to be solid oak. You don't have to have a bunch of leather-bound books, nor does your place have to smell of rich mahogany.
Where can you have the most impact for your dollar?
While you're saving for a statement piece the best way to get the most bang for your buck would be to add some color. A colorful vase, a tabletop accessory, or a couple throw pillows will really pop against a more neutral palette.
Were there any stores or brands that were really helpful in finding affordable items?
Target, and Ikea were number one in terms of affordability. I chose article.com for the sofa as I wanted it to be durable. CB2.com is a great website to find affordable modern accessories. I was able to find items such as the Eames DSW replica chairs being sold on Amazon from Poly&Bark for far less than their website. Waiting for a sale was key, as I was able to save 15-20% on most of the items.
Ok, Street Fighter II – there's gotta be a story there, right? Tell me how you found that piece and what it means to you?
Me and Street Fighter go way back. Growing up it was my favorite game at the arcade. I even joined a couple tournaments and finished on the podium. When it was released on the Super Nintendo I had to go over to a friend's house to play it. I now have it in arcade form, in my living room. It's a symbol of where I've come from, and where I am. Plus, who doesn't need an arcade cabinet in their living room, right? The joysticks and electronics are designed and built by a local shop, who fortunately resides on the top floor of a cabinet company. Their website is recroommasters.com.
Did you take a more "hidden gem" approach to finding pieces (estate sales, Ebay, Craigslist) or focus on certain brands you knew would help you achieve your look?
I checked sites like Etsy, and Craigslist but mid-mod has become very popular so sellers are now aware of what they have and genuine items are out of my budget. I turned to sites like Amazon, Article.com, Joybird.com, CB2.com, and Westelm.com in order to get the look and stay within my budget.
Real talk: about how many hours (spread out over how many months) did it take to achieve this space? What kind of time investment should a guy budget?
The design and choosing items is not something I knocked out in a night. I would spend a few minutes each day browsing designs online before settling on my choices. It took about two to three months before I knew exactly what I wanted.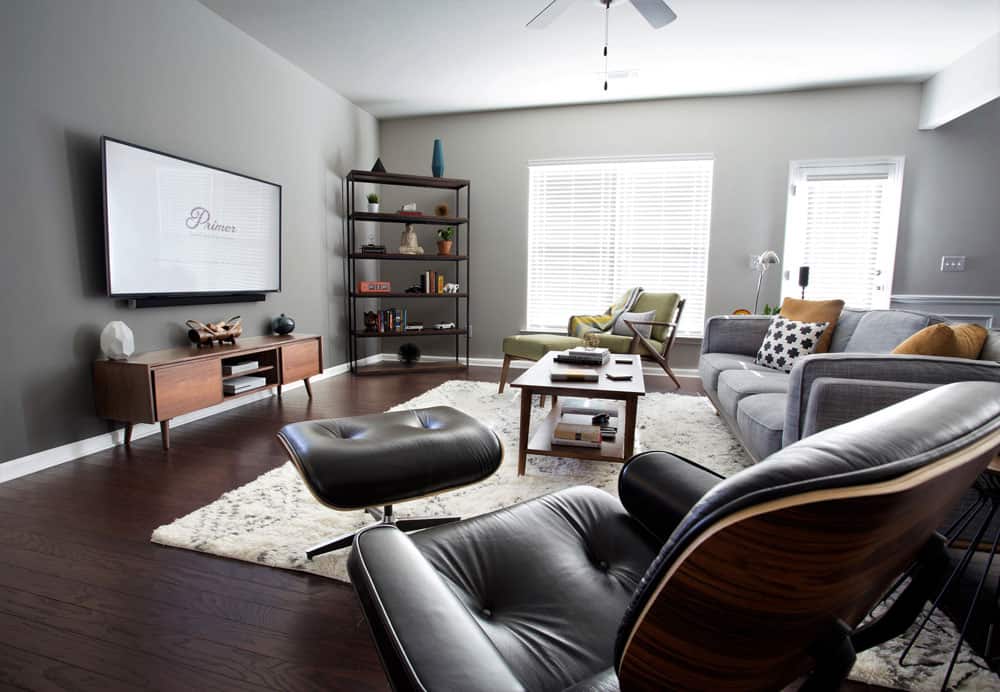 If money were no object, what one piece (or pieces) would you want for your space?
A genuine, well used, Eames lounger with worn-in leather, wrinkles and all, or, if I could fit it in the living room, a 1950s Hudson Hornet club coupe.
How has redesigning your living space impacted your life?
My place feels a lot less cluttered since the redesign. The clean lines and lack of ornamentation of mid-century furniture really help in that regard. It's nice to have a place you can be proud of and are more willing to entertain in.
What's the best thing someone has said about your redesigned space?
Wow! Your living room is nice, I can't wait to see the bedroom! HAHAHA, jk.
What's your top three pieces of advice for someone thinking about embarking on a project like yours?
Have a game plan, be patient, less is more.