Create this beautiful vintage-looking map and frame for less than two tickets to the movies.
Either invest in the art, or invest in the frame – investing in both is usually too expensive. That's my personal rule when buying or creating things for my place. Sometimes you can create an awesome decoration that's cheap all around, like our free Hemingway print. But usually it's one or the other – either the art in the frame is the expensive part, or the art is cheap but the frame requires some investment.
Unfortunately, larger pieces require both. That is, unless you get creative.
I've seen a lot of cool examples of hanging old maps (a bunch in our Restoration Hardware piece alone), but it seems silly to spend $60 on a map, and $100+ on an appropriate frame. Hell, at Restoration Hardware you'll pay $1200+ (!) for a reproduction of an old map. That's insanity.
Around the same time I started thinking about maps, I saw a DIY project on printing large things on the cheap.  Printing places like Staples have the ability to make Engineering Prints, a black and white print on giant paper, used for things like blueprints.  The best part is they're only about $7 for a three foot by four foot sheet.

What You'll Need
→ Engineering print
→ 3
Wood pickets
→ 4
L-Straps
→ 1 Pad of
Super Fine Steel Wool
→ Vinegar
→ 2
D-ring hangers
→ Screws
Now, again, these are used for engineering or architectural diagrams, and aren't intended for much beyond black and white line drawings. The quality is like a really good photocopy – but – that's perfect for creating a vintage-looking map.
There's an awesome website called Big Map Blog, (Update: Big Map Blog is currently unavailable, but you can find high-resolution vintage maps here) and they aren't embellishing with the name. They post all kinds of maps from all different time periods in super high resolution that you can download. Many appear to be scanned from libraries. It's a fun site to just browse around if you're bored too.
I found a really neat hand-drawn map of Los Angeles from 1909. The details and three-dimensional perspective are beyond belief. Many of the buildings downtown are labeled, which is cool to see what things used to be and what's changed. Hollywood was nothing but an orange grove at that point.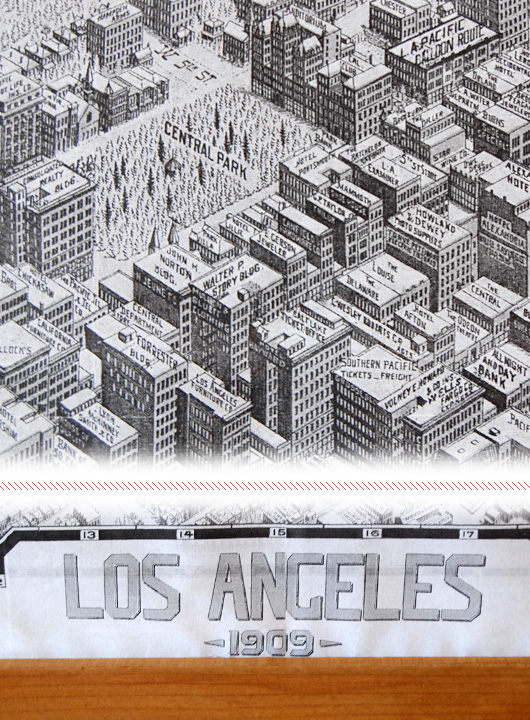 Find a map that catches your eye and download it. I used Staples for the printing just like the Hemingway print because there's one down the street from me and you can upload it from home and then pick it up in the store. I think most printing stores can do engineering prints as well.
To make the print, go to the Staples Copy & Print Center and click Oversized Prints, then choose Engineering Prints. Upload your map image, and name your project. Make sure "Pages" is set to 1, mine always comes up as 3 for some reason. Under "Media" choose "Blueprints 36×48" then "OK". Your price should update to $7.29. Nice!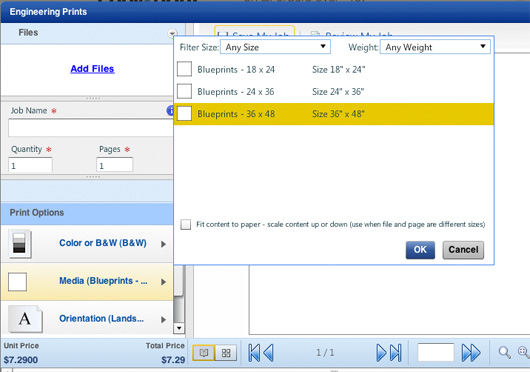 Finish up and check out.
The Frame
Now on to the "expensive part". Building this frame will cost you about $23.
Frames are a fickle beast. Most frames use miter joints – two pieces of wood with angles cut on their ends that fit together to form a right angle. That should seem simple enough to do, bust out your old compass from math class and cut some boards. Unfortunately this requires a lot of time and patience when it comes to frames since you have four cuts that need to create a perfect rectangle. Even professionals who make custom frames have to work at it and make minute adjustments to get it just right.
So that's out.
I wasn't sure how to proceed until I was in a Starbucks of all places. They had a bulletin board with a wood frame. Instead of using miter joints for the corners, they used butt joints. It had a cool, raw look to it and it was perfect for the old-timey map feel.
I used wood pickets (the kind for fences). You'll need three pickets, each one costing only $2 and change at Home Depot.  Here's your cut list:
2 x 56.5″ – this will take two pickets (cut off the dog ear corners as well)
2 x 29.5″ – you'll get two from the third picket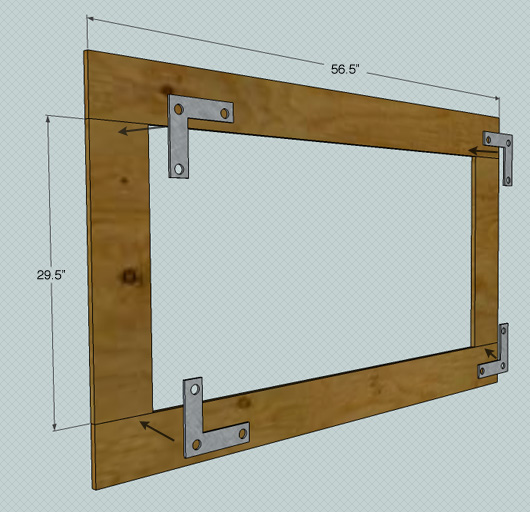 We'll use metal L-Straps to hold the corners together. We'll need four, and they're $4.20 a piece. While you're at the store, pick up some screws. Use whatever is handy, they should be shorter than the depth of the picket but long enough to be secure.
Attach the L-Straps. I'd recommend doing this on the floor. Do one side of the L-Strap, then have a partner push on the perpendicular board while you screw in the other half of the L-Strap so you get a tight joint.
Pickets aren't great pieces of wood. Many of them bow and have unfinished sides, so when picking them out go through the stack until you get three relatively flat ones. If your joints aren't completely flush because of bowing, it's no big deal, it's supposed to look rugged, old, and imperfect.
I wanted the wood to look old and worn. I found a cool method of quickly aging wood by dissolving super-fine steel wool in vinegar and then painting it on. As it dries, the wood gets a gray/yellow color. You can see the drastic before and after: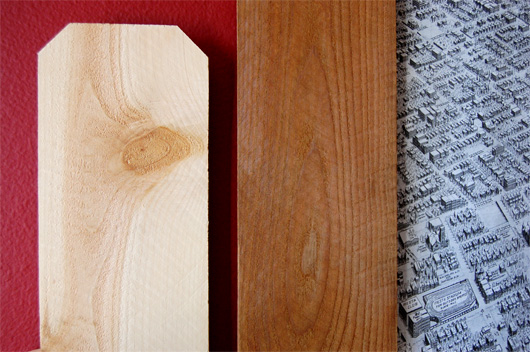 The steel wool needs to be in the vinegar for at least 24 hours.
When your frame is finished to your liking, we need to attach the map. Unfortunately, this is probably the hardest damn part because you have to keep adjusting it until you have it straight. You can use a staple gun or tape to attach the print to the back of the frame.
This frame doesn't have glass in it for a few reasons. First, getting glass cut is very expensive. Second, it's really heavy. And third, we would need special tools to create a trench in the back of the frame for the glass to sit in. Honestly, it doesn't really need it, and it has a cool Park Ranger's office feel to it.
Lastly, we'll need to attach some framing wire to hang it from. I had never done it before, but it's a simple and straight forward process.  Screw in the two D-ring hangers on either side of the frame, about a third of the way down. Now attach the wire – use this video for a good tutorial.
If you make one, I'd love to see photos. Good luck!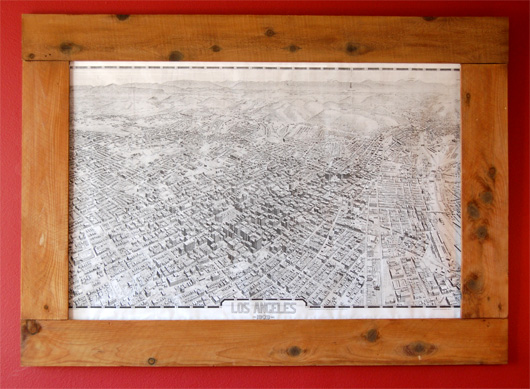 Your projects!
Benjamin shared his map and frame in the comments. Looks great!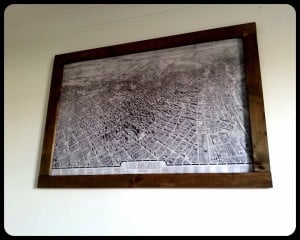 Riteshraja had the help of a 9 year old to make this sweet world map.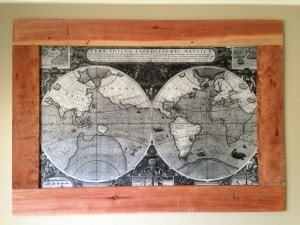 Scott built a sharp new piece of art for his office.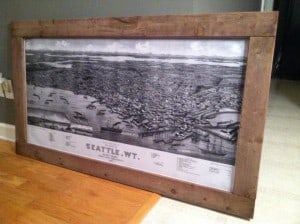 Patrick made a nice one of his hometown.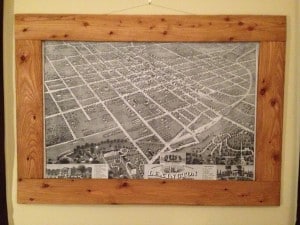 @wscottkimberly made this excellent map and frame of seattle.
David made this rustic map and frame of New Orleans from 1885!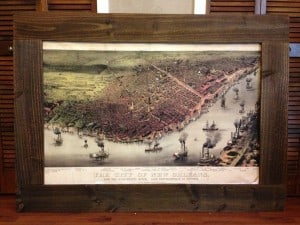 Be sure to check out our free printable wall art collection post for more from our Free Art Download series.