The most masculine shirt is also the most versatile.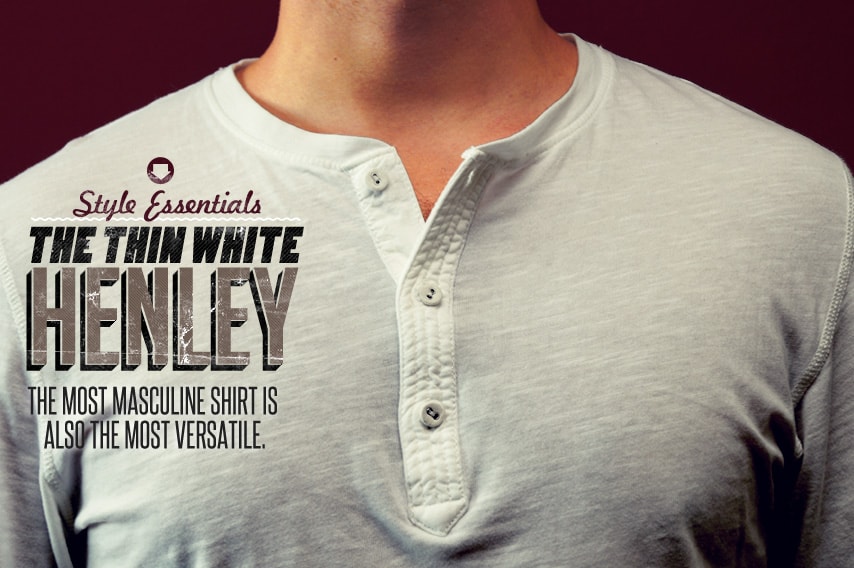 It's funny what a few buttons can do for a long sleeve t-shirt.
Just like the right sportcoat, a thin white henley is a neutral modifier. Worn instead of a t-shirt on a casual day, a henley will have you looking more sophisticated without making you appear dressed up. Similarly, a thin white henley worn with a cardigan creates a look that is more rugged and less dressy than a sweater worn with the standard button up shirt.
A henley is the perfect fall layering item. Wear it with a flannel shirt and chinos and you've got a versatile getup ready for both backyard brews with your bros and hanging with your girlfriend's parents.
Unlike its thermal cousin, a thin henley won't be too bulky or warm in moderate temperatures while layered with other items.
How to Wear It
Never button it up all the way, similar to a polo. I like to leave the top one or two buttons undone so it starts to fold over on itself.
If you're wearing it with another shirt with long sleeves, consider rolling up the outer sleeves, similar to Look 1.
Wear it solo, but add some dimension with your pants and shoe choices. In look 3, the rugged feel of the Red Wing boots complements the henley in a way sneakers wouldn't. Similarly, the cardigan and corduroys in Look 2 are dressed down by the henley for a complete, put-together style.