They didn't even do any Black Friday deals.
If you follow Primer, you're no stranger to Buck Mason, the LA-founded menswear company that offers a rugged American style with modern details and fits. The aesthetic is similar to J.Crew but without the plaids or vibrant colors. Price and style-wise, they're a similar brand to Taylor Stitch, though Buck Mason is a little more casual-LA-rugged and Taylor Stitch is more casual-mountains-rugged.
The brand is one of my personal favorites, I stop into the Larchmont store every time I'm in the neighborhood to see what's new and feel things. And, if you follow Primer on Instagram, you're also no stranger to that since I go to their Dirty Cars and Black Coffee car events and post about them in our Stories.
Since I've started following them a couple years ago, Buck Mason has only offered discounts twice.  And that's super annoying for a guy who loves buying awesome products on sale. The first was a sample sale, which I picked some things up, but sample sales are inherently full of stuff that's imperfect in some way. Tiny holes or marks, etc.
The second is the sale that just went live today at 6PM PST. And this one is a more traditional sale, not discounted imperfect items. The Gettin's Good Sale is 25-50% off of styles from previous seasons that they're retiring. All sales are final, typical for a get-it-out clearance sale.
My experience with fit is consistent with other retailers I wear, like Gap, J.Crew etc. The line does a have modern, trim fit so if you find yourself constantly needing to size up in slimmer brands, it's something to consider. The t-shirt I wore in our last Live Action Getup is from the sample sale and is a size small. It fits great in the arms and body, but since its a curved hem, it iss slightly long on my body so I'll be ordering an XS in new t-shirts. However, the size small leather jackets fit great, and is consistent with what I wear in my Levi's Trucker jackets.
The sale will be both online and in-store, and ends on Sunday, January 26th at 11:59pm PST. Take at a look at our picks below, or click to view the whole sale.
Buck Mason's leather jackets come in several colors and styles, and they're all a good buy at a surprising sub-$500 price point, but at 50% off, they're a no brainer. The Bruiser Moto Jacket in the brown mahogany color is a year round weight, and fits consistently with other brands that I wear.
A nice, thick suede, unlike most cheap suede jackets you'll come across, the Interstate jacket is like a classic Trucker jacket silhouette with the chest pockets dropped to the bottom. I pine over this thing every time I stop by a store. The only reason I'm not buying it now is since they're retiring the style I won't be able to include it any future Getups. But you should.
Multiple colors
I probably own more henleys than any other type of t-shirt. They're great for layering or wearing on their own. I'm a big fan of BM's short sleeve henley, which we discussed before in our summer details piece. You can also see how I wore it with gray jeans and a denim jacket. The color that we featured has actually been unavailable for awhile so grab it while you can.
multiple colors
Tri-blend t-shirts are great, we've talked about them a bunch before, because they have a soft, thin, vintage feel. Tri-blend is a type of fabric t-shirt manufacturers use that's made of  cotton, polyester, and rayon. It's that difference between a designer t-shirt and one you grab from Target. Except at 50% off, it's pretty close to a Target price tag.
multiple colors
Limited sizes
A 6″ seam in a trim fit. Half cotton, the other half is nylon/spandex, making these comfortable all-weekend shorts.
Slim, soft chinos that you can easily dress up or dress down. And if you're the type of guy that struggles with wearing chinos casually, the fit and styling on these make it effortless.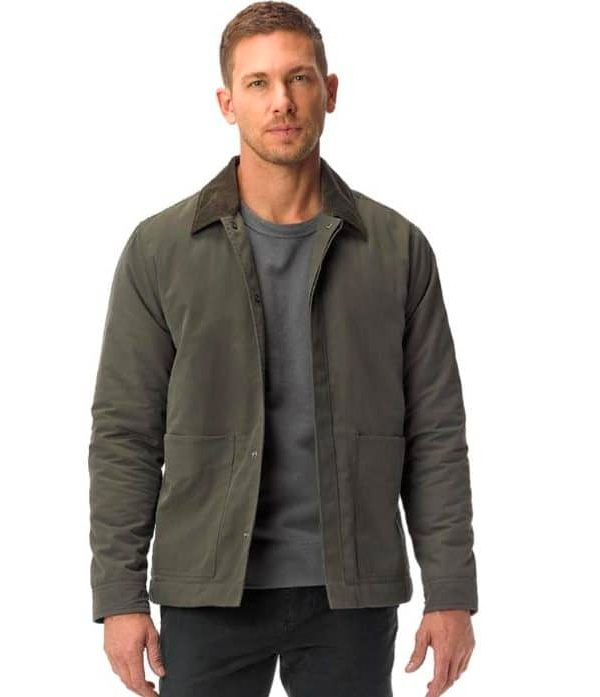 A slim take on the classic chore coat in a subtle olive color. Unlike many, its lack of a chest pocket feels a little more metropolitan than those inspired by traditional workwear.
Limited sizes
A slim modern, fit made of quality Japanese denim. In black, you'll be wearing these every Friday night for the next three years.
A wonderfully subdued green that will look sharp with blue, gray, or black jeans; brown or black boots or white leather sneakers, and enhances every skin tone (translucent white guy approved).