We recreate this room so you can easily make it yours, with 3 options for each item.
It may be difficult to envision your place looking like it could be in a magazine; maybe you're not sure what sort of furniture to pick, or you don't think you have the budget for it. Well today we're going to solve both problems for you. Any good living room needs a table, storage, seating and a few accessories.  We've found a super stylish yet totally comfortable living room which has all of those elements; this space combines designer furniture with a mostly-neutral color palette, adding personality with a few bright pops of color.
This living room, originally submitted to Apartment Therapy's Smallest Cool Home contest by Aarhus, Denmark resident Lasse is a superb example of using smart, modern design to make a small room feel like a home. You can view other photos of the apartment here.
Using this room as inspiration, we've sourced affordable versions of all the pieces in the room and given you a few options to choose from. Voilà, instant cool living room! So let's get started.
The coffee table in our inspiration photo is modeled after the Nelson Platform Bench, which will run you between $1,000 and $2,300 depending on the size you get. We have three much more affordable options for you to choose from.
1. Nelson Style Platform Bench, $250 – All three look quite similar to the original by George Nelson, but each has its own look. This one from Houzz has a lighter color and chunkier legs.
2. Slat 5 Foot Bench, $189 – This option from Poly & Bark has a warm, dark stain and three sections rather than two.
3. Design Tree Home Tao Platform Bench, $244 – Looking for more of a muted wood color? This bench from Houzz might be a better bet.
The sofa may be the most important element of the room, both functionally and visually…. so pick carefully!
1. Milan Leather Sofa, $899 – The Milan sofa from Macys is highly rated, so you can be confident that you're buying a good piece.
2. Wellhead Leather Sofa, $535 – This overstuffed leather sofa from Wayfair has three sections and a very classic look.
3. Brooklyn Bonded Leather Euro Lounger, $879 – Relax and recharge in style with this convertible sofa which includes a built-in USB port, so you can easily charge your phone or tablet. From Costco, check your local store.
What better way to watch the game than from a comfy leather lounge chair and ottoman?
1. Classic Lounge Chair and Ottoman, $994 – Genuine Eames Lounge Chairs will run you $4,000 – $7,000, so this well-made replica seems like a steal at just under $1000.
2. Midcentury Modern Lounge Chair and Ottoman, $1,659 – Perhaps the most realistic looking of the three options, this one is still a great deal compared with the real deal.
3. Aniline Leather Lounge Chair and Ottoman, $850 – And if you're on a budget, this less expensive version will certainly suffice.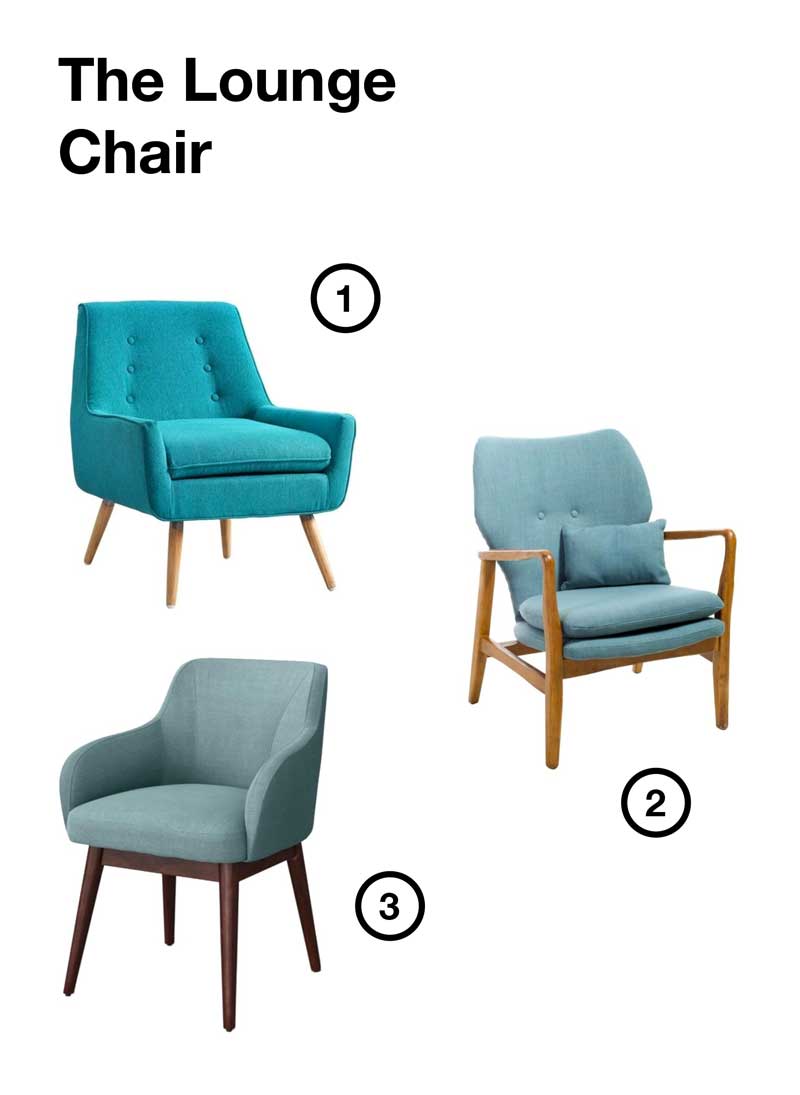 Add some character to your living room with a colorful accent chair.
1. Trellis Accent Chair, $174 – A pop of color is always a great way to add character to a space, and this bright blue accent chair will fit the bill.
2. Andersen Accent Chair, $162 – For a more sculptural feel, try this upholstered chair with curvy wooden arms.
3. Marshad Arm Chair, $169 – Part of Target's new modern Project 62 line, this bold teal chair might be perfect for you.
Even if your TV is mounted on the wall, you'll still want to purchase a media stand to store cable boxes, remotes and other tech equipment.
1. Seno Media Stand, $699 – The tapered legs on this media cabinet will go nicely with the other midcentury modern items in the room.
2. Robison Media Console, $639 – For an unobtrusive look, try this simple dark cabinet – it will do double duty as a space to hide clutter.
3. Woburn Media Console, $309 – The most affordable of the bunch, this one has a bit of a rustic industrial feel.
Lighting is a crucial aspect of any room, especially a living room. A colorful lamp will provide task lighting, and will also act as another decorative detail.
1. YYHAOGE Floor Lamp. $158 – The yellow floor lamp in our inspiration photo lends a second pop of color to the mostly neutral space – and this one from Amazon will have the same effect.
2. Tommy Lamp, $50 – Although this one is not a floor lamp, it can be placed on an end table and provide light in two different directions.
3. Etern Floor Lamp, $113 – A touch of chrome gives this floor lamp a sleek, modern feel.
Overhead lighting is important too, both functionally and aesthetically… just be sure to choose something that will flatter the scale of your living room.
1. Rattan Ball Pendant, $96 – This textured ceiling pendent has a similar feel to the one in our inspiration image.
2. Beistle Jumbo Paper Lantern, $18 – For a super affordable option, try this paper lantern from Amazon.
3. Masumi Pendant, $126 – If you're going for a more high end look, give the Masumi Pendant a try.
Artwork acts as the finishing touch for a room… think of it like a good watch or pair of sunglasses for your apartment. Here are a few bold prints that will accentuate the other furniture and accessories above.
1. Printable Orange and Black Abstract Art, $7 – Talk about a great deal! These are sold as printable files so you can have them printed at any size.
2. Gianna, $150+ – Purchase this showstopper in a variety of sizes from 11×13 up to 50×60, depending on your space and budget.
3. Wow, That Is Bright! Limited Edition Print, $21+ – Aptly named, this colorful print will surely be a conversation starter.
Putting it all together
Now that you've picked out all of the major elements in the room, grab a few more pieces of artwork and accessories at places like HomeGoods or your local thrift store. They have great prices, good variety and tons of unique items. Don't be afraid to experiment!
Like this article? Please share it!
Then check out the full Intentional Apartment series!