The perfect in-between of casual and dress -- nicer than a sneaker but more relaxed than a dress shoe -- the desert boot provides a great way for looking smart in the warmer months without suffocating your feet.
The perfect in-between of casual and dress — nicer than a sneaker but more relaxed than a dress shoe — the desert boot provides a great way for looking smart without suffocating your feet.
The warmer months can be tricky as far as dressing well is concerned. It's not unreasonable to put comfort before style, but is it really necessary?
Not if you've got a pair of desert boots.
Similar in form to a chukka boot, the desert boot is based off a style British Army officers in World War II fell in love with from the markets of Cairo. If you're not sure about the look, don't cast the idea off until you see a pair being worn.
The desert boot looks great with jeans and khakis, with a dress shirt or a t-shirt, proving to be one of the most versatile things about spring.
Less rugged than a larger boot like my beloved Fryes and less formal than most oxfords, desert boots provide a nice balance of dress and casual.
The go-to brand for desert boots is Clarks. A classic British shoe company founded in the 1800's, Nathan Clark launched the desert boot in 1950.
Several styles exist, but our favorites come in suede. The brown pair shown here are known as Taupe Suede and are the perfect warm month replacement of any brown casual boot or shoe in your winter arsenal.
The lighter khaki colored pair shown here are known as Oakwood and are my quintessential desert boot. The tone is perfect for busting out with some colorful chinos. You can see them in action in my article How to Wear a Tucked in Shirt Without Looking Like an Old Man.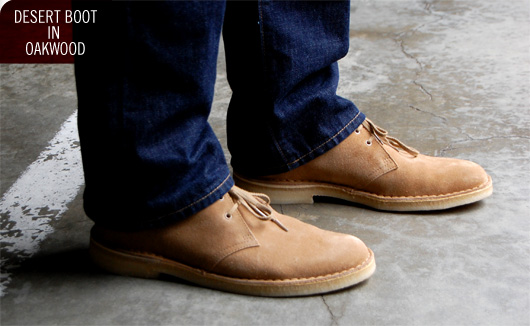 New to suede? Don't worry about the scuffs, I think desert boots look even better when they've seen some action. (For specific care, check below.)
The desert boot's crepe sole is made from a natural rubber that makes them very comfortable for walking or putting in a long day's work. Similar to the chukka, the desert boots only have two pairs of eyelets and a soft leather construction, allowing for easy movement and no constriction.
You'll want to weatherproof the suede, and make no mistake, these aren't all-purpose weather boots. Their soft construction and light sole keep your feet cool; if you wear them in the winter, your feet will be cold and may end up wet.
The great thing about desert boots is the cost: full price is under $100, and if you're savvy can find them at places like Nordstrom Rack for $50. The style is not exclusive to the originators, other brands like Urban Outfitters, Ben Sherman, and Lands' End Canvas offer their takes as well.
This spring, give Clarks Desert Boots a shot, they'll quickly become your default for almost every casual situation.

Check them out:
How to Care for Suede
We asked Clarks what they recommend for caring for their suede.
To clean, use a rubber suede eraser to remove dirt and smudges. Then, brush lightly with a soft brush specifically for suede and nubuck products.
Care should be taken to brush in the same direction. If you brush in different directions, some suedes will give the appearance of being two different colors.
Never use a wire brush or polish on suede or nubuck. (Some suede brushes do have wire in the center, which is specifically made for use on suede).
Follow up with a silicone spray for water and stain resistance.