If done right, Target is a convenient place you can pick up some smart style picks at affordable prices. Use our guide and you'll find items that balance modern style, quality, and price, as well as a few that you should look elsewhere for.
I still remember how excited I was when Target moved into town when I was kid. I grew up in Central Pennsylvania in the 90's. You had two store options for buying clothes: buy cheap stuff at Wal-Mart that looked like you bought it at Wal-Mart or buy expensive stuff at overpriced department stores. There was little middle ground until Target came to town.
Don't confuse this for a Target lovefest, however. Anyone else growing up in the same boat as me will remember the store's brand has had its share of growing pains. With house labels like "Utility" and "Cherokee" that offered sweaters made out of synthetic materials with no/low durability or the trademark buyout of the once coveted "Mossimo," it hasn't been well-dressed for less from the beginning.
A few years ago the direction appeared to change. There was a visible shift: focus on the basics and do them right. With this came frequent sales of v-neck and crew neck t's, merino sweaters, and soft polos. The introduction of the Merona brand brought about slimmer ties, a house line of suits, and vintage t-shirts.
We've put together our picks of things you can pick up on the cheap, and those you should steer clear from. If you're a frugal sartorialist or on a budget these items balance style, quality and price, while those that are lacking can be found elsewhere for comparable prices with better quality or styling.
1. V-neck Sweaters
These thin, lightweight sweaters look great casually over a button up but also slide in underneath a suit for winter layering. Pick them up when they're on sale, usually under $20.
2. Dress socks
Merona has a great steal on patterned socks for $2.50 a pair. I've got 8 pairs. They look and feel great with my Frye boots, white canvas sneakers, or Allen Edmonds Strands.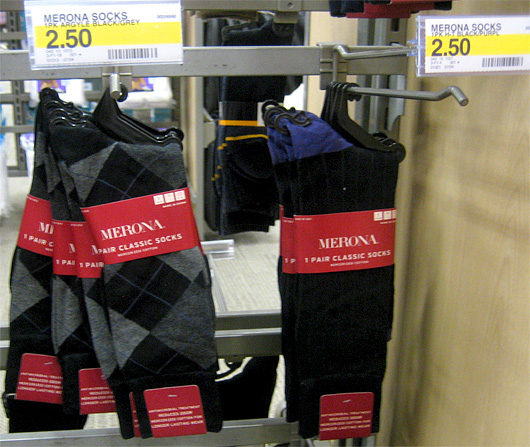 3. Dress Shirts
Believe it or not, Target's dress shirt line under the Merona brand is surprisingly good. They offer a trim silhouette, are wrinkle free and come in a small, but modern selection of colors and patterns. I've got a purple one (featured in our Can't Fail First Date Get Up) that I can wear with a suit, or wear casually untucked with my Red Wings. Very versatile.
4. Henleys

Henley shirts, long sleeved collarless shirts with 2-4 buttons, are really under-utilized by many guys. They create a casual and comfortable look that's still more put together than a t-shirt. They also offer a more rugged image usually. My favorite is a Mossimo from Target that I've had for 2 or 3 years. Pick them up when they're on sale, $12 or less.
5. Suits
This one comes with a big but. A few years ago Target introduced an affordable line of suit separates, some of which are surprisingly nice looking. Stay away from the black options, all the ones I've seen still look like cheap black suits. However, there have been some nice gray models to come and go. If you pick up one of these, you have to promise me you'll get it tailored. (Our guide for how a suit should fit.) The one thing that makes a cheap suit really stand out is when it doesn't fit. If you need a suit quick or are on a tight budget, these will do the trick in the short term.
6. Some Watches
Target carries a few of Timex's minimalist watches like the Easy Reader. A great looking watch for $30. We did a full review on them here. Stay away from any of Target's other watches that are trying to be something they're not; the big gawdy options, the ones with fake gold or diamonds, etc.
7. Polos
The store has a few lines of polos, most of which are a great deal when on sale. Look for the trimmer options. These won't be the best quality money can buy, but at the price you're paying, they'll last you two or three years maybe. Be mindful when washing them, if you don't care for them properly they'll get pilly. Check out Dappered's review on the Mossimo Signature polo.
8. Plain T-Shirts
Whether you pick up one of the store brands or a set of Hanes Perfect T's, Target offers some nice crew and v-neck t shirt options. They've got an 'athletic' cut for a modern man, not the boxy Beefy Tees you're used to seeing at the $8 range. Pick some of their soft 'heathered' or 'marled' options that'll look great layered or on their own.
9. Graphic Tees
You've heard us say on Primer that if you want to start dressing better your default go-to should be a button up shirt. But t-shirts still have their place, either on their own or layered over a thermal. Target has consistently had a few options that aren't "clearly from Target," like they used to look. Choose consciously, and wear when appropriate.
10. Belts
You can find a full leather belt for under $16, and sometimes even less. I snagged a leather belt with a removable buckle for $4.99 on clearance once. It's still one of my favorites. Stay away from the faux leather offerings.
11. Hats
There are few times a normal guy can wear a hat these days. But in the summer, and especially at the beach, almost every guy can pull it off. Since you'll only get to wear it a couple times a year at best, don't splurge on a nice one. Pick up a straw fedora at Target.
5 Things You Should Avoid
1. Casual Button Up Shirts
Target offers two types of casual button up shirts: ones that you'd wear, and ones that are baggy and billowy. Unfortunately the ones you'd consider wearing are pushing it as far as price is concerned. At $25-$30, you should just pick something up from Gap or Lands End Canvas that'll have better fit and styling, or for double your money pick up a tailored option from a place like Blank Label.
2. Jeans
To give them credit, they've tried. But when you're able to pick up a pair of jeans from Gap's 1969 line for $30 on sale, it's hard to ever see a benefit in buying a pair of jeans from Target. Gap's jeans aren't on sale? Check out American Eagle, where their jeans are one of the only garments they sell without a giant eagle stitched on it. You can regularly find a pair of dark blue, straight fit jeans for $29 on sale.
3. Neckwear
I've actually always loved the designs of Target's tie line. They were one of the first to introduce skinnier ties at a reasonable price. However, the selection is usually limited and with places like Nordstrom Rack, where you can pick up a Calvin Klein tie for $20, or The Tie Bar where you can get any tie you want for $21 shipped, Target doesn't hold up. Certainly if you're in a pinch a Merona tie will look great at a good price, otherwise for more selection at a similar price look elsewhere.
4. Khakis
Target's khaki and chino offerings haven't advanced with the rest of their men's clothing line. These are still your father's khakis. For more modern fits and fabrics check out places like Express, Gap, and Lands End Canvas. Gap and LEC are always doing sales on their pants that put them at $35 or below.
5. Shoes
Target continues the trend of most stores in the shoe department: giving women 4 rows of options, and giving men 5 styles tucked away in the corner. I was surprised to find desert boot inspired boots recently, but they're still fake leather, like their other shoes. The men's shoes at Target are essentially "Super-Payless" quality.
Did I miss anything? Anything you disagree with? Keep me posted in the comments.