Stop blowing all your money on $4 coffee. With a french press you can make delicious joe at home that tastes better than a coffee shop's AND it's a whole lot cheaper.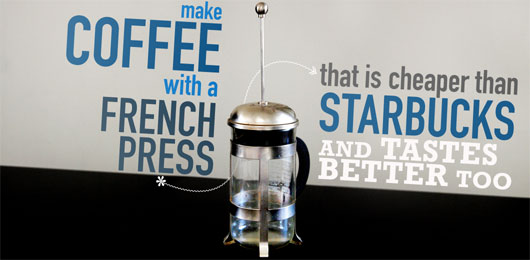 Stop blowing all your money on $4 coffee. With a french press you can make delicious joe at home that tastes better than a coffee shop's AND it's a whole lot cheaper.
I'm no coffee connoisseur. I enjoy my one cup in the morning and occasionally splurge on a mocha latte or other similarly sweet coffee shop staple. So what follows will likely offend those who treat their java like vino and frequent sites like CoffeeGeek and Coffee Review. But for the rest of us, get ready to drink some damn good coffee.
What is a French Press?
A French press, also known as a press pot, coffee press, or coffee plunger is just a glass beaker that you put coffee grinds and hot water in, then strain with the plunger / filter that sits on top.
It was invented around the 1850's and is cheaper, simpler, and makes better coffee than most drip coffee makers.
Trust me when I say making coffee with a french press on some post-date morning for a girl makes you look very sophisticated and sexy, though in reality it's awfully hard to mess up. Make her some eggs and you've got yourself an impressive $3 breakfast she won't soon forget.
The Process
I've been making coffee with a french press every morning for over a year now, after I received both a Bodum Chambord coffee press and a Krups coffee grinder for Christmas. It's important to understand it is the process of using a french press that yields good coffee, not just the press itself.
You can't stick Folgers Crystals into a french press and expect to get smooth, bold, non-acidic coffee.
Ideally, the process of using a french press would go something like this:
Boil water.
When water is ready, coursely grind quality fresh roasted beans and place into coffee press.
Pour the now cooling water slowly and evenly over the beans.
Stir a few times.
Let sit for 3 or 4 minutes for the flavor to seep.
Press down slowly on the plunger.
Drink coffee.
All of these steps are as important as just using a french press. Buying good, fresh coffee beans will obviously give you a higher quality coffee. It will be smoother, less bitter, and have a much better flavor.
Using a coffee grinder to grind course, fresh roasted beans right when you're ready to use them ensures you're getting all of the flavor of the beans. They say if you can smell the coffee aroma, then you're losing flavor.
It's important to grind the beans coarsely, because if the grind is too fine, it will get through the filter, which will be in your drink. It should be noted however, a small amount of "sludge" in the bottom of your coffee cup is common when using a french press.
True aficionados insist on using a burr grinder, but a good one will start at around $100. I've been using a $30 blade grinder and have had a lot of success.
I say the quality difference between Maxwell House and a drip maker and our $50 set up is much greater and more noticable than that between our $50 set up and a $150 set up. Especially if you're just getting into coffee, it's best to start out small and move up accordingly.
If you know you're going to be going through a bag of coffee every few days, you can get away with buying pre-ground coffee (still ground course) instead of buying a grinder. I know a guy whose father tasted coffee for a living who uses pre-ground coffee in his french press. If you're going to use it fast, it will likely stay acceptably fresh.
How to Make Delicious Coffee with a French Press
Boil water. Use filtered water if you have a Brita Filter handy.
Grind the beans. Once the water is boiling, turn off the stove. Using a high quality whole bean, (I personally enjoy Starbucks House Blend for a medium roast, though if you'd like to try something bolder try a french roast), pulsate your grinder until you have a consistently course grind. Make sure you don't have boulders in there, since that's just a waste of coffee.
The instructions that came with the press say to use one rounded tablespoon of coffee for every 4 ounces of water. I find that to make VERY strong coffee, and though I enjoy it, normal coffee drinkers like the girl you're trying to impress probably won't. I only use about three scoops for a full press.
Pour the water slowly and evenly over the coffee. Dump the coffee into the french press from the grinder and then pour the water in. Make sure the water has cooled from boiling, you're looking for "near-boiling" water, anything hotter can burn the coffee and adversely affect the taste.
Stir with a wooden spoon 3 or 4 times. Don't use a metal spoon because you might crack the beaker. I have a flat plastic spatula that I use, but some people use chopsticks, etc.
Place the plunger on the beaker, but don't press down yet. We need the coffee to sit in the water for 3 minutes to get a full flavor. Set a timer, start making breakfast, or go brush your teeth or something.
Once the timer has gone off, press down on the plunger. I was taught to just sit your hand on the plunger and use that weight to push the plunger down. It could take 30 seconds. It's important to go slowly and to not back up; if you go too fast you're more likely to let some of the grinds in.
Serve, impress, and enjoy.
Tips from the Field
Even a large french press will likely only make 3 or 4 normal cups of coffee, so if you know you're serving more than that, make the coffee much stronger and pour more hot water in the cups. This is also a good way to satisfy some who like really strong coffee and those who like it weak.
Buy an airtight container to keep your beans in. They're only $5 at stores like Ross, Marshalls, or TJ Maxx.