The best part about the weather getting colder? An excuse to make some classic drinks to keep you warm, of course.
For better or worse, I always associate fall with learning and productivity. Just because you're no longer hitting the books doesn't mean that this isn't still the season for a little edification (in this case, of the potable variety). So, as the days get shorter and the nights cooler, why not turn your mind to mastering this slate of autumn-approved beverages?
Chai
Occasion:
A great Sunday afternoon project.  Check in on it during commercial breaks in your FBS game of choice.
Recipe:
The website housing my go-to recipe is down, but this is pretty close. Simmer for an hour instead of 10 minutes and use two black tea bags instead of the 2 Tbsp of loose stuff (unless you're one of those tea snobs). When it comes to straining, a clean wash cloth or sieve will do the trick if you've never even heard of cheesecloth, let alone have a clue where to pick it up.
Tips:
If you have to add more than 6 Tbsp of sugar, that's fine. If you decide to use honey instead, that is not fine.
Buy all of the spices in bulk; it's cheaper and there's no way you'd ever use a full jar of cloves anyway.
Don't be like my dad and think that if x amount of something is good than 2, 3 or 4x must be that much better. Up the cardamom and it will taste like liquid potpourri.
Also, calling it chai tea is redundant. Chai actually means tea in Hindi, Gujarati, Punjabi and a number of other languages.
Hot Toddy
Occasion:
The first sign of a tickle at the back of your throat that indicates you're about to be felled by cold season.
Recipe:
Start with a shot of whiskey or rum. Add boiling water, a slice of lemon, a spoonful of sugar, honey or maple syrup. Throw in a couple of cloves, a cinnamon stick and a tea bag if you want to get all fancy. It's like Theraflu with class! Also, alcohol.
Tips:
This ain't like Robitussin, son.  Don't keep dosing yourself up every three to four hours. Although, that could dull a sore throat (or at least your awareness of it)…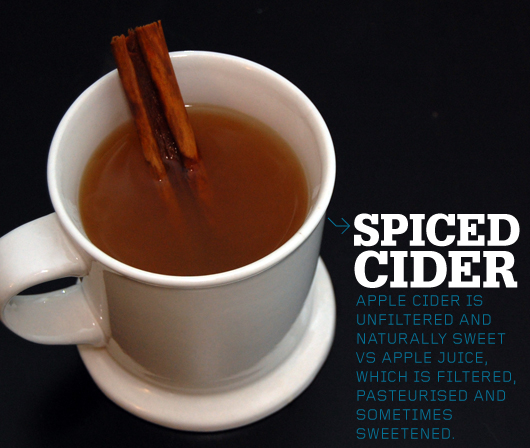 Shortcut Spiced Apple Cider
Occasion:
Perfect finishing touch to a first date spent frolicking around a pumpkin patch and wandering through a corn maze. Break out a thermos of this stuff and wait to be happened upon by a photographer who will immortalize you on a J.Crew catalog cover.
Recipe:
This will do nicely.
Tips:
You can buy the base cider at the grocery store. A decent apple juice will do in a pinch, but will probably limit your odds of getting to second base. Just sayin'.
Don't use cheap, fake maple syrup. If you don't have or can't find the good stuff, opt for an equivalent amount of brown sugar instead.
Skip the cheesecloth (seriously, what's with this stuff?) and just strain the cider before serving. Choking on a stray clove isn't romantic.
Dark and Stormy
Occasion:
It's November. You're depressed. And it's the third year in a row that you've flamed out before making it even halfway through NaNoWriMo.
Recipe:
1.5 oz of dark rum and ginger beer/ale to taste. Serve on the rocks. Class it up with a slice of lime if you're so inclined.
Tips:
Use decent quality ingredients. Aim a little higher than Bacardi and Canada Dry. You'll thank me.
In Bermuda, the name Dark 'N' Stormy is actually a registered trademark of Gosling Brothers Ltd.
If the Dark and Stormy turns out not to be your thing, switch out the ginger ale for cola and retreat to more pedestrian familiar territory.
Do you have a favorite fall drink not listed here, or an alternative to one of the recipes? Share your ideas in the comments.