Just because your space is small, doesn't mean it can't feel like home.
Unless you're fortunate enough to live and work in a low-cost-of-living city, you're probably living in a smaller apartment to avoid sky-high rental prices.
However, the allure of saving money on rent can be tempered by dysfunctional living spaces. Who hasn't cursed their too-tiny bathroom, the lack of counter space for chopping vegetables, or dreaded opening that one closet because you know all that stuff you crammed in there last time (and then quickly shut the door on) is going to spill out?
Having recently moved to an affordable but tiny European apartment that I share with my husband, I know this struggle intimately. However, I found that with some creative thinking and spiffy Amazon gadgets, we could maximize our tiny space to make it work for us.
Here are my top space-saving recommendations from Amazon, categorized by room.
Living Room
Nesting Coffee Table
VASAGLE Industrial Nesting Coffee Table, Set of 3 – Amazon.com, $60
Nesting coffee tables are a fantastic way to add style and function to a small living room, while offering the option to neatly tuck away the tables when they aren't needed. We like this VASAGLE nesting coffee table for its modern, industrial look and fair price point.
Floating Book Shelves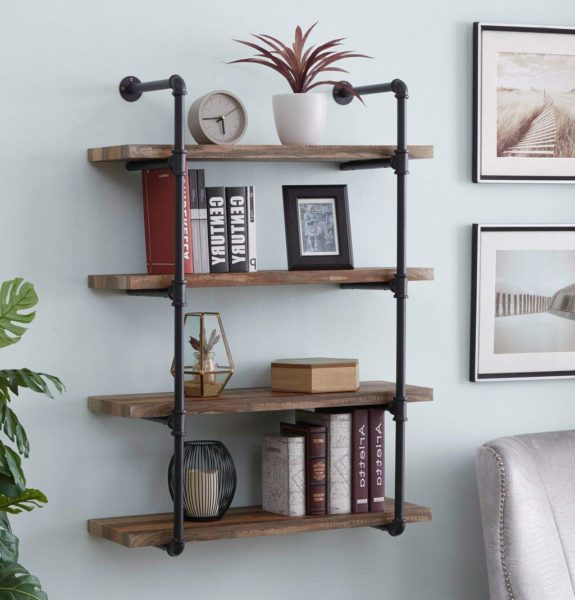 Homissue 4-Shelf Rustic Pipe Shelving Unit, Amazon.com, $109
Freeing up floor space instantly gives smaller rooms the illusion of looking bigger, so floating bookshelves are a great way to display your book collection without cramping your living quarters.
For a more compact version that's a little more affordable, there are these two-tiered floating shelves with a similar aesthetic.
Peter's Goods 2-Tier Rustic Floating Wall Shelves, Amazon.com, $36
Floating Entertainment Center
Espresso Altus Plus 58″ Floating TV Stand, Amazon.com, $166
Continuing with the "floating" theme, this off-the-floor entertainment center can hold a sizeable TV, while also storing your game consoles, DVD player, and DVD or video game collection.
Velcro Strips
VELCRO Brand – Sticky Back Hook and Loop Fasteners, Amazon.com, $8
Who knew you could still lose your video game and remote controllers so easily in a tiny apartment? While this tip isn't the "prettiest," it's practical for anyone who's tired of pulling apart couch cushions to find a wandering remote control.
Narrow Table Behind Couch
Sometimes even a nesting coffee table takes up too much space. But you still need a place to put your drinks and other items when relaxing on the couch. How about a narrow table placed behind the couch, then?
These slim tables are actually fairly easy and cheap to DIY (here's a tutorial that promises to help you make the "easiest DIY table ever," and the "Inspiration source" link under the photo above will lead you to another tutorial that shows you how to incorporate an outlet into the design), but if you're not handy with tools, then Amazon has many options in different lengths and heights to fit your dimensions.
Tip: Searching for "entryway table" yields the best results.
Sauder 420042 North Avenue Sofa Table, Amazon.com, $55
Kitchen
Hanging Knife Magnetic Strip
Hands-down one of the best things to install in your kitchen. Why waste counter space with a knife block, or play the "Slicey Fingers Game" by leaving your knives to ambiguously roam around with your other kitchen utensils in a drawer? Keep your knives in clear view and within easy reach, and free up more space in your utensil drawer, too.
Tupperware Lid Organizer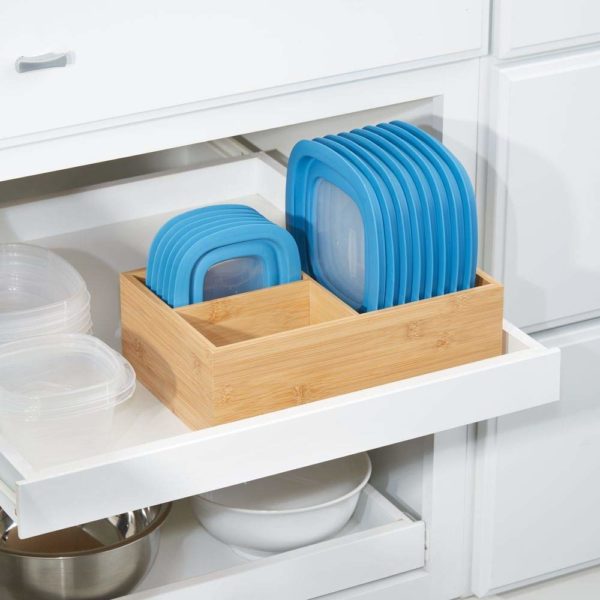 mDesign Bamboo Wood Kitchen Storage Bin Organizer for Food Container Lids and Covers, Amazon.com, $14
Saving money means packing your own lunch. Packing your own lunch means owning Tupperware. Owning Tupperware means fumbling around trying to find the correct-size lid for your Tupperware, right when you're trying to leave for work. Right?
Not with a dedicated Tupperware lid organizer! While the Tupperware boxes can stack neatly on their own, the lids have a tendency to slide around in your cabinets, getting lost right when you need them. Dedicate a bit of precious cabinet space to just the lids, and save yourself the headache of Tupperware lids scattered in disarray in your cabinets.
Fridge Organizer Bins
Greenco GRC0250 Fridge Bins, Amazon.com, $36
Organizing your fridge might seem fussy or redundant, but it's incredible how much easier it is to keep track of what's actually inside your fridge. Not to mention being able to easily access what you're looking for, instead of blindly groping for a small item in the back. Your fridge not only looks better and optimizes its storage, but you're also more likely to eat all of your groceries (because you can actually find them), rather than letting them rot, saving you $$$.
Amazon offers bins in all shapes and sizes, so measure your fridge's dimensions and figure out what will best suit your setup.
Foldable Silicone Bottle and Can Stacker
Webake 2-Pack Bottle Stacking Mat, Amazon.com, $9
Perfect for the beer enthusiast or the guy who uses canned goods on the regular, this foldable stacking mat made of silicone will help you maximize space. Much more secure than precariously stacking beer or soup cans on top of each other.
Hexagon-Shaped Magnetic Spice Bottles
Gneiss Spice Large Empty Magnetic Spice Jars – Pack of 12, Amazon.com, $85
Does your fridge have an exposed side? Utilize it by storing your spices in these handy hexagon-shaped glass spice jars!
Why hexagon-shaped bottles? They're easier to nestle together and maximize the available surface area than, say, circular containers.
That said, if you don't need to maximize the surface area, you could also try making your own magnetic spice bottles from small round jars with metal lids, and gluing a small magnet to the lid. You'll possibly save some money, too. Tutorial here.
Under-Shelf Basket
Tebery 2 Pack White Under Shelf Basket, Amazon.com, $23
Out of space on your shelves? Hang a metal wire basket underneath your cabinets and create more space for coffee mugs and other kitchen essentials.
Over-Door Cutting Board Organizer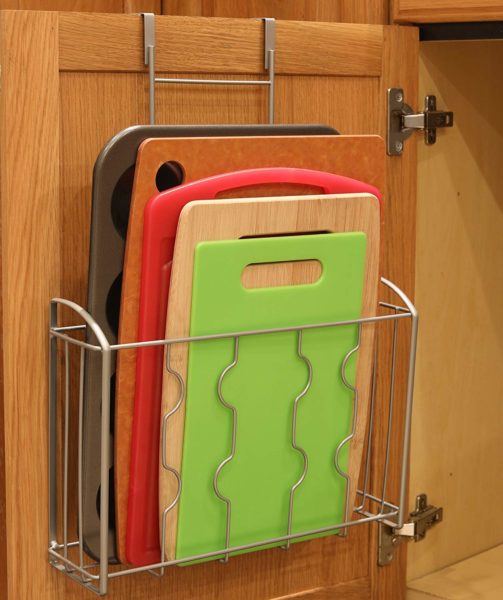 SimpleHouseware Over the Cabinet Door Organizer Holder, Amazon.com, $17
Utilize the back of your lower cabinet doors by tucking away your cutting boards in an easily-accessible but hidden spot under your sink.
Lazy Susan for Pantry or Cabinet Organization
Copco 2555-0187 Non-Skid 2-Tier Pantry Cabinet Lazy Susan Turntable, Amazon.com, $15
Like refrigerator bins, Lazy Susans help optimize the space in your pantry or cabinet, keeping spices, baking and canned goods, and other small items readily accessible.
Bedroom
Bedside Caddy
Bedside Caddy Organizer, Amazon.com, $21
Keep your bedside table clear, or ditch it entirely, by attaching one of these heavy-duty bedside caddies on your bed frame. There are tons of options on Amazon — some even include the ability to charge your phone while you sleep — but we liked the leather detailing on this one and its reported ability to hold up to 20 lbs.
Space-Saving Hangers
Magic Space Saving Metal Clothing Hangers – 6 Pack, Amazon.com, $20
Maximize your closet's space capacity for hanging clothes with a few of these special space-saving metal hangers.
Under-Bed Storage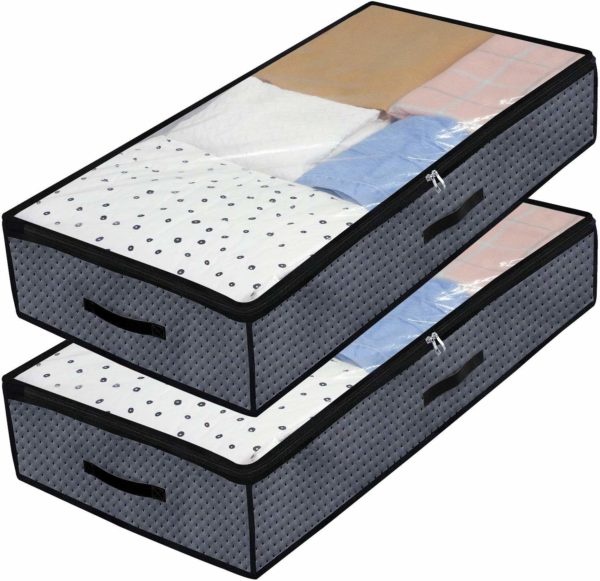 Onlyeasy Foldable Underbed Bags – 2 Pack in Dark Grey, Amazon.com, $16
Store bulky winter gear or extra bedding under your bed! A clear plastic top helps you quickly see what's inside, and a secure zippered closure helps keep out critters.
Adjustable Drawer Dividers – Pack of 4, Amazon.com, $28
Drawer dividers can help you easily scan for that favorite shirt when you're in a hurry to get out the door. If different types of clothes and accessories (underwear, jeans, ties, etc.) each have a dedicated spot in your dresser, it's easier to keep your wardrobe organized and manageable.
Murphy Bed
Bestar Wall Bed Queen Size, Amazon.com, $1,526
The ultimate space-saving solution for any bedroom, a Murphy bed can be folded up against the wall when not in use, freeing up tons of floor space. However, this solution does not come cheap, and might require that you drill into the studs of your walls, so check with your landlord before purchase.
Bathroom
Vertical Towel Hanger
Household Essentials Hinge It Clutterbuster Four Bar Hanging Valet, Amazon.com, $27
Why waste valuable wall space for a drying rack when you can utilize the otherwise wasted space behind your bathroom door? Also, renters living with strict "no drill" lease agreements, rejoice—since this drying rack attaches to your existing door hinges, no drilling is necessary.
Use a Container System to Tame the Space Under Your Sink
Metal stands, open and closed bins, and drawers are just a few of the ideas for creating your own usable storage system under your bathroom (or kitchen) sink. Keep cleaning products and extra TP handy, and hide away grooming equipment you only use occasionally and don't want to display (*cough*nosehairtrimmer*cough*).
There are tons of products on Amazon for "under cabinet bathroom storage," but here are a few recommendations.
mDesign Storage Bins with Built-in Handles – Pack of 4, $47 (Pro tip: Also check your local Dollar Store for great deals on small plastic bins!)
Simple Trending 3-Tier Under Sink Cabinet Organizer with Sliding Storage Drawer, $34
Simple Houseware Stackable 3 Tier Sliding Basket Organizer Drawer, Bronze, $35
BINO Cabinet Storage Organizer Bin with Handles – Large 2 Pack, $22
Towel Organizer
Premium Presents Bath Towel Rack in Bathroom, Amazon.com, $27
Little to no cabinet space? Hang this towel rack on a wall, and also enjoy not having to fold up every large towel you own — instead you'll simply roll them up and store them on the rack.
Laundry
Rolling Organizational Cart
Everyday Home 3-Tier Rolling Multifunction Utility Cart, Amazon.com $20
If you're lucky enough to have a washer/dryer in your unit, make use of the slender space between, next to, or around them and store your laundry-related items in a rolling utility cart.
Use Clear Plastic Shoe Organizers for Small Odds and Ends
24 Pockets – SimpleHouseware Crystal Clear Over The Door Hanging Shoe Organizer – Gray, Amazon.com, $9
The perfect way to utilize previously-unusable space (in a discreet way), shoe organizers can store packs of batteries, emergency candles, flashlights, and other minor accessories and random bits of miscellany you're hanging onto "just in case."
Clear plastic ensures you're able to see what's inside each pocket at a glance, but canvas shoe organizers ($14) are also available and look nicer, if you can't hang the shoe organizer on the inside of a laundry or closet door.
Have a space-saving tip or product you swear by? Tell us below!