For a couple of days only, American-Made shoes without the American-Made price tag.
It's rare to find an American company investing in domestic jobs whilst still turning out a great product, but Allen Edmonds has been doing just that since 1922. They frequently source their leather from the Horween Leather Company in Chicago, and from their main factory in Wisconsin, Allen Edmonds employs over 500 craftsmen, who painstakingly complete 212 steps for each pair of Goodyear-welted shoes.
Goodyear means they use stitched leather (instead of cheap cement) to hold the shoe together. They smooth a layer of hot cork into the sole, so that your pair of Allen Edmonds, over time, becomes molded to your foot. The shoes can be resoled again and again by the same craftsmen who initially made them until it's time to pass them down to your son.
If you're wondering why you should buy a pair of dress shoes in the height of summer, consider this: right now their Father's Day sale takes $50-200 off the price of several styles.
Also worth noting: Allen Edmonds doesn't just make dress shoes. If you've been looking for a pair of American-made kicks below the American-made price, now is time to jump on this sale.  
Primer first wrote about Allen Edmonds 8 years ago when Andrew picked up his Strands in walnut. His are still going strong and he wears them regularly, but don't be impressed by that: On that post, a number of readers shared their experience with how long their AE's have lasted including this TWENTY YEAR OLD PAIR: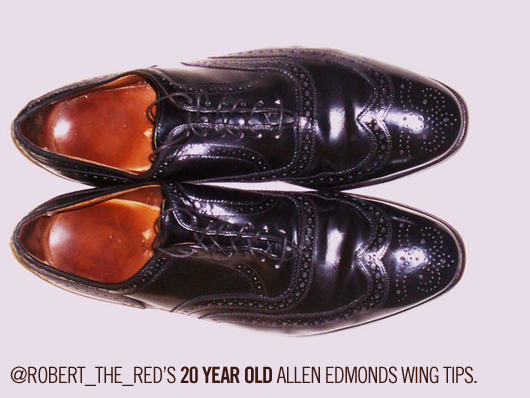 Dress Shoes
Sneakers
Loafers
Boots