The final part in our bedroom renovation series and the reasoning behind the items.
Seeing room inspiration online can be incredibly helpful for identifying items and styles you'd like to include in your own place. But you're left trying to figure out why things work, like trying to write a 20 page college paper on the cinematography of Citizen Kane without having studied film theory. In my final installment of the bedroom renovation series, I provide all the links to buy every item you see here as well as why they work well together.
If you missed the other installments, check them out! You can recreate this room exactly with:
Wall Color, Headboard, & Wing Print
Wall paint:  "Sofware" by HGTV Home by Sherwin Williams – $30 / gallon (Click here to learn how to paint a wall)
Headboard: Super simple DIY, read my full tutorial here – $86
Wing print: Wing Print, Free / Frame: Ikea Ribba, $18
Pillow: Studio 3B, $30
The renovation process for the bedroom started with two dominant things, the wall color and the headboard. Beyond anything else in the room, these two elements root the style. I knew I wanted to paint the accent wall behind the bed gray, both because I loved the way it looked in the rooms I had saved for reference and also because I knew I was going to stain the headboard a rich brown color. I also wanted to hang an homage to Donald Judd's orange woodcut and felt gray would be the best backdrop. I chose this medium gray, known as "Software" in the HGTV Sherman Williams line from Lowes, after bringing home several swatches and deciding this was just the right warmth (a gray can be more orange or more blue), and deep enough without making the rest of the room too dark.
When deciding to embark on the headboard project, I knew I wanted it to be modern and minimalist – a rich brown with pronounced grain, and without any visible fasteners on the front. Luckily this lended well to a simple construction. It's both rustic and modern at the same time and is an easy item to pair multiple design styles with. I just love the way the brown wood pairs with the gray wall.
I wanted a large, centered art print above the bed. I created this image of a white-tailed eagle's wing on an old paper background. The colors complement the gray and brown tones of the wall and headboard, and fits with the rustic design of the headboard and side table.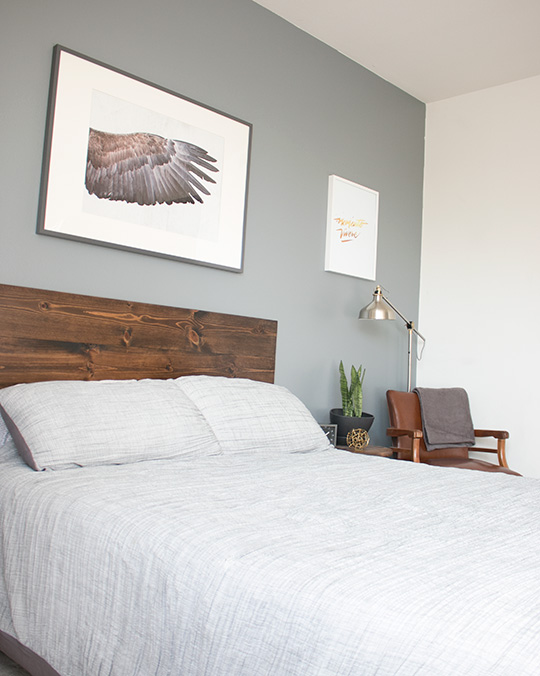 Duvet Cover
Duvet cover and pillow shams: City Pleat duvet cover by DKNY, $140; pillow shams, $40 / each = $176 with Bed, Bath, and Beyond 20% off coupon.
I can imagine a lot of you are looking at the total cost of this duvet set and scoffing, and I fully understand where you're coming from. You're not gonna blow $200 on some cloth that covers your bed.
But you really should. And here's why.
First, if you don't use duvet covers already, they're a much better longterm option than comforters. Duvet covers are just that, removable covers, that cover a duvet. If you're new to duvets, they're essentially a plain comforter. While regular comforters are dirt cheap, they can be had for $50 or less, they have one glaring draw back, especially for men: You can't wash them in the washing machine. Duvet covers slip on and off and can be washed when they get funky, when you spill your morning coffee on them, or when some of your escapades go terribly wrong (or right, I guess). Comforters have to be taken to the cleaners and I'm confidently guessing, based on my own experience, that you've never done that, and probably never will.
Especially since men don't tend to like to spend money on bed linens anyway, investing a little more into a duvet and duvet cover protects you from having to live with a nasty old comforter, since you're likely going to hold onto it until your future spouse tells you to finally chuck it.
Unfortunately, finding a lot of great duvet cover options for a man's bedroom proved to be surprisingly difficult. I checked everywhere – department stores, discount stores like Marshalls, Ikea – and while they all had duvet covers, there just wasn't a standout in the bunch.
Finally I found the City Pleat duvet cover by DKNY at Bed, Bath, and Beyond. I chose it for a few reasons. First, its salt and pepper gray color and texture adds a modern element to some of the other rustic or mid-century items in the room. More importantly, I have a black and white dog, and my previous navy and white comforter was a nightmare for fur. The textured gray also masks any normal wear and tear that my old solid cover embarrassingly highlighted.
But this duvet cover is also unique in another way: Its intentionally pleated texture adds visual interest but more importantly it hides any wrinkles. There's nothing more frustrating than being a guy who doesn't want to take the time to wash a duvet cover but doing it anyway to be "responsible" and then pulling it from the dryer to find that it's crazy wrinkled all over. The care instructions on the tag of my old duvet cover say "warm iron, if needed". I can barely iron my shirts correctly, now I'm supposed to iron a queen size duvet cover every few weeks when I wash it? F*ck that noise.  The pleated duvet cover looks amazing no matter what.
Chair, Floor Lamp, & 'Memento Vivere' Art Print
Wood and leather chair: $40, yard sale / alternatives below
Floor lamp: Ranarp by Ikea, $55
"Memento Vivere" art print: Free / Frame: Ikea Ribba, $10
Fleece blanket (similar): Amazon, $15
Bedrooms aren't just for sleeping and storing your boxer shorts. They can be a personal retreat, a cozy place that belongs only to you. By bringing a sharp looking chair into the room, you're not only affecting the design, you're creating a place to read, to meditate, or to finish a bourbon after a long day. This classic nail head chair was a yard sale find and the only thing you can't directly order. But here are several attractive options in a similar style:
I really like this floor lamp because it's an affordable option from Ikea, and it has beautiful industrial styling that looks like it should cost much more. From the faux brass fittings to the cloth-wrapped cord, this floor lamp is in the style of expensive industrial fixtures available from designer furniture stores. This piece is an important balance to the 60s-ish geometric art prints, the heritage headboard and wing print, and matches nicely with the industrial style of the side table.
The latin art print is a Free Art Download from Primer, I designed it as a reminder that I should still go out and do things when I'm tired after a long day of work. The handwritten script and gold leaf effect were done intentionally to counter the woodsy wing print and 1960s-feeling bright colored geometric prints. Along with the brass sculpture, these two small items firmly plant the room in the present.
Side Table, Plant, Clock, & Brass Sculpture
Industrial Side table: DIY, $63
Plant and pot: Snake plant (Sansevieria), Ikea, $12 / Angled pot with dish: Ikea, $30
Clock: Goodwill, $4 – similar: Amazon, $15; Braun, $28
Brass Sculpture: CB2, $10
With the large square dresser on the opposite side of the bed, I chose my round industrial DIY table as the bedside table. The wood pairs well with the wing print and headboard, and complements the metal floor lamp and chair. It's sooo easy to make, sand and stain the wood round, screw in the pipe flanges, twist on the pipes and that's it!
The number one mistake guys make when decorating their place is ignoring how essential plants are. They breathe life into the room, literally, take up empty space, and add much needed color variation. If you don't have any money to invest in decorating your place, go spend $30 on a bunch of plants and your apartment will be 100% better for it. This plant is a Snake plant, which is affordable and very easy to find. Simply water it every week or so and it'll be fine.
The black pot's angles are clearly modern and counterbalance some of the rustic, industrial and mid-century elements. It also pairs with the dark gray picture frames, metal pipe legs, and black-brown dresser.
Table clocks are excellent functional decorations. I picked up this metal one at Goodwill for $4, and printed a new white-on-black face with numbers reminiscent of airplane instrument typography. The square clock is a nice accompaniment to the round table, brass decagon sculpture, and round-angled pot. You can find similar options on Amazon.
Your home can't be filled with only 100% functional items, however. It'll feel cold, empty, and unlived in. This simple brass sculpture from CB2, Crate & Barrel's more modern and affordable side brand, introduces depth and visual texture to the side table. But its role in the bigger picture is to add a sense of modernity and balance the rustic and mid-century elements like the headboard, chair, and geometric art prints.  It also pulls color from the "Memento Vivere" print. And for $10, it's worth way more than its weight in gold brass.
Dresser, Succulent Plant, Table Lamp, & Geometric Art Prints
Dresser: Ikea Malm in black-brown, $90 / Lansa drawer handles, 2 packs, $20
Succulent plant: Local flea market, $5
Table lamp: Ikea Alang, $25
Geometric art: Free Art Download / Frame: Ikea Ribba, $15
Glass water bottle with stopper: Ikea, $3.49 / Glass (similar): Ikea, $3 / 6
This dresser has lasted me for years. I think I had it in college, even. It's a simple 3 drawer dresser with a faux wood grain and a blackish-brown color. As a part of the bedroom renovation I added a set of Ikea drawer pulls and completely changed its look and style. Its dark color doesn't draw the eye, and it works with both the brown headboard and the legs of the side table. The drawer pulls create a mid-century style adding to the geometric prints, and the brushed metal matches the two lamps.
Just as with the snake plant on the side table, the succulent adds color and life to the dresser and the geometric art prints. This one was picked up at a local flea market but they're readily available everywhere. The great thing about succulents is they're super easy to care for and you can make new plants just by cutting off pieces and propagating them.
The table lamp is a simple Ikea option with an adjustable height. The lamp shade is available in both white and gray. The shade has a weave-looking texture and adds visual interest to the other smooth items on the dresser.
These two art prints, along with the headboard and gray wall, were pieces I knew I wanted to include before getting started. I loved the way the orange looks with the brown wood and gray wall, and the minimalist, mid-century feel adds a classy dimension to the room. The placement was thought out; I did a really rough mock up in Photoshop in how to hang the prints, and ultimately decided to stagger them. Had they been vertical, all of the wall art would have been very rigid and in straight lines. Also, I love the dimension created by leaning the bottom print against the wall. It brings the art off the wall, producing depth. Leaning your art is a smart thing to try, and its even easier than hanging it!
The leaning print is inspired by the work of Donald Judd, a mid-century artist who created a series of woodcuts (essentially prints made with wooden stamps). I first came across his work in a piece in GQ from several years ago and filed it away as something I'd love to have in my own room. If you click through to the page you can see how you can make your own Judd-inspired artwork.
I really hope you enjoyed this series! If you use any of the items, please share pictures in the comments or tag @primermagazine on Instagram!