Delicious, home-cooked meals that are ready the minute you get home.
Imagine an invention with which creating knock-your-socks-off delicious meals on the cheap is only slightly more complicated than turning a dial. Imagine a world where delicious food prepares itself at home while you work. Well imagine no more, friends, because that device is not some futuristic pipe dream from one of your outer space science fiction comic stories, but something that's been around for decades.
Just picture it: frozen and fresh ingredients mingling harmoniously; creating a week's worth of meals or more from a small handful of readily available ingredients and about 10 minutes of actual effort. Imagine opening your front door after returning home after a long day and being greeted by the tantalizing aroma of a piping-hot, home-cooked meal ready to eat. You might literally swear it's magic. But it's not. And would you believe this contraption can cost as little as $13?
That's right, I'm talking about the slow cooker. And with a little practice you can master this kitchen essential that might honestly give the dog a run for its money as man's best friend.
The science behind a slow cooker is simple–sealing the ingredients inside the metal-lined container with a liquid generates steam as it boils, which makes your meat unbelievably tender. The steam turns to condensation, which infuses your food with the essences of whatever other ingredients you include. Besides certain features like programmability and capacity, most slow cookers function essentially the same and will all perform the same task, so there's really no need to spend more than $20 or $30 to get started. Some well-reviewed, inexpensive options can be found here, here, or here.
What you'll need:
Meat (frozen is ok), or substitute, vegetables cut the way you like them, some sort of liquid as a catalyst: chicken broth or salsa, for example. Do not attempt a slow cook without a liquid as all you will end up with is burnt-on inedible carbon. The ingredients don't need to be submerged or drowning in fluid, but the bottom of the slow cooker should at the very least be coated completely. Pretty much any combination of those ingredients, with your own personal flair and flavors, will yield a scrumptious and filling meal, with plenty of leftovers.
First, pour about three-quarters of the liquid you intend to use into the slow cooker. Then create a "bed" with your meat at the bottom and veggies on top, evenly spacing them almost as if stacking charcoal briquettes. Note that some vegetables work better than others when cooked in this method, if you're a stickler for textures the ideal time to add the veggies might be different for you. Finally, pour the remainder of your liquid on top, coating the meat and vegetables as best you can. After that you simply put the lid on, turn the dial to your desired temperature and go on with your life. Several hours later, voila, delicious homemade food.
What temperature?
The temperature you should choose all depends how long you have to cook it. For example, if you put all the ingredients in the pot first thing in the morning, you can set the dial to low and leave it going for the day and it will be ready by dinner time. Alternately, if you're home for lunch, you can set it to high and it will be ready to eat in about 6-8 hours. The meat seems to reach the break-apart tender phase around the 8-hour mark. If I'm using meat, I personally like to give the food an hour or two at the high temperature near the end just to make sure the meat reaches the safe consumption temperature throughout. Resist the urge to open the lid to smell or see your creation, it will only increase the cook time. If you realize hours into a slow cook that you accidentally set the dial to warm or even off after loading the cooker up with meat (believe me, it happens), cut your losses and throw it away. You do not want to play around with E. coli or salmonella.
As for other safety advice, although slow cookers can be inexpensive, make sure the one you buy is UL listed not to be an eminent fire risk. You wouldn't want one so cheap that it throws off sparks while you're out for the day. Another good practice is to give it a little breathing room from other items on the kitchen counter. It does throw off a little heat, so it's probably best to give it some space while it's working its magic. Also, make sure it's not within reach of any household pets. If you have a curious cat that likes to jump on the kitchen counter alternate arrangements might have to be made.
There are hundreds and thousands of slow cooker recipes on the Internet. But to get you started, here are three of my favorites that are as easy as they are delicious.
Food for Thought: Insanely Easy and Delicious Slow Cooker Recipes
Chicken Fiesta Madness
Servings: 8-12 | Ingredients: 6 | Cost: About $16
2 lbs boneless chicken breasts (frozen or thawed ok)
One 12-oz can black beans (drained of juice)
One 24-oz jar of your favorite salsa
One green pepper, chopped (optional, feel free to substitute other veggies)
One 8.8-oz bag of microwaveable brown rice
One packet of taco seasoning
Start by pouring most of the salsa in the cooker, making sure it coats the bottom. On top of the salsa wading pool, lay the frozen chicken breasts without overlapping as much as possible. On top of that goes your chopped pepper, beans and the rest of the salsa. Replace the lid and turn it to low or high, depending how long you plan to cook it (6-8 hours on high, 10-12+ on low.)
About an hour before serving, shred the chicken with two forks, add the taco seasoning and cooked rice. Stir well, replace the lid again and turn the dial to warm until serving.
If you plan to add rice to the recipe, it's probably better to add it an hour or so before you eat to avoid overcooking it. Cooked rice also seems to work better than uncooked, unless you're using a recipe that calls for a lot of liquid and is cooked for a really long time. There's nothing worse than taking that first mouthful of a delicious slow-cooked meal only to crunch into some uncooked rice.
This recipe yields enough filling for about a dozen burritos, depending on size, but can also be used for tacos, nachos and anything else you can think of. Wrap the leftovers in soft tortillas, place them individually in a sandwich-size Ziploc and throw them in the freezer. It should go without saying, but don't freeze guacamole. Over the next few weeks, grab one of those bad boys out of the freezer, take it out of the bag and pop it in the microwave for a couple of minutes, pour some hot sauce on top and you've got yourself a party.
Root Beer Pulled Pork
Servings: 10-14 (roughly) | Ingredients: 3 | Total cost: About $15
3 lbs. pork shoulder or butt (raw, bone-in ok)
A 12-ounce can of your favorite root beer
Barbecue sauce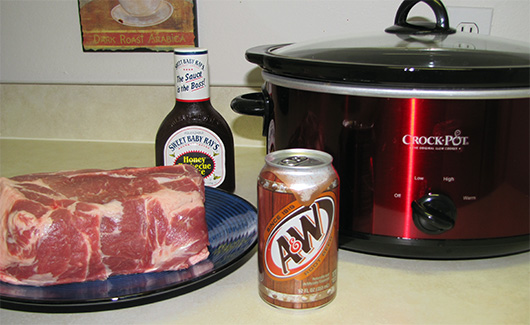 This one couldn't be easier. Step one, pour bottle of root beer into slow cooker. That's right, root beer. Step two, add the pork whole, as-is. Let it cook for about 12 hours on low. The root beer will tenderize the meat while it soaks up the flavors, giving it a deliciously sweet taste. Some people substitute Dr. Pepper for root beer, and though I haven't personally tried it I imagine it's very similar.
Shortly before serving, drain any excess root beer and shred the pork in the cooker, being careful to remove all bones and bone fragments. Add some of your favorite barbecue sauce to the now-pulverized meat. You don't want to add too much sauce at this phase. If you love to slather it on, that's best saved until it's on your plate. Give it a little while longer on hot, then turn the dial down to warm and serve. It's delicious either on a roll or by itself. Get creative with how you use it or make up a big batch of it and prepare for legend status at the next barbeque you're invited to.
Curry Shredded Chicken
Ingredients: 5 | Servings: 5-8 | Cost: About $15
One 15 oz jar Patak's Original Simmer Sauce (choose based on spiciness preference initially and eventually discover your favorite flavors)
Three large carrots, sliced (can choose a different vegetable if desired)
Chicken broth
2 lbs. boneless chicken breasts (thawed or frozen ok)
Cooked brown rice (optional)
Pour enough chicken broth into slow cooker to coat the bottom in about a half-inch of liquid. Add the chicken breasts to create a bed, put sliced carrots on top of the chicken and pour the simmer sauce over top of entire recipe. Turn on low for 8-10 hours, or high for 6-8.
Shred chicken, add rice if desired, mix well. Replace lid on slow cooker, turn to low or warm until ready to serve. Pack up the extra into small food storage containers and bring them to work and watch your jealous coworkers flock to ask you what you're eating.
The best part is that these recipes aren't an exact science. It is downright difficult to mess up a slow cooked meal, so look around online for the plethora of slow cooker recipes out there, or play around with the recipes and create your own concoctions. Be sure to let us know what you come up with.