When the temperature drops and the snow starts to fall it's time to cover up in something warm and dry. While there are several options for men to choose from; here are some of the best to get you through the frigid months of winter.
1. The Down Vest
The layers closest to your body are the most important for warmth and a down vest is the perfect option.  Down is the layer of warm feathers found under the bellies of geese and other fowl and provides a durable layer of warmth.  Avoid vests that use polyester filling. They don't get the job done quite like goose down.
Vests come in several varieties like soft shell and quilted.  A soft shell vest has a soft outer shell that is worn close to the torso with no down filling.  It is usually composed of man-made materials like polyester.  Pick a thin, lightweight version and wear it as a third layer under a gray heavy sport jacket.
A quilted down vest uses down goose feathers and has a sectional pattern where the filling is sewn in.  This is a warmer but more casual option.  Today many down vests are made thin and sleek and can be worn under a man's suit jacket in a professional environment. Just keep the colors muted.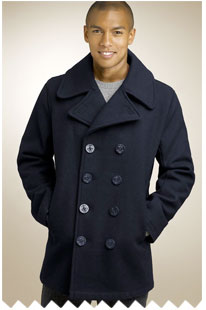 2. The Wool Peacoat
A classic option for any well dressed gentleman.  This hip length 100% wool coat was originally introduced by the Dutch and adopted by British sailors.
This double-breasted coat with slash pockets gives a man ample protection from cold and an element of style with a stiff collar which can stand on its own.  This is one of the few occasions where "popping" your collar is acceptable.
The original comes in navy blue, but don't be afraid to choose one in gray, or even a plaid.  Shop Schott for the original peacoat.
3. The Chesterfield
Most men are familiar with the overcoat and topcoat but few make the leap to the Chesterfield. This coat, so named after the Earl of Chesterfield is a stylish option with a trademark black or brown velvet collar.
Orginally considered formal wear, it can be worn casually in a shorter length. The longer version will help a man stand out from the rest of the pack at the office. Pick up this J. Crew version for an instant style upgrade.
4. The Toggle Coat
The toggle coat is a casual option that was originally inspired by Belgian sailors who needed protection from the harsh elements aboard fishing ships and was eventually adopted by the British Navy.  The original comes in 100% wool but can be had in wool/cashmere blends.  Its trademark toggle horn buttons and extra large hood for warmth make this a wardrobe essential in any mans winter coat arsenal.  Gloverall makes a classic version.
5. The Barbour Jacket
A hallmark for stylish men – this jacket only gets better with time and has a history of keeping men warm and dry for over a century.  Its waxed cotton outer shell makes it water and stain resistant and a causal option that can be worn on the weekends and in the country.  Maintenance includes waxing the coat once a year but this annual ritual will keep your Barbour in excellent working condition for years to come and is a worthy investment. Check out the menswear line for more options.
These classic pieces will add style and warmth to the man who takes his winter wardrobe seriously.