There's no better time to strike out on a life-affirming journey into the wilderness than now.
The Great Outdoors. Mother Nature. The Wide Open. The Final Frontier. Whatever you call it, we all have an undeniable connection with nature. With the new age expectation to be always on and endlessly linked-up, it is easy to forget the immense power that nature has on one's being. While the ability to constantly be connected is convenient in its own right, it also serves as a reminder of the importance to get away from it all; to get off the grid and realigned with what is truly important in life.
We may never be able to fully experience the untouched beauty of what Lewis and Clark saw when they took that fateful expedition, or the scenes immortalized in Thoreau's work, but we can capture some of that same magic. The lands and sights that Ralph Waldo Emerson spoke of in his lectures and Whitman captured in poetry still exists—you just need to know where to look. While there is obviously great camping across the US, some of the best sites are a little off the beaten trail in places you never would think to check. Part of the joy of getting outside is the adventures you take along the way of discovering some of your very own hidden gems. You simply just have to begin.
Of course, any well-intentioned camping trip can quickly fall into chaos if you are not fully prepared. A good tent can be the difference between the best sleep of your life and getting soaked to the bone from an unannounced rainstorm. It's hard to truly enjoy the beauty you're surrounded by when you can't stop thinking about your aching back.
You get the point: good gear equates good times. Now, for some people it may seem near impossible to justify spending $400 on a tent that they'll only use once or twice a year, and that's fine. The way to go about your camping equipment is to think of it all as an investment. Yes, some price points may seem steep—but if you manage to get out there two or three times a year, your investment will pay for itself tenfold.
Besides—while it may be a cliche—you can hardly put a price on time spent in nature. In the words of the timeless sage John Muir, "Climb the mountains and get their good tidings. Nature's peace will flow into you as sunshine flows into trees. The winds will blow their own freshness into you and the storms their energy, while cares will drop off like autumn leaves."
Get the Gear: Starter vs. Upgrade
For this rundown, we've gathered up all the camping essentials and broken them down into two spending categories: starter and upgrade. The starter gear will get you out in the wild with what you need, but if you have a little extra to spend, the upgrade gear will give you the bang for the buck.
The Best Tents

This tent is lightweight, versatile, and durable. It's a great option for anyone who is a little hesitant about dropping big bucks on new gear. For an entry level tent, it really does more than the price would suggest and will last you for many seasons to come.
Buy the Coleman Sundome 4-Person Tent – $48.68
At just over 15 pounds packing weight, this isn't a great option for backpacking, but for everything else it is excellent. It is designed after the USMC Marine Combat Tent and has only 3 poles, so setup and breakdown is a breeze.
Buy the Eureka Assault Outfitter – $383.96 at Amazon
The Best Sleeping Bags
This bag is huge. The oversized construction means you won't be balled up pulling on the top of your bag in the middle of the night trying to stay warm. It has zipper-plowing which helps prevent needless snags when all you want to do is crawl into bed and get a good night's sleep.
Buy the Coleman White Water Cool-Weather Scoop Bag – $35.65
This sleeping bag has no zippers which allows for a great range of motion. You simply climb (or crawl) in through the top open oval and pull the built-in comforter over you as you see necessary. It's incredibly comfortable and the specialty down dries 33% faster than normal down, meaning you can take this thing from spring to Autumn like that.
Buy the Sierra Designs – Backcountry Bed 600 3-Season bag – $299.95
The Best Water Bottles
Hard to beat a classic Nalgene, but this one might do exactly that. Ultra simple, ultra durable, and it even glows in the dark. Slap a new sticker on it from all your camping destinations.
Buy the Nalgene – 32oz Wide Mouth Glow – $10.99
If you're looking for something that will keep your beverage of choice cold (or hot) longer, look no further. This'll keep coffee hot for 12 hours and water chilled for 24. The carry loop is convenient for strapping onto bags and the bottle will never get any questionable smells or aftertastes.
Buy the Hydro Flask – 32oz Insulated Bottle – $39.99

The Best Multi-Tools
A lifetime warranty means Gerber is confident in their tool's ability to handle tough tasks, while the components —from a can opener to scissors—mean you'll be confident that you're prepared.
Buy the Gerber – Suspension Multi-Plier – $24.95
With 19 tools and an included bit kit, this is a multitool for the ages. It's hefty, but not bulky, weighing in at less than a pound. It also has the blades located on the outside, as opposed to the inside, so you're able to open and close the knife components easily and on the fly. The added locking mechanism keeps them shut while in your pocket.
Buy the Leatherman – Charge TTi Professional Multitool – $179.85
The Best Backpack
This pack has a lifetime warranty, an included 70 ounce hydration bladder, enough pockets for all of the necessities, and padding to boot. It is designed to sit slightly higher on the back than normal packs, allowing for a greater range of motion and quick access to jersey pockets.
Buy the TETON – Sports Oasis 1100 Hydration Backpack – $38.00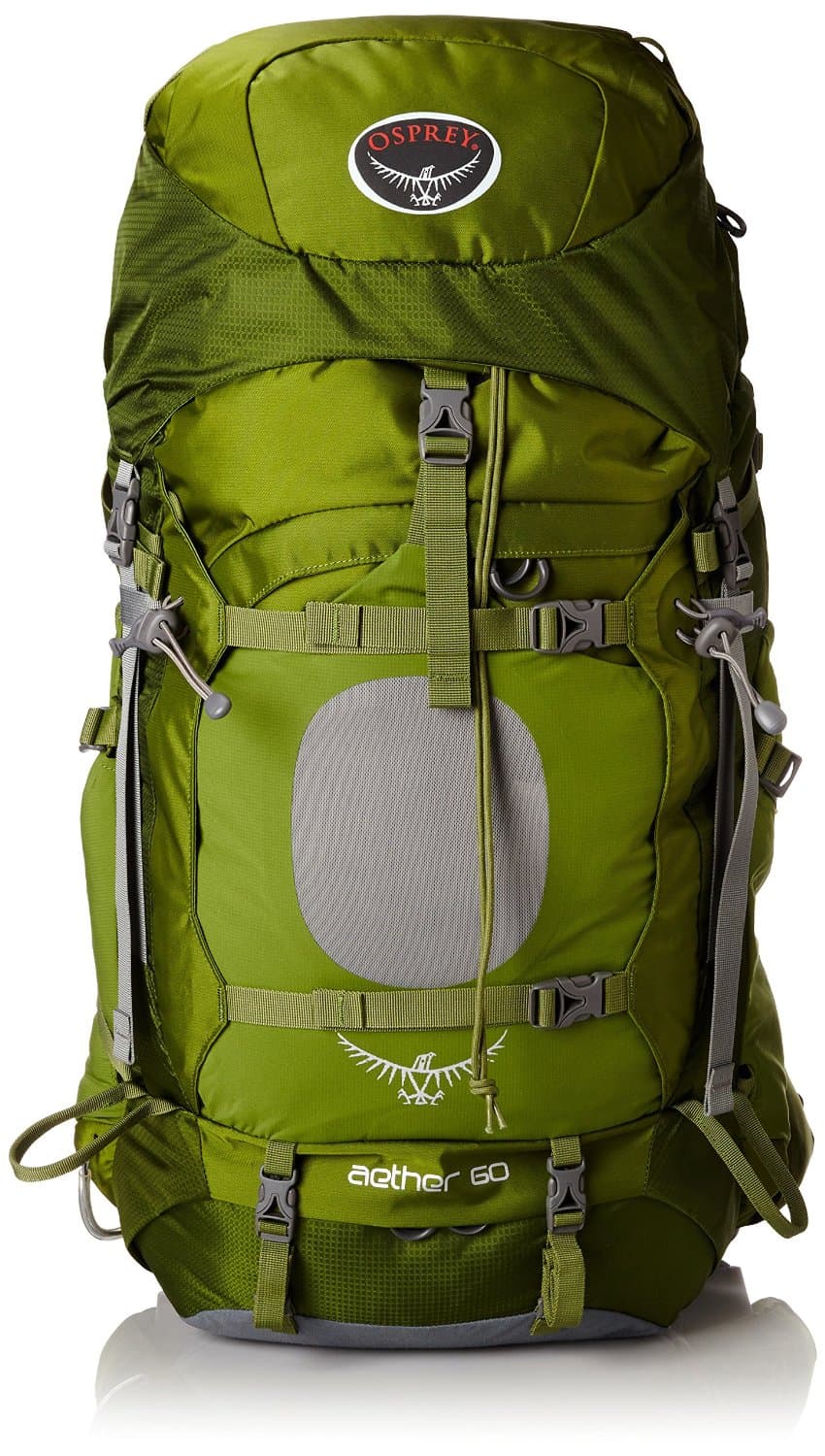 Osprey has a dedicated following due to their keen eye for detailing and innovative technology. The Aether 60 Pack features CM technology that boasts custom molding (hence the "CM") done in special Osprey ovens found in many gear shops. This pack also has a lifetime warranty, so you don't need to worry about roughing it up while out on the trail. What you get when you jump up this high in price is a bag that distributes weight evenly so your back will thank you. Small design tweaks make a huge difference when it comes to lugging 50 pounds of gear all day
Buy the Osprey – Aether 60 Pack – $259.95 from Amazon or Moosejaw
The Best Lantern
A solid all-weather camp lantern that can be powered by standard AA batteries. The 360 degrees of LEDs will light up your entire campsite and last the whole trip.
Buy the Energizer – Weather Ready Area Light – $17.97
This lantern features multiple ways to recharge—including a hand-crank when other options are exhausted—and has a run time of 48 hours on low power. It also features a USB port to charge your phone or other electronics, but why would you have those camping anyway?
Buy the Goal Zero – 32001 Lighthouse 250 – $64.95
The Best Stove
An option that will greatly surpass it's additional 3-year warranty. While it won't turn you into a Mountain Man Michelin chef, this stove will hold its own on the campsite.
Buy the Coleman Propane Camping Stove – $54.99
Compact, durable, light, and easy to use. This camp stove has two burners that actually manage to burn evenly. It also has a Piezo ignitor that sparks the stove with the simple push of a button. That, combined with the built-in shields, means this stove will burn in all types of weather.
Buy the Camp Chef Everest 2-Burner Camp Stove – $89.95
Conclusion
Whether you spend a little on your starter camping gear or spend a little bit more for the upgrades, getting outdoors and communing with nature is worth the investment.  Camping is a special occasion, and this gear is designed to hold up to the elements. The money you spend on the gear will pay for itself with the lasting impacts of a life-affirming experience.
Great Camping Locations
All geared up with nowhere to go? Pack it up and drive to one of these 10 surefire camping destinations. The pins on the map are approximate—some of these state parks and campgrounds are huge and sprawling with multiple locations for you to pitch your tent throughout.

1. Indian Caves – Shubert, Nebraska
Located along the Missouri River, this State Park has winding cave systems that feature cave art and petroglyphs. More info
2. Driftless Area – Wisconsin
This sprawling area of wilderness seems to remain untouched by society. A multitude of camping options, all with breathtaking views. The surrounding camping sites are all well-kept, and if you prefer cabins, there are plenty of those, too. More info
3. Hot Springs – Garden Valley, Idaho
The hot springs in Idaho are a great place to soak in and enjoy nature. The nearby campgrounds offer hiking, kayaking, and plenty more year round. More info
4. Watkins Glen – Upstate New York
Watkins Glen has stunning gorges with lush greenery and plenty of waterfalls to marvel at. There are countless options for camping, from the traditional to the more ritzy. More info
5. Havasu Falls – Supai, Arizona
The breathtaking falls are something that cannot be put into words. Do yourself a favor and make a point to see what nature created. More info
6. Henninger Flats Campground – Los Angeles, California
This one is stationed at the end of a 3-mile hike, and that's the only way to get there. No drive-ups here. Once at the campground, the panoramic vistas will make you forget all about your aching legs. Ask the 24-hour on duty LAFD Forester to point you in the direction of one of the nearby trails. More info
7. Starved Rock State Park – Utica, Illinois
Canyons run through the park with dramatic waterfalls spilling over vertical ledges. Nearby Matthiessen State Park doesn't offer campgrounds, but is worth the short trek for its sprawling trails. The Illinois River is ideal for kayaking and exploring. Come dusk, take in the surrounding views with a cold one in hand and good company near by. More info
8. Big Basin Redwoods State Park – Santa Cruz Mountains, California
About an hour outside of San Francisco, Big Basin is California's oldest state park. Try to comprehend the ancient Redwoods that have been standing for hundreds and hundreds of years. The views of the Pacific Ocean aren't half bad, either. More info
9. Caprock Canyons State Park – Quitaque, Texas
From the state's official bison herd, to the stunning views and ample trails, you'll be able to find plenty to do at Caprock Canyons. Catch a sunset—or better yet, a sunrise—over the surrounding buttes and prepare yourself for a serious loss of words. More info
10. Red Top Mountain State Park – Cartersville, Georgia
Just outside metropolitan Atlanta is Red Top Mountain. Its high iron ore content causes the soil to be tinted a dark red, but there is plenty more to marvel at than just dirt. Allatoona Lake is within the park and offers boating, great fishing, and swimming beaches. Visit in the Fall and take in the full palette that Autumn in Georgia has to offer. More info