Some guys put movie posters on their walls. Others have a picture of Hemingway holding a shotgun.
Guys don't fill their apartments with schmancy art because of one reason. It's expensive. We want to have a nice home, but not at the crazy price that it costs to buy a print of something we like, then having it matted and framed. It's just not realistic at this point in our lives.
Most end the thought there. Can't afford it. Can't do it. But that's lazy – A little creativity goes a looooong way when it comes to making your home your own on a budget.
I recently stumbled across a company selling cool, old black and white prints of manly things, but the prices were outrageous. One of them was a framed print of Ernest Hemingway holding a shotgun. I thought, "that picture must be on the internet," and a Google search for "Ernest Hemingway shotgun" with the size filter on 'large' provided just what I was looking for.
It turns out that this photo that was being sold for a crazy price, is actually in the public domain, and stored in the National Archives. I downloaded it off of Wikipedia, adjusted the size and levels, and had it printed for…40 cents. I've included a download link below, and you can follow my steps in creating a framed and matted print for less than $6.
If you've ever framed something, you know how crazy the prices can be for not only the frame, but the matte – the thick white cardboard with a square cut out in the middle. To get past the cost of the matte, I've built it into the downloadable image. The image of Hemingway is surrounded by a 1.5 inch white border.
The frame is a black frame from Wal-Mart that sells for only $5. They've had them for years, and I just saw them last weekend, so if you have a hard time finding them when you're there, keep looking (or ask) because they're there. The image is created to fit in a 11'x14′ frame, as pictured above.
To download, click on the link below, then click on "File" and "Download".
Step 1: Print It
I had it printed at Staples because they allow you to do it all online, and they'll e-mail you when it's ready to pick up. You can print it anywhere if you have large enough paper.
Go to the Staples Copy and Print Center site and choose "Copy and Print Services." From the options listed, choose 'Black and White'. When the applet opens, upload the picture by clicking on the Add Files link.
Once finished, click on "Media" and choose "67lb Card White 11×17 – Ledger (Cover/Resume)". Since 11×14 (the size of our image) is a standard frame size, but not a standard print/paper size, we have to print it on 11×17 paper. The downloadable image includes cut lines on the top and bottom so that it fits in the frame. Continue to checkout and be amazed that it's only 40 cents.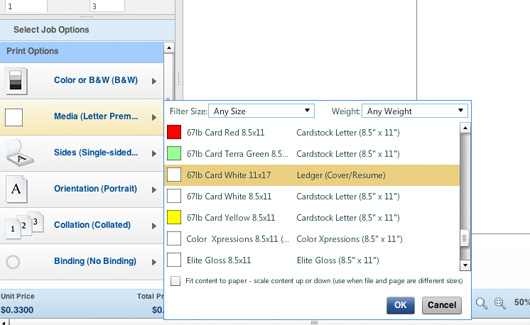 Step 2: Frame It
Go find the $5 frame at Wal-Mart, or if you don't have access to one, any 11×14 frame will do. Trim the print on the top and bottom lines, and insert into the frame. I used steel wool on the wood to add a distressed quality to it. Pour yourself a scotch and marvel at your cool, cheap, art.
Check out the whole Free Art Download series, and our collection post, with over 40 free printable wall art downloads.