Finding stores that stock good looking, affordable men's clothing is surprisingly difficult. We list some of our favorites, with specifics on what to look for at each.
Updated for 2022!
The retail world isn't geared towards men who want to dress well. It's designed for women and for guys who just want to get in, buy something comfortable and plain, then leave before anyone recognizes them amongst the racks.  If you're the type of guy who enjoys looking his best and wants to do so without spending a thousand dollars every month at the mall, then you're at a serious disadvantage. Having a plan and knowing precisely what kind, type, and color of clothing you're setting out to buy is key, but knowing what stores are best for which items will save you an enormous amount of time.  And every second not spent strolling by a food court or avoiding the suffocating scented cloud that rolls out the doors of Abercrombie and Fitch is time well spent.
This is the short list of retailers that'll save you time, money, and in some cases… won't even have you leaving your house. If you're looking for the best place to buy a suit or other clothing, read on for the best clothing stores for men.
1. Macy's
What it's good for: Suits, dress shirts, Levi's, and sometimes jewelry for your significant other.
Macy's is the bargain department store for guys who care about what they look like.  Their house brand Alfani and the more athletic fitting Alfani RED can be a source for great dress basics.  If you don't have a ton of cash but need a suit?  Wait for one of their Men's Wardrobe Sales or monthly One Day sales.  Shop then and you could find yourself paying less than $250 for an excellent Tommy Hilfiger Trim fit or Alfani RED suit, $15 for a tie, and $20 for a decent dress shirt.  But beware the sales people.  Sometimes they can be a little too attentive.
2. Nordstrom
What it's good for: Nice suits, great in-house brands, sweaters, splurges, and terrific sales
Nordstrom is like an upscale Macy's.  A quick glance at their brands (Hugo Boss, John Varvatos) and you can tell immediately that it's going to cost more shopping there.  But their in house brands are superb.  Their more modern leaning house brands like Calibrate and 1901 offer quality and great fits at reasonable prices.  Plus their Nordstrom Trim Fit dress shirts are extremely well put together.  Nordstrom isn't perpetually on sale like Macy's, but when they do discount, it's worth it.
3. Indochino
What it's good for: Custom suits
You've seen Indochino a few times here on Primer.  And if you haven't tried them, consider it.  With their re-tailoring credit (up to $75) and money back guarantee… you could end up getting a custom fit suit that's incredibly dialed in for around $300 – $400.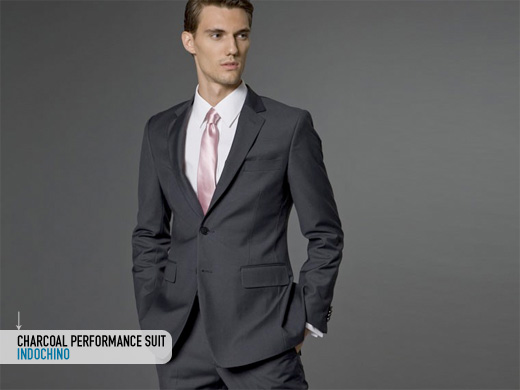 4. J. Crew
What it's good for: Trim suits, chinos, some casual wear, and some bags
There's no denying that J. Crew stuff looks good.  But sometimes the prices on the items can get a little steep.  Their Ludlow trim fit suits can look amazing, but you'll pay for it.  When J. Crew actually does go on sale the selection can often be weak. They're outrageously popular and they've become a bit of a trend setter for day-to-day men who care about dressing well but don't follow fashion-forward trends.
5. Old Navy, Gap, & Banana Republic
http://www.oldnavy.com / http://www.gap.com / http://www.bananarepublic.com
What they're good for: Jeans, sweaters, casual and dress blazers, casual shirts, and finding cheaper alternatives to J. Crew stuff.
They're all owned by the same company and they each have specific target audiences.  Old Navy goes after the bargain family shopper, Gap is the place for still stylish but still mostly affordable foundational pieces,  and Banana Republic touts themselves as affordable luxury.  Unlike Banana Republic, you can't buy a suit at The Gap or Old Navy, but you can buy pretty well made blazers at all three.  Yep, even at Old Navy.  Just make sure to take them to your tailor when you're done, and consider ear plugs for the shopping trip to keep the screaming kids from giving you a headache.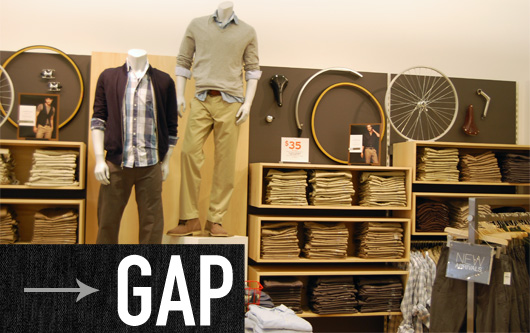 6. J.Crew Factory
What it's good for: Slim modern shirts, pants, suits, blazers and more for half the price of its older brother
While you can find J.Crew Factory stores at outlet malls, don't let that confuse you: Their wares aren't old stock or slightly irregular. The Factory line from J.Crew is a whole separate frugal collection that is a great place for picking up everything from on-point trends for shirts and pants but also surprisingly decent quality sport coats and modern, slim fit suiting.  They do play the price-high, sale-high game, so don't ever pay full price. They regularly – like, multiple times per month – hold sales ranging from 40-70%.
7. The Tie Bar
What It's Good For: Affordable modern, stylish ties, tie bars
Buying ties for a lot guys are reluctant necessities, if for no other reason than they seem disproportionately expensive. Why is this tiny piece of cloth more expensive than entire shirts? That's why I was excited when The Tie Bar came onto the scene. They offer narrow ties, wide ties, silk ties, knit ties, cotton ties, bow ties, you name it, they've got it. And unlike a lot of internet tie merchants, there's no kitschy Snoopy ties to have to sort through to find the good ones. They're also a cheap place to pick tie bars of different sizes – as they say, good style is in the details.
8. Amazon.com & Amazon Fashion
http://www.amazon.com/ / http://www.amazon.com/fashion
What they're good for: Watches, shoes, CDs, and electronics
Amazon really is the world's largest online marketplace.  You could waste hours scrolling through what they offer, and their "related items" lists seem hell bent on making that scenario a reality.  Amazon Fashion is similar, and more often than not their shoe selection seems to mirror each other.  But sometimes the prices and shipping options are majorly different.  Amazon Fashion usually offers free two day shipping even on top of big sales.
For buying watches, beware third party dealers who just use Amazon for their marketplace.  Either buy direct from Amazon, make sure the purchsae is "fulfilled" by Amazon (meaning it's stored in the Amazon warehouses and Amazon has put more of their reputation on the line)… or at the very least extensively check out their seller rating.  Don't waste your time looking for clothes on Amazon.  It's a chore.
9. Bonobos
What it's good for: Modern fitting pants
Bonobos was founded in 2007 to solve a singular problem: khaki pants that don't make you look like a 50 year old man. While there are many slimmer options available today, at the time all chinos had a saggy butt, were too wide, and were all-around unflattering. Offered in several fits and a ton of colors, Bonobos offers pants in cotton, wool, linen, and more. They are more expensive than a similar pair from Old Navy, but the proof is in the quality. Bonobos also offers shirts and suiting decently priced for the quality.
Free shipping both ways and 365 day returns.
10. Target
http://www.target.com/
What it's good for: Sweaters, narrow ties, slim fit basics like t-shirts, polos, and dress shirts, some suiting and blazers.
Target has always placed an emphasis on having a men's line that's more on trend than it's discount retailer competitiors like Wal-Mart or K-Mart. They were the first to offer narrower ties at a price less than $20 when expensive designer ties started becoming narrower and more casual back in the day. They consistently have slim dress shirts and button ups in colors and patterns that form the basis of any solid wardrobe.  In the cooler months, look for merino wool sweaters house brand Merona regularly available for less than $20.  Also be on the lookout for their unstructured cotton blazers – the perfect way to dress up a casual outfit on the cheap.
11. Boden
What it's good for: Outerwear, blazers, and decent clearance sales
Boden is a bit of a well kept secret.  They're based out of the U.K., they appear to have a conscience, and their models look so happy they could be intoxicated.  In fact, they just might be a little tipsy.  Beer and wine often show up in the pics, and when's the last time you saw a couple of guys doing shots in a catalog?  A lot of their stuff is extremely bright, and can get expensive quick.  But their blazers and coats are reasonably priced and full of unique style you won't find anywhere else.
BONUS:
12. Zappos
What it's good for: Shoes of all kinds and incredible customer service.
Amazon actually purchased Zappos a few years back (for almost a Billion dollars) but they still feel like separate entities.  There once was a time when buying shoes online seemed beyond stupid.  Don't you have to try shoes on first?  Not with Zappos.  They carry… everything.  Prices are pretty good too.  The 360 views, videos of employees showing the shoes, and extremely kind shipping policies make these guys one of the best in the online retail business.
13. Overstock.com
What it's good for: Just checking before you click "buy" somewhere else
My current go-to Navy suit is a Kenneth Cole New York all wool number I bought off Overstock for… $110.  I saw the exact same suit in Macy's a few months earlier for somewhere north of $350.  Their selection isn't always the most current, nor is it the best place if you're of an average build (sizes tend to run in the extreme)… but just check in every once in awhile if you're in the market for a larger purchase.
14.  Express
What it's good for: The Express 1mx shirt, trim fit sweaters
After the age of 25 walking into an Express can make you grimace.  The neon, the pounding music, the sales associates with more product in their hair than you've used in the last month.  It's a lot to handle.  But the Express 1mx button up and the non logoed sweaters are worth it.  Get on their physical mailing list and you'll get coupons in the mail every month.  Despite sometimes questionable quality, the Express 1mx basic button up shirt can be worn with just about anything.  I've got four hanging in my closet and wear them all almost every week.  It also comes in two fits, one of which is trim enough that you might not even have to get it tailored.  The sweaters are decent, and won't make you look 10 pounds heavier.
That should be a good start. Ten stores, some big department stores, some brick and mortar standards, a couple of online stalwarts, and a few surprises.  Good luck.  And may the clearance rack be filled with items in your size.
Got any additions?  Leave em' in the comments section below.