Until you graduated college, there wasn't much need for a week's worth of suits, dress shirts, and ties. Pulling together a professional wardrobe when you're offered a job doesn't need to be expensive or difficult. We'll show you how.
Grant Harris is a men's style consultant to A Tailored Suit
Congratulations, you've graduated from college! Now it's on to the first interview or your first day on the new job. So what do you wear? Certainly not your favorite game day t-shirt of your college days. And since you have corner office aspirations but you're working on a corner cubicle budget, these wardrobe essentials are worth the initial investment to start your career off on the right foot.
Men's Suits for College Grads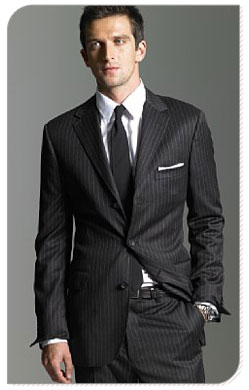 Starting out you only need two suits in a year-round, 100% worsted wool.  Buy men's suits with two or three buttons, notch lapels, with one or two vents.  They should be solid or pinstripe in gray or navy blue. Keep the pinstripes thin and faint.  They should not be the focal point of the suit.
These two suits are the foundation of any professional man's closet. They can be worn with every color and more importantly will never go out of style. You can find both of these for $500 or less. Save the double-breasted and peak lapelled suits for when you get your first six-figure check. You'll need it just to buy one.
Men's Shirts and Ties
You'll need at least seven dress shirts. Five for the workweek, one for the weekend, and a professional man always keeps one crisp shirt at the office in case of emergencies like spilling coffee on himself.  Buy solid or vertically striped shirts in a combination of white and blue. The majority should be white. White shirts coordinate with every color and they can be bought for $40 or less at Nordstrom Rack.
Stick to the straight point collar, but feel free to throw in a spread collar for variety.  Whatever collar you choose be sure to wear collar stays for the best image.
Keep ties simple and conservative. Buy only 100% silk as they will last longer and look better.  Save other fabrics like wool, cotton, and linen for the more advanced dresser. Good options are solids in primary colors, pin dots, regimental stripes, or paisley for some variety. Keep tie knots simple and use the four-in-hand which is suitable for any shirt collar.
Today many young professional men may opt for a slimmer tie to accent their slinder frame. This is a bit of fashion mixed with style and can be played well.  Stick with simple colors and minimal embellishments. Quality slim ties can be had for $15.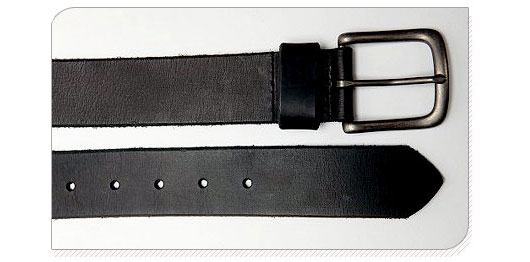 Men's Trousers and Belts
Buy three pairs of trousers in solid gray, navy blue and black. Again, look for 100% worsted wool. You may choose pleats or no pleats depending on your body type and personal taste, but be sure they are meticulously tailored and fit you well. These pants should be versatile enough to be worn at the office or at happy hour.
You only need two belts in solid black and brown. Make them both high quality leather with sleek buckles that do not draw attention to the waist.  To be sure the leather is quality look for the 100% leather stamp or bend the belt back and forth. There should be no creases in the leather and it should reform to its original shape.
Men's Dress Shoes
Men who care about their wardrobe will invest their money in quality shoes. You only need two pairs; one in black and one in a brown. Be sure both are high quality 100% leather, thin soled, and simple. Choose an oxford, cap toe, or wingtip and keep them shined.
Stay away from fancy embellishments as they will only add to the cost of the shoe and make you look like you are trying too hard.  Avoid square toe, rubber soled shoes. They wear out quickly and only make you look like a new grad instead of a seasoned professional. Get free shipping both ways on quality shoes at Zappos.com.
Men's Underwear and Socks
Actually, more like undershirts. Again, you need at least seven. One for every dress shirt you own. Keep them white; short sleeved and 100% cotton. Buy a few v-necks to keep you cooler during the summer and they look better than a crew neck under an open collared dress shirt. Wal-Mart is a great option.
Keep socks dark and plain. Only buy over-the-calf hosiery as the bare leg should never be seen when a man crosses his legs.  Socks should be the same color as your suit or close to it.  This will elongate your leg and create a seamless transition from foot to trouser. Buy 100% cotton or a natural fiber blend so your feet don't sweat like the Sahara. Find some at Marshalls.
Men's Accessories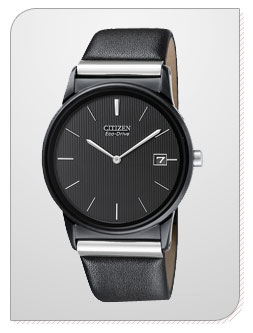 Accessories should be kept to a minimum, but every well-dressed man needs a watch. It will set you apart from the iPhone carrying crowd that only reads a digital clock on a touch screen.
Show some old-world class and strap on a watch. Keep it thin in a leather or stainless steel band and avoid digital faces at all costs.
Citizen is a quality brand with style that will last until you can buy that Rolex with your big promotion.
Professional Intangibles
No matter how well a man is dressed it doesn't account for the intangibles. Smile a lot, shake hands firmly, respect your co-workers and superiors, show up on time, and put 100% into everything you do. If the college grad follows these simple principles his wardrobe won't be the only thing the boss remembers when bonus time comes around.
Header image by J.Crew