On sale: Comfortable WFH gear that will look awesome once we can go out in the world again.
Everlane, one of our favorite affordable style brands, has launched a new summer sale with a number of smart buys for the price.
What do I personally look for when trying to shop for good style? Modern fits. Subdued colors and patterns that work in a smart casual, minimalist approach. And probably the hardest part to find, reasonable prices for quality items.
As I'm sure you've discovered on your own, this is its own variation on the "pick two" conundrum.
Everlane is one of the brands that made radical transparency a thing in fashion, and it's always had the first two, and even then their prices were not unreasonable – about what you'd expect to pay at Banana Republic on a non-sale day.
That's why we almost always end up doing a deal post when some kind of discount comes up. According to the brand, this is their first ever summer sale. Beyond their "Choose What You Pay" promotions, their discounts are infrequent – they don't even appear in our Black Friday lists.
So right now is a good time to try them out if you haven't before, or stock up if you already know what they're working with. A random list of things I dig about the brand:
They are size-inclusive in both their fits (pant options include slim, skinny, athletic, relaxed, and straight), as well as the male models they feature their clothing in.
Simple, straight-forward style items that are modernized with stretch or tech fabrics. They make one of my favorite pairs of chinos.
As a part of their transparency, they list in what city and country a specific item was made, and you can learn more about the factory and the people that work there.
They have a line called Uniform which has a 365 day guarantee (not on sale currently, bummer).
You've seen two items from Everlane featured in our last Getup on the pocket tee, the t-shirt and the denim jacket ⤵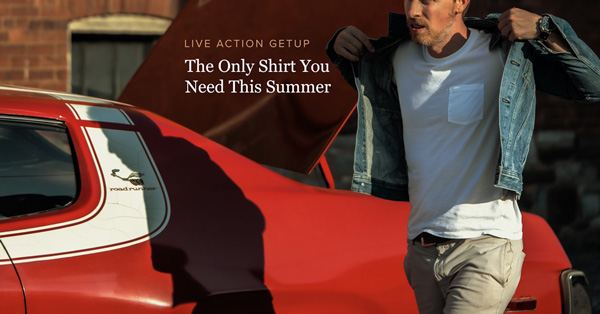 Summer Sale Picks
The Summer Sale includes over 100 men's styles and has some smart buys for:
$40 denim
$31 performance shorts
$35 chinos
Tees under $25 (as low as $12)
Some of the items in the sale have multiple fits and colors, some are limited to one variation.
Slim, skinny, and relaxed denim fits and other colors also available. Charcoal gray denim like this is the first pair of jeans you should buy when starting to improve your wardrobe.
One of my favorite types of shirts for summer evenings.
Four colors on sale.
Multiple colors discounted.
I'll probably be ordering a pair of these. Khaki and green on sale.
Love me a fitted sweatshirt with the collar "v" and raglan sleeves. Tough to beat at this price. Four colors available.
A number of colors on sale.
See how to wear a similar one (from their Uniform line) in our most recent Getup.